Anna Keller, Twincraft Skincare's Director of Trend & Marketing Strategy, shares key insights from CEW's virtual conference, State of the Beauty Industry: Transformed.
Each year, CEW holds a trend-focused event to recap the previous year's data and insights and to hone in on what marketers, retailers, and beauty brands can expect from the year ahead. The 2020 event was held in early February before the COVID-19 pandemic hit the United States. While the initial event was insightful, its takeaways have largely been nullified because of the pandemic and its social and economic impact. This week's event helped to update attendees on how the personal care and beauty industries have evolved over the last 6 months, and what we can all expect from our new normal.
1. There are 5 phases of pandemic recovery for businesses & all industries are in different stages
The NPD Group identifies five phases of recovery for businesses as they navigate the COVID-19 pandemic across different areas of the Untied States:

1. Realization – Awareness and initial reaction to the crisis
2. Reality – Stores are closed and the pandemic's impact is starting to reach its peak
3. Restart – Stores begin to reopen and consumers consider discretionary purchases
4. Recovery - Categories begin to see signs of growth
5. Re-emerge - Back to business as usual, or the new normal, in some industries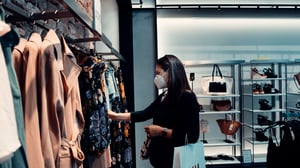 The pandemic's management & impact has been varied across the US and hit some industries much harder than others. The beauty industry's sales have suffered greatly due to the close contact nature of beauty services and product selling, and these businesses are going to take much longer to enter phase 5 in a safe and profitable way.
2. Fragrance is having a bad year, but there are some areas of growth in this segment
Overall, fragrance is having a very challenging year. People just didn't feel the need to wear as much fragrance while they were stuck at home, and it is difficult to shop for new fragrances through ecommerce.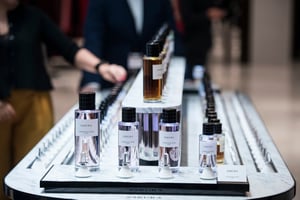 While overall fragrance sales have declined YoY, sales have increased in the bath, body and grooming fragrance markets. Candle sales are on the rise, and fragrance-friendly products such as bar soap and body lotion are an affordable way for stressed out shoppers to bring small and affordable luxuries into the bathroom. (The NPD Group)

Another interesting trend shows growth in higher concentration fragrances for both men and women. It may be a challenge to smell fragrance through a mask, but for those who still want to wear fragrance, a stronger smelling perfume or cologne can still give them the olfactory impact they're looking for when they enter a room. (The NPD Group)
3. Being stuck at home means more time on your phone, and demand for blue light protection is way up
What is blue light?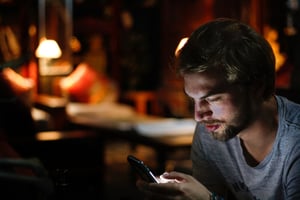 Not all colors of light have the same effect. Blue wavelengths have been found to boost attention, reaction times, and mood, but the cool-toned light can also damage the retina and reduce the body's natural excretion of melatonin. Blue light is emitted by many electronics, such as computer screens and smartphones, and awareness about the light's impact on sleep is well documented. However, it is also harmful to the skin, causing hyperpigmentation, inflammation, and damage to skin cells. Blue light damages collagen through oxidative stress, causing many common signs of aging. (The New York Times)
Education and awareness about the impact of blue light on the skin is on the rise. However, Americans are still glued to their phones and other devices for work, digitally connecting with friends and family, staying on top of evolving news and trends, and watching entertaining content, so shoppers are looking for protection instead of avoiding blue light altogether.
Demand for Blue Light Protection Products
Makeup

Skincare

+52%

Annual 2019 Dollar Growth

+104%

Annual 2019 Dollar Growth

+179%

First Half 2020 Dollar Growth

+ 170%

First Half 2020 Dollar Growth
Source: The NPD Group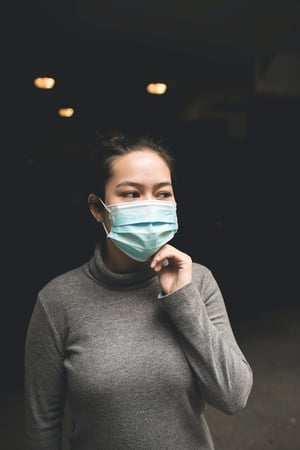 4. In a masked-up world, beauty is all about the eyes
Experts agree that requiring masks is a crucial step towards ending the pandemic, and compliance is on the rise. This behavioral shift has dramatically changed the way that shoppers are doing their makeup. With the mouth, nose, and cheeks all covered by protective masks, shoppers are focusing their attention – and their wallets – on products for the eyes.

Average WoW Sales Growth Post-Lockdown (5/3/2020 - 7/4/2020):


Total Makeup: +4%

Eye: + 6%

Eye brow: +8%

Eye liner + 7%

Mascara +8%

False Eyelashes +14%
Source: The NPD Group
Google searches for brow products are on the rise, too, with queries related to brows up +24.6% YoY. Shoppers are looking for information or product guidance around the search terms clear mascara, soap brows, eyebrow dye, eyebrow serum, and eyebrow razor as they adjust to their new normal. (Spate)
5. Essentials are the priority and grocery stores are now a destination for beauty
While the convenience of the ecommerce giant Amazon allows it to the retail destination of choice for many beauty shoppers, essentials products and businesses took priority during the early stages of the pandemic and grocery stores found themselves to be a great place for desperate shoppers to find new must-have beauty and personal care items. (Nielsen)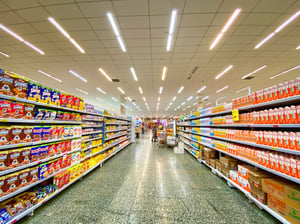 While stores such as Ulta and Sephora were forced to shutter their B&M storefronts and online orders could take weeks to be fulfilled, the reliability and accessibility of neighborhood grocery stores allowed many shoppers to be reacquainted with the affordable and diverse offerings of mass brands.

Facial skincare sales are up +14.5% from March – June 2020 in grocery stores (Nielsen)
While many supply chains are still recovering from the early stages of the pandemic and COVID-19 cases continue to rise in many parts of the United States, this shift in behavior could be here to stay.
6. High maintenance no more as more shoppers forgo salon trips and department store shopping sprees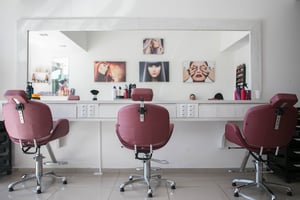 With so much of our lives still on pause, many Americans are changing the way that they get dressed up and ready for different events. With fewer dates, work commitments, and parties to attend, more people are embracing a more natural look.
19% of consumers plan on embracing a more natural look, including grey hair and grown-out roots, and 26% expect to wear less makeup (Nielsen Summer COVID-19 Survey)
By embracing more natural looks, consumers are also reducing their need to visit salons or department stores. 21% of respondents expect to visit salons less often, and 22% of respondents expect to do less purchasing of beauty products at specialty or department stores. (Nielsen Summer COVID-19 Survey)
7. We're masking more body parts, more often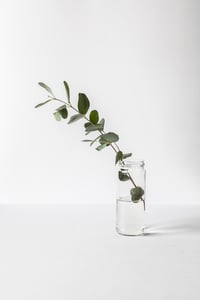 Masking isn't a new trend in personal care, and in recent years, body masking has risen in popularity but hasn't had widespread appeal do to its time intensive nature. Now that people are spending so much time alone at home, they finally have the time to do any and all of the body masking that they've wanted to do.
Google search interest in keywords such as scalp mask, foot mask, butt mask, hand mask, and boob mask are all on the rise, with YoY interest in face masks up 25.4%.
This increased interest in at-home masking is also related to the closure of salons and spas. Many shoppers can't get their regular chemical peels or detoxifying facials and must take ownership themselves to get the glowy or clear skin that they usually visit a professional to achieve.
8. Made in the USA Matters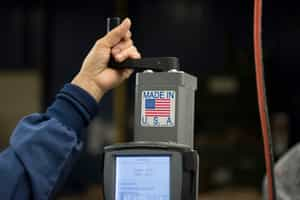 Before the pandemic, many Americans were already looking closely at ingredients and where beauty products are made. Supply chain and economic concerns have heightened the concern and demand for how and where products are made, and now 51% of those surveyed said that buying American/Made in the USA is something that they look for and is important to them (Glimmer Study 2020).

Many of the prospects that Twincraft Skincare works with are surprised to learn that we develop and manufacture 100% of our finished goods here in Vermont. American made products can sometimes have a higher cost associated with them, but for shoppers who want to support this claim, the benefits are worth it.
9. No more FOMO - we're all homebodies now
The majority of consumers still plan to stay home most of the time. While the statistics around this question evolve as pandemic cases ebb and flow in different parts of the US, larger behavioral shifts have changed how we socialize, dine, play, and relax.



As of the week of 7/19:




More than 1/3 plan to leave home only for shopping or socializing purposes

73% are waiting for additional milestoes before they participate in out-of-home activities

More than 50% are worried about using shared services, such as public transportation, ride sharing, or air travel

More than 50% are sticking with new at-home entertainment habits that they picked up during lockdown, such as online gaming
(StellaRising, US Consumer Sentiment During the Coronavirus Pandemic)
---
Want to discuss turning these trends into new product development ideas? Contact us!