A lot has changed over the last few months, and one of the biggest areas of change during COVID-19 in the US is consumer behavior.
A global pandemic and states' stay-at-home orders have dramatically altered our access to personal care supplies and services. Now, more than ever, many shoppers are looking to personal care as self-care to help them alleviate stress, help with hygiene and sanitization, and get through this crisis.
Social isolation and distancing, while necessary for flattening the curve, lead to the need for more "me time" for many shoppers, especially parents and other caregivers, and brands have the opportunity to facilitate at-home solutions wherever they can. They can help give guidance to set up spa-like moments and beauty breaks, as these are some of the last businesses to reopen given their high-contact nature, featuring strong ingredient stories to help everyone achieve the at-home results they desire.
Ingredient Trends in Hand
Care
Hand care is touted as the new self-care, as we're all sanitizing and caring for our hands more than ever before to help stop the spread of disease.
Handwashing Trends
Handwashing is one of the most reliable and accessible ways to stop the spread of diseases such as COVID-19, and relevant Google search traffic in the US spiked as panic around the pandemic spread in early March.
As more of the country has adapted to life during the pandemic, panic buying and frantic searches for reliable product options have declined, but interest in handwashing supplies such as hand soap and bar soap are now expected to remain stronger than they were before.
Interest Over Time* in Search Term "hand soap" in the US (2020)

*Interest Over Time: Numbers represent search interest relative to the highest point on the chart for the given region and time. A value of 100 is the peak popularity for the term. A value of 50 means that the term is half as popular. A score of 0 means there was not enough data for this term.
As we're all advised to wash our hands very frequently for at least 20 seconds, people are experiencing more discomfort and dry skin on their hands. For those with eczema or other skin conditions, the result of frequent handwashing can be very painful. Dry, cracked skin can be more prone to infection than hydrated, healthy skin, as well.
Consumers are looking for hand products with healing or repairing benefits, with protective ingredients like ceramides and lipids. These active ingredients are often featured in calming facial skincare products, but given all of the attention that hands are getting, consumers are ready for them to make an appearance in their body care, too.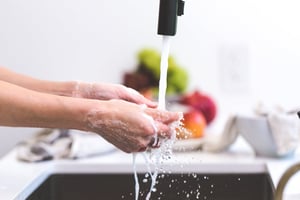 While many product users rely on hydrating creams and balms to help treat and repair damaged skin, good skin health can also be managed at the cleansing stage. Harsh cleansers and alcohol-based hand sanitizers do an effective job of destroying germs, but they also cause harm to the skin's delicate microbiome and leave the skin feeling depleted and dry.
At Twincraft Skincare, we're experts at adding nourishing ingredients to soap base to create high performing bar soaps that foam well and cleanse the skin, but don't leave the user feeling stripped or overly dry. This is because we focus on adding rich moisturizers and other emollient ingredients to our formulas, such as shea butter, cocoa butter, coconut oil, and hyaluronic acid. This provides nourishment to the skin during the cleansing stage and helps to promote a healthy skin microbiome. This same approach can be taken to liquid hand soap, body wash, and hand sanitizer formulation.
Key Ingredient Trends: protective ingredients such as ceramides and lipids; butters and other rich emollients; humectants such as aloe and hyaluronic acid
Ingredient Trends in Foot Care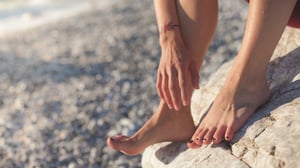 Hands may be getting a lot of attention these days, but experts are also seeing an uptick in interest in foot care over the last several weeks.
This rise can be attributed to the closure of salons in most states, as consumers who are used to relying on spa services to maintain their feet have had to start DIY-ing pedicures at home. As the country warms up and more people make the transition from closed footwear to sandals, this need will grow even more.
Searches in nail color and other foot care tools are up, and there is a lot of interest in foot masks and treatments to help repair cracked skin and smooth callouses. Targeted exfoliating treatments such as the K-Beauty Baby Feet masks are used by those stuck at home, where they have the opportunity to accelerate skin shedding without terrifying the general public. For the less adventurous, shoppers are looking for hydrating foot treatments that deeply hydrates without leaving skin greasy.
Key Ingredient Trends: Butters and other rich emollients; aggressive exfoliants, either chemical or physical
Ingredient Trends in Facial Skincare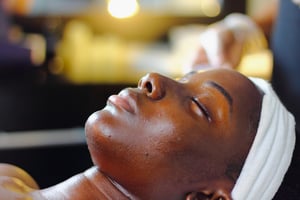 A key trend in skincare before the onset of COVID-19 was the rise of noninvasive cosmetic procedures for those under 40. In general, dermatological procedures have increased by 47% since 2013, and procedures such as laser facials, microneedling, and hydrafacials have become increasingly popular with Millennials.
Elective procedures such as Botox and fillers were put on pause during the first wave of COVID-19, and social media viewers watched in awe as the faces of celebrities and influencers changed without access to their regular touchups. As states allow doctors offices to open back up for these types of services, there are mixed feelings about how people should be prioritizing these procedures, especially when there are still shortages of PPE and other medical supplies in many areas.
With this being said, consumers are increasingly interested in getting spa-worthy results at home with peels, devices, and masks. While these at-home treatments are far less effective and take longer to see the results that they would after a visit to their favorite med spa, many self-care-seekers have nothing but time on their hands right now.
Top Skincare + Benefits Trending Claims (Google, April 2020)
| | | | |
| --- | --- | --- | --- |
| Benefit search terms | Volume | YoY | MoM |
| Scientific + glowing | 2.9M | -9.1% | +13.1% |
| Scientific + purifying | 2.3K | +69.1% | Breakout |
| Scientific + peeling | 4.7K | +199.1% | +202.6% |
| Scientific + clearing | 1.8K | +24.9% | +140.% |
Key Ingredient Trends: protective ingredients such as ceramides and lipids; butters and other rich emollients; humectants such as aloe and hyaluronic acid
Key Takeaways
Thinking about trend viability: with the spread of COVID-19 and varying stay-at-home orders, consumers have many new personal care concerns. Handwashing is high priority for all, but finding alternative solutions to typical spa services is still important for many, such as hair coloring, manicure kits, and self tanners. Focusing on products with strong active ingredient stories are a key way to tap into this need.
The duration of stay-at-home orders has been long enough for many to create new habits or reevaluate former priorities, which is important to consider when launching new product solutions. Is your solution cheaper than a professional offering? Is it more convenient or does it offer more flexibility from a scheduling perspective? These are all important questions to consider as we move forward with altered schedules, budgets, and realities.
To discuss bringing these ingredient and product trends to life with us as your contract manufacturer, please contact our Sales team:
Source: SPATE - Stay-At-Home Top Rising Trends Report