Our Services
We partner with some of the world's best personal care brands to formulate and manufacture premium bar soap and natural skincare concepts. Each product that comes out of our Vermont facilities is completely unique to each customer, and we pride ourselves in offering different product solutions for different types of businesses, from small indie brands to large global companies.
Formulation Services
The first category of our formulation services is product development based on one of our existing library product concepts. This robust selection of unique product ideas is built off of bases that have been piloted, tested, and vetted for success in today's competitive personal care industry. These products are formulated to satisfy popular industry claims and standards and satisfy the increasingly strict requirements of clean retailers and brands.
Our library of innovative product concepts is designed to be a starting point for many brands looking to develop trend-driven products under a tight timeline, and most of our concepts are bridgable and customizable to unique ingredient stories with adjustable "levers" that we can pull to adapt to the desired usage experience.
The second type of product development that we offer is custom development. Through this process, brands collaborate with our internal formulation team to create a unique product to add to their line. This process is often more time and capital intensive, and is the preferred path for specific brand partners.
Product Development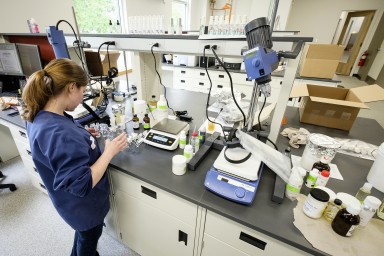 The goal of the Twincraft Skincare R&D team is to develop new product concepts in bar soap and skincare that are manufacturable, innovative, trend driven, and speak to today's conscious consumer.
We utilize all R&D tools both inside and outside the company to accomplish this goal. From an external perspective, we hold regular meetings with a wide variety of suppliers and consultants to ensure that we're using the best possible ingredients and staying abreast of industry trends and regulations. Our R&D team also travels the world to attend trade shows, visit other manufacturing facilities, and attend training seminars to ensure that we're leading the way in innovation in both bar soap and liquid skincare formulation. We focus on transparency and building strong business relationships to make sure that we're functioning at our best, with the best possible ingredients and equipment.
Internally, R&D functions off of a strong relationship with both our Sales and Marketing teams, ensuring that we can formulate and manufacture the products that we dream up as part of our Innovation process and sell to our customers. Our Director of Trend and Marketing Strategy is always filtering through the latest trend reports and market data to guide new product developments and make sure that we're formulating with trends and consumer expectations in mind.
Above all, our R&D team is there to support the many brands that we work with as a true partner. When we develop a new concept, we focus on sharing ideas to make the best possible prototype in our state-of-the-art development lab. We're open about the hurdles that we encounter during this process, and value transparency every step of the way in product development and manufacturing. We provide direct partnerships with our development team so that you can speak directly to our development personnel –we believe that this speeds up development timelines and builds confidence in our team as we approach the manufacturing stage.
Suggested Product Concepts
At Twincraft Skincare, we strive to be proactive, not reactive, with our customers and new product innovations. Any time we meet with a customer, we meet internally to ensure we're collaborating to bring the best new ideas and solutions to the table. Sales, marketing, manufacturing, and members of the R&D team come together to discuss new trends, the brand's DNA and existing products, industry benchmarks, and potential roadblocks. From these meetings, the sales team is prepared to work with the customer to meet and hopefully exceed their needs with new innovation.
Bar Soap R&D Services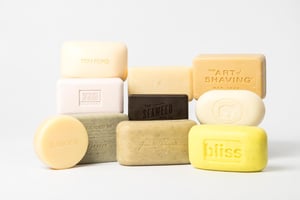 Twincraft Skincare has been, and continues to be, a pioneer in the bar soap industry. Our teams have spent a lifetime researching, identifying, and developing innovative products to bring to the marketplace, such as our glow-in-the-dark bar soap and our terrazzo bar soap.
Our customers know that if you're looking for a unique bar soap concept, whether it be in an aesthetic quality or ingredient usage, our bar soap innovation lab is the place to go for it. We have a large selection of bar soap bases that offer significant breadth or formulation versatility based on the varying ratios and types of oil used, and by combining old-world techniques, such as triple-milling, with modern, sophisticated, and surprising capabilities, we're able to yield the bar soap best suited for a specific brand that will differentiate itself in the marketplace.
Skincare R&D Services
While we don't have the same history in skincare development that we do in bar soap, we bring the same innovative spirit to our liquid development projects. We focus on understanding ingredient, texture, and packaging trends, and build our concepts and prototypes off of these guiding ideas.
We are experts at understanding and formulating to our customers' natural standards. While no two companies are 100% aligned with their definition of natural, we work with them to understand their priorities and flexibilities. From Certified Organic, to Whole Foods standards, to unique prohibited ingredient lists, our formulation team excels at adapting a concept to suit your needs.
In skincare, we offer two parallel development paths, which we've found best accommodate the variety of customers that we support, from large, established corporations, to smaller, natural-minded brands that may not have large initial volumes: the Base+ Development Path and the Custom Formulation Path.
Packaging Services
Members of our sales and formulation teams work hand-in-hand with our packaging department to ensure that each product is designed to work with the most appropriate packaging available. Our team understands that packaging is a crucial part of any brand's persona, and we work with each business partner to ensure that we meet your needs, whether you're providing your own packaging components or are looking for guidance from us for sourcing.
Product packaging is practical, helping to keep a product in pristine condition and safe from contaminants while it makes the journey from manufacturing facility, to store shelf, to a user's bathroom. Done well, though, and it can edge a buyer to select it over a competitor's offering, and reserve the product a place on a visible bathroom shelf to inspire and delight beyond the initial purchasing step. We live in the age of Instagram and "top shelfies," and our packaging team is committed to helping our customers design and source sustainable packaging that helps them achieve all of their goals.
Bar Soap Packaging Options
For bar soap packaging, customers have two options at Twincraft Skincare: in-line packaging or staged wrapping. In-line packaging is done directly after the pressing stage, and bars of soap are mechanically packaged in cartons, paper wrap, flow wrap, or bulk pack. Staged wrapping is done in our wrapping room, and includes crease wrap, sollas wrap, paper wrap, tissue wrap, and shrink wrap.
We're committed to developing packaging that aligns with each brand that we work with, from high end bars that are packaged with their own soap dish, to small sample bars in doboy wrappers. Our Innovation Team also includes a packaging division to help bring the best innovation to our customers.
Liquid Skincare Packaging Options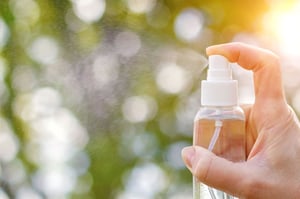 While bar soap packaging is often discarded after the first use, liquid skincare packaging sticks around for the duration of the product, with plenty of opportunity to educate the user and earn the product a permanent place in their medicine cabinet. Many prestige brands heavily invest in their product packaging, using airless pumps to help prolong formula efficacy and feature glass, metallic hits, and other packaging options that add intrinsic value for the customer. Our packaging team works with customers to help develop and source options for all price points, and is ready to answer your packaging questions.
Our current capabilities include tube, bottle, and jar filling, and for unique business partnerships, we have the ability to expand and adapt our filling capabilities to meet the needs of our customers.
For squeeze tubes, Twincraft has two filling lines and the capacity to fill over 250,000 tubes per week. We can label tubes, and orient the label to the cap. We have the ability to seal metal tubes for brands that want the heritage look and feel that metal tubes provide. Basic tube volumes range from 0.5 – 8 fl oz, and custom format change parts can be available for customers in less than 30 days.
At our Essex, Vermont facility, we have two fixed lines with inline finishing capabilities, enabled to package bottles and jars. We are able to fill containers as small as 0.5 fl oz, up to five inches wide. One 6-head piston filler is used for low to medium viscosity bulk, fitted with cap torque, and can wrap and orient labels. One 5-head gear pump is used for filling all bulk types, fitted with cap torque, and has front/back labeling capability.
Our facility is agile, and features several mobile units, including:
One mobile single head gear pump filler for piloting or other small quantities
One mobile top/bottom labeler
One mobile automated cap snapper
Sustainable Packaging for Skincare & Bar Soap Projects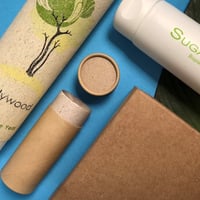 Today's consumer actively seeks out products with sustainable packaging, and this area has the greatest potential for innovation and newness in the crowded personal care product market.
For liquid skincare packaging, this means that shoppers are looking for minimal secondary packaging, materials with a low carbon footprint, plastic and cardboard sourced from post-consumer waste (PCW), and recyclability, wherever possible.
Our team has options available for each of these needs, including tubes made from bioplastic (sugarcane) as well as ocean-bound plastic.
Bar soap is a natural choice for consumers looking for plastic-free product options. We offer a variety of paper wrap, folding carton, and crease wrap options with varying sustainability claims associated with each material component. We are actively pursuing more sustainable alternatives for adhesive and other components that do not comply with most recycling programs.
Contact our sales team to learn more about our packaging options and other development opportunities.
Testing and Quality Assurance
Bar soap and liquid skincare products need to undergo rigorous testing to ensure customers receive products that will last for their intended shelf life, and will represent each brand's own high product standards. Our in-house teams are available to answer your questions and provide required documentation and assistance during every stage of the product development and launch process.
Supplier Parternships
At Twincraft Skincare, we rely on strong relationships with our suppliers to allow us to manufacturer superior products for each and every one of our customers. We partner with the industry's best resources to ensure that we have access to the world's highest quality raw materials and finished goods, and to keep all of our teams, from R&D to marketing, up to date on the latest industry trends, regulations, and innovations.
Transparency, fair pricing, and a commitment to ethical standards are three of the main pillars that our Purchasing team uses to determine which suppliers and vendors make the best partners.
Interested in Partnering with Twincraft Skincare?
For suppliers who are interested in partnering with the Twincraft Skincare team, we welcome the opportunity to introduce ourselves and discuss the many ways that we can work together.
Contact us to learn more about the type of ingredients that we source for our products, the packaging types that we fill, and information about our operational and logistics standards. We can provide more specific information regarding supplier policies and other important terms and conditions upon request.