Contract Manufacturing & Sustainability
Twincraft Skincare has always been committed to social responsibility, manufacturing sustainable and innovative products with minimal impact on the environment since 1972 - long before the industry demanded it.
Today, our customers' products are widely distributed in Whole Foods and other natural food stores, along with prestigious skincare stores like Sephora. When our business was founded over 45 years ago, consumers didn't expect much from their bar soap, as ingredient lists used to commonly include animal derived tallow. In 1997, we began exclusively stocking all-vegetable soap base, only offering tallow and syndet to customers on rare occasions, and by special order.
We've grown our business on the idea that bar soap can and should be made with sustainable ingredients and processes, and develop our products in a way that we believe will benefit the planet for years to come. This is the same approach that we bring to the liquid skincare products that we develop, focusing on sustainability from formulation to packaging.
Because of our investment in sustainability, we are able to provide our customers with a range of claims & certifications that help their products succeed in a growing natural marketplace, and help the planet.
Twincraft Skincare's Commitment to Sustainability
Twincraft Skincare has a long standing commitment to sustainability in our products and the way that we do business. We pioneered the use of biodegradable RSPO soap base in our bar soap, and we offset much of our energy consumption for both of our facilities with renewable energy.
Sustainable Soap Base
We have offered organic soap base to our customers since 2003, and in 2007, our facilities were certified to manufacture certified organic products.
We joined the RSPO program in 2010, before many of our competitors, and we are now able to offer all of our customers certified sustainable soap base through the RSPO credit program.

Check our progress at www.rspo.org
Twincraft Skincare Manufacturing Certifications
We are able to offer our business partners a variety of certifications to ensure that their products are of the very highest quality, and align with their brand's credos and values, including RSPO Mass Balance, RSPO Segregated, RSPO Credits, Certified Organic, and Made with Organic claims.
We are also FDA certified to manufacture OTC drug products, and are able to work with customers to obtain other certifications such as Cruelty Free and Leaping Bunny to support the industry claims that customers can demand from brands and retailers.
We hold our manufacturing facilities to the same standards that we hold the products that we make in them, and we adhere to the requirements for Good Manufacturing Practices (GMP), and are ISO 22716:2007 compliant.
At Twincraft Skincare, we undergo frequent audits from many regulating agencies, and are happy to provide documentation and additional information to any of our business partners who require it. If you are a current customer of Twincraft Skincare and would like to request documentation of our certifications, please contact your Account Manager.

Sustainable Energy Consumption
In 2016, we finalized construction of two solar farms, both located in Vermont, and the power from these farms offsets much of the energy used in our manufacturing efforts. The remaining is provided by our local electricity provider.
Sustainable Packaging Options
Today's shopper is looking for more than just a clean skincare product - they want it to be packaged in a responsible way. The biggest opportunities in innovation and differentiation in today's crowded personal care marketplace all lie in packaging, and our Packaging Engineering team is hard at work to find the most sustainable options for our customers' new and existing projects.
Upcycled Packaging
We're focused on finding sustainable ways for us to conduct our business every day, and that includes being creative with some of our administrative functions. We ship many packages from our front desk every day, sending samples, legit kits, and other resources to our new business prospects and existing customers to assist with your product development process.
We've transitioned to using upcycled packaging in the majority of these shipments, asking employees to bring in any excess packaging material that they have from personal shopping or projects, and we also work with our warehouse to make sure that no packaging material from shipping & receiving is left unused. This allows us to reduce the amount of new packaging materials that we need to purchase for the business, and also provides new usage opportunities for the many boxes, bubble wrap, packing peanuts, and other materials that end up on our desks.
This is why you may receive a package from us with a variety of different packaging materials in it, or a box that doesn't have our branding on it. We encourage you to reuse the material for your next shipment, too.
Twincraft Skincare & the Environment
Manufacturing is very hard on the environment by its nature, and we do everything within our capabilities to minimize our impact at a local and global level. We've made over 2 billion bar soaps at our Winooski factory, and the environmental impact of manufacturing at this level is very tangible, especially in a green-minded state such as Vermont.
Sustainable Waste Management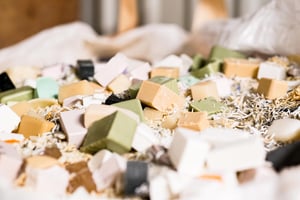 99% of our bar soap production scrap is reused, and we donate all excess soap to Clean the World, a social enterprise that donates soap to children and families in need. By helping this extraordinary organization, we also keep soap out of the landfill.
Vermont has stringent wastewater management standards, and we apply these standards to both our Winooski, VT and Essex, VT facilities. We invest in ultra high-efficiency equipment, focusing on our boilers, on-demand water heaters, state-of-the-art air exchangers, which results in an annual savings of over 4,000 CCF/year.
Our Bar Soap Donations Support Clean the World

Twincraft Skincare donates our bar soap waste from our Winooski, VT factory to Clean the World.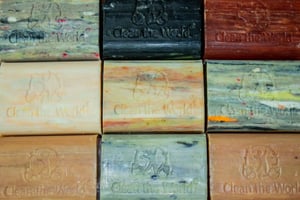 Soap finishing is a sustainable, environmentally conscious process, but there will always be extra material and soap that can't be reworked in to an existing bar soap project at our facility. Instead of sending this excess soap to a landfill, we donate it to Clean the World.
Clean the World is a social enterprise leading a Global Hygiene Revolution, distributing hygiene products and recycled soaps to families and children in countries with high death rates from infectious diseases. Since 2009, the organization has distributed more than 46 million bars of soap to individuals in 127 countries.
At a Clean the World facility, the soap that we donate, along with soaps from participating hotels and resorts, is sanitized, processed, and cut into new bars. The bars are then boxed and ready for distribution.