Shoppers are increasingly looking to their personal care routines for products to help boost and balance their moods, and this is especially true during the COVID-19 pandemic.
The Evolution of Wellness
Wellness has risen as a major theme in beauty and personal care trends over the last several years. In early 2020, pre-pandemic, trend watchers noted a tremendous need for the wellness industry to become more approachable and attainable so that it could better serve a wider, more diverse set of consumers (Mintel).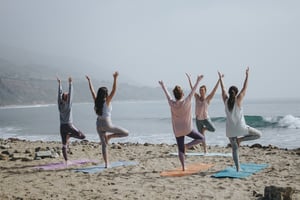 Many popular basic wellness offerings focus on niche, premium segments that target a specific type of consumer that look a certain way, exhibit certain lifestyle traits, or have a level of means that allow them to explore alternative forms of wellness.
The need for natural stress management, healthy lifestyle goals, alternative supplements, and at-home fitness equipment were all key pillars of the wellness trend before the pandemic hit the US, and the ongoing crisis has amplified the need for brands to make all categories of wellness more inclusive and accessible to all.
Wellness Redefined
| | | |
| --- | --- | --- |
| Pre-Pandemic | Now (Summer 2020) | Microtrends |
| Mental Health | Health Is Front-of-Mind | Immunity Boost |
| Self-Care | Cautious Spending | Wellness-Inspired Beauty |
| Holistic Beauty | Increased Digitalization | Digital Health |
| Status Symbol | Desire to be Free of Disease | Back-to-Basics Mentality |
Source: Euromonitor International, July 21, 2020
2020 has proven itself to be an extremely stressful year for all Americans coming from all walks of life as the pandemic and its repercussions make every day increasingly unpredictable. This consistent instability is what many see as the new normal, and Americans' priorities have shifted alongside their spending habits and ability to maintain certain commitments.
This change in everyday life has impacted the way that adults prioritize wellness, and brands have the opportunity to help provide new wellness solutions for this evolving climate (Mintel).
According to Mintel research on health management trends, American adults are most motivated to set wellness goals to help improve their health, look better, feel happier, and let them take control over their wellbeing.
In a response to this consumer need, many brands are already offering "choose your mood" personalized product options, focusing on aromatherapy to help with stress, anxiety, sleep, focus, and other areas. However, many of these existing product offerings, in skincare, bar soap, and other personal care categories are still focused on the more niche, stereotypical wellness consumer. Trend experts suggest that brands step outside of this box to help address the problems and concerns of a broader demographic, including products for men's brands, children's brands, home care brands, and those developed for BIPOC.
Aromatherapy in Skincare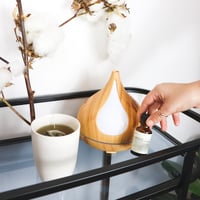 Aromatherapy is an alternative medicine practice that harnesses the power of fragrance from the essential oils of specific plants to help balance the mind and body. Essential oils can be diluted and diffused into the air, sprayed on to a pillow or bedding, or added in small doses as ingredients in skincare and bar soap to provide the user with a specific aromatherapy experience.
While studies show that essential oils alone will not dramatically improve immune system function or cure illness, studies have shown that specific essential oil aromatherapy can help relieve stress, promote better sleep, reduce anxiety, and relax the body.
Common aromatherapy ingredients in skincare

& bar soap

:
Lavender – Lavender is one of the most studied essential oils for its relaxing effects. It has been found to calm the nervous system and help the user enter a more relaxed state

, and

i

t is especially beneficial in sleep care products

Jasmine

– In studies, jasmine has been shown to help with alertness and stimulation, which provides evidence that it can help to relieve feelings of depression and uplift mood

Ylang

ylang

–

Ylang

ylang

is a sweet floral aromatic found in Southeast Asia, and its aroma has been shown to help decrease blood pressure and calm the nervous system

Bergamot

- Bergamot is a citrus fruit traditionally used in Italian folk medicine, and studies support its ability to relieve tension and anxiety
Please note: essential oils can be sensitizing when applied directly to the skin, and allergic reactions can occur, so it's important to be cautious when using an essential oil product.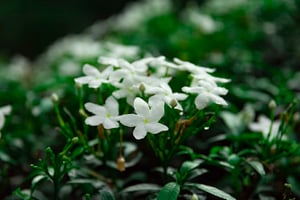 Many brands include multiple essential oils to layer their benefits and tell unique stories to benefit stressed out shoppers. The brand Asutra* has a line of Mist Your Mood sprays to help users target their problems and curate an aromatherapy experience to suit their mood, ranging from Calm, Cool, and Collected with lemongrass and jasmine, to Instant Stress Relief, featuring patchouli and bergamot.
This type of product can also tap into the power of color associations with packaging or product, as color and emotion are closely connected. Warm colors, such as red, orange, and yellow, can evoke feelings of optimism, energy, and happiness. Cool colors, including purple, blue, and green, are usually calming and soothing, but can also communicate sadness. Happy colors are often bright, while somber, sad colors are dark and muted.
At Twincraft Skincare, we recently launched a unique skincare product concept to help demonstrate the execution of a product designed to help improve the user's mood. By harnessing the power of aromatherapy, color associations, and a powerful active ingredient story, our Smile Serum was born.
Smile Serum
Biohack your way to a sunnier disposition with this cleverly designed skincare product.
Featured Ingredients:
Sensityl

™

is a natural extract derived from microalgae and offers soothing and calming actions to the skin by rebalancing sensitive skin microbiota and taking control over the whole inflammation process. It is believed to be an indirect mood enhancer through skin calming

Bergamot essential oil

provides an aromatherapy experience that can help alleviate anxiety and stress at the biochemical level

Sea buckthorn oil

gives the serum a

light yellow

color, which is used by marketers to draw attention as well as evoke a sense of happiness
To use, apply the pressed serum to clean dry skin. Let the product absorb and follow with moisturizer and additional skincare steps. Can be used morning and/or night.
What is pressed serum? Pressed serum is a unique hybrid moisturizer that is part of our base strategy. Upon application, it has the texture of a thick lotion, but once it is massaged into the skin, it undergoes a textural transformation, becoming a watery, thin serum that is easily absorbed.
Key Takeaways
Consumes want personal care products that will naturally help them boost and balance their moods in our chaotic world

Wellness is more of a priority than ever before for many American adults, but wellness offerings need to diversify to support different demographics than they did pre-pandemic

Brands have the opportunity to optimize skincare and bar soap formulas with ingredients that are proven to help improve the user's mood, while also improving the way that they look
Want to discuss the possibility of adding this type of product into your brand's offering? Contact our sales team to learn more about how our contract manufacturing team can help bring your ideas to life.
Source: Mintel Blog: The 'Next Normal' of COVID-19 Amplifies Basic Wellness Needs https://www.mintel.com/blog/personal-care-market-news/the-next-normal-of-covid-19-amplifies-basic-wellness-needs