Clean beauty claims drive much new product development, but there is a tremendous amount of consumer confusion about what 'clean' really means.
A CEW Event: Consumer Interpretation of the Meaning behind the Movement
At the end of April, CEW partnered with BazaarVoice + Influenster to host the online webinar Consumer Interpretation of the Meaning behind the Movement. The presentation largely focused on BazaarVoice + Influenster survey results, looking at behavioral trends and the opinions of female shoppers around the category of clean beauty.
In addition to understanding how many young female shoppers interpret and value clean beauty claims, the presentation discussed how their feelings and shopping behaviors are changing during the COVID-19 pandemic.
What Is Clean Beauty Today?
For the purpose of this presentation, the term clean beauty is defined as follows:
Clean beauty refers to products that are typically made up of natural ingredients, but also incorporate synthetics that have been deemed safe for people and the planet.
However, there is no clearly defined industry interpretation of the term 'clean,' and FDA or third party regulation is lacking, which means that there is a lot of confusion with how the consumer interprets the term. In fact, many shoppers use the terms clean, natural and green interchangeably.
8 in 10 women surveyed agreed that people use the terms 'green beauty,' 'natural beauty,' and 'clean beauty' synonymously.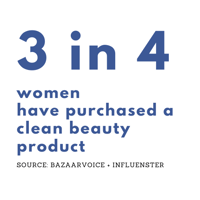 For all of this confusion, there is still tremendous opportunity in the clean beauty space. When they were prompted with the definition, "Clean beauty means that a product was made with no toxins," the majority of women agreed that they are more inclined to buy clean beauty, and have already purchased clean products themselves.
When asked, would you be more inclined to buy products that are marked as 'clean'? 93% said 'Yes.'
Not at all clean claims are equal, though, and female shoppers prioritize clean claims in certain product categories over others.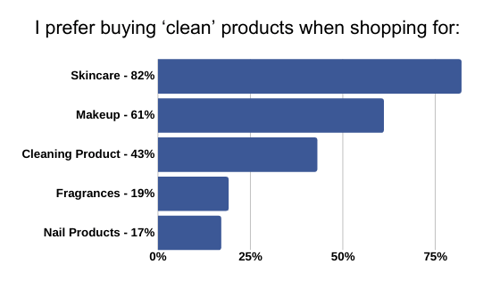 Additional Product Claims
Free-From Claims
With all of the confusion around what clean really means, shoppers are still relying on free-from claims and avoiding specific ingredients in their beauty lineup.
30% will only use beauty products that are paraben-free
28% will only use beauty products that are sulfate-free
23% will only use beauty products that phthalate-free
The majority of customers that we work with at Twincraft Skincare prioritize these free-from claims, which is why we proactively develop our internal product innovation to be free from parabens, sulfates, and phthalates, among other commonly avoided chemicals.
The reasons that many avoid these chemicals are serious, too, as many reporting that they avoid them because of concern about allergic reactions, hair loss, skin rashes, and cancer.
Cruelty-Free & Hypoallergenic Claims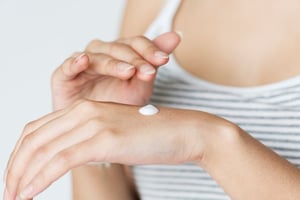 In addition to clean claims, shoppers are very concerned about the impact of the product on any animals. 62% of those surveyed said that cruelty-free was the most important product claim to them, with 32% saying that clean was the most important. Animal testing and animal-derived ingredients are frowned upon by the majority of shoppers, even though those ingredients could be a more natural or sustainable alternative to a synthetic ingredient.
Hypoallergenic product claims are important, too, as shoppers don't want to experience an adverse reaction when trying a new moisturizer or lip stick. The largest category for those looking for hypoallergenic claims is skincare (90%), with makeup in second place (66%).
Opportunities for Consumer Education
Consumers want claims to help them easily understand what they're purchasing and using, but they're also not afraid to read the fine print and do their own research. 82% of women are always or sometimes looking at the ingredients on labels when they're shopping for makeup or skincare, and 69% of women are seeking out reliable information sources to help tell them which ingredients are good or bad for them.
Brands have the opportunity to really educate their customers about why certain ingredients are in a product and provide third party information to help validate their formulation strategy. Education is especially key to help the shopper understand why some synthetic ingredients are safe, and why not all chemicals are bad for them.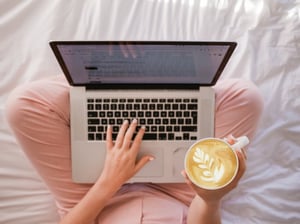 If brands aren't educating their shoppers, other, less reliable sources are. 51% use Google to check whether certain ingredients are harmful, while only 17% are checking the brand's website to learn about it.
What sources do you use to research clean beauty products?
33% use product reviews
26% use social media
24% use the Sephora Clean Beauty seal
These conscious consumers want to be more knowledgable about the products that they're using, and there's a strong desire for brands to provide more ingredient transparency and education to their shoppers.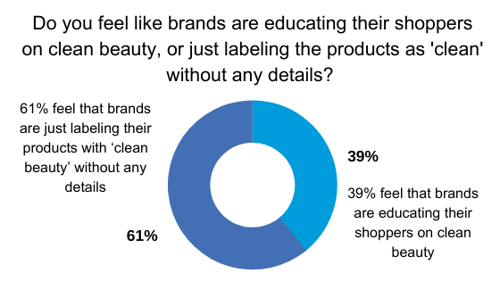 Product Efficacy Still Reigns Supreme
With all of the buzz about clean beauty, the majority of shoppers are still most interested in products that can support their own claims.
65% say performance is more important than clean
35% say ingredients are more important than performance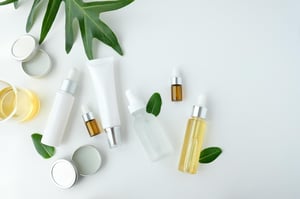 WWD published a recent article focused on the rise of the skincare flexitarian, taking the idea of flexitarian diets (a style of eating that encourages mostly plant-based foods while allowing meat and other animal products in moderation, as opposed to following strict vegan or vegetarian practices) and applying them to the beauty world.
While many women are looking to clean up their skincare routines, they don't want to give up the products with clinical results that rely on powerful synthetic ingredients to work their magic. They want to pair their Botox and hyperpigmentation treatments that deliver fast results with organic oils and natural body care to balance out their needs.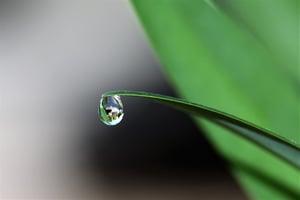 With that being said, for most, there is still a lot of faith in the efficacy of products with clean claims. The majority of women (91%) feel that clean products are equally or more effective than 'traditional' products.
Clean claims provide a lot of value for most shoppers, but some women are still disinterested in making the switch to clean products because of a perceived lack of transparency and education. For the 37% of those surveyed who said that a clean label isn't a major factor in their purchasing decision, it's because they don't feel like they know enough about what that label means, they are worried about ingredient transparency, and, for many, they think price is a more important consideration than ingredients.
For brands, this provides guidance on the importance of transparency and education to help convince this untapped group to make the switch to cleaner beauty products.
COVID-19's Impact on Clean Beauty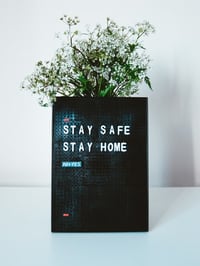 Given everything happening in the world due to the COVID-19 pandemic, analysts also worked to determine how a shifting economy and uncertain future would change the way this group of women shopped. 79% of women strongly agree/agree that their shopping behavior has changed in response to the pandemic due to a variety of reasons.
Shoppers are experiencing product shortages in their preferred stores, and many are shopping more online than ever before. Their priorities for purchases are now different, with many facing unemployment for the foreseeable future. Our reliance on delivery services and small business has all shifted, and the data changes every week with the constantly evolving landscape of the US's pandemic response.
For many, availability and cost and driving purchasing decisions where quality and brand names used to.
| | | |
| --- | --- | --- |
| Before the Pandemic | Priority | During the Pandemic |
| Quality | #1 | Availability |
| Price | #2 | Price |
| Brand Name | #3 | Quality |
Availability is now considered to be more of a priority than ingredients, but many women are still trying to prioritize clean beauty over traditional products.
During the pandemic:
68% are still reading ingredient labels before purchasing
43% are still prioritizing clean products for some purchases
26% say that their priorities have changed, though, and that renders clean no longer a priority for them as their concerned about availability, efficacy, and price.
It's difficult to predict how long the pandemic will impact shopping behavior, and how long it will take post-pandemic for consumers to return to their normal shopping habits, if they ever will.
26% say they will continue with their current shopping habits
41% say they think they will return to their normal shopping habits after the pandemic ends
33% say that it's too soon to tell
Key Takeaways
Ultimately, consumers are increasingly looking for products with clean claims and are doing their own research to find preferred products and learn about ingredients. There is tremendous opportunity for brands to provide more education and transparency to win over more customers, especially in the categories where it counts such as skincare.
The pandemic has made shoppers very concerned about product availability, and brands have the additional opportunity to make finding products easy for their shoppers. Tell them how and where she can get your products in a safe way.
Think long-term when building these educational resources and customer connections to help build a relationship that will last.
Twincraft Skincare prioritizes safe, clean formulations to offer our growing list of customers, as we know that this category will continue to grow in the personal care market. To learn more about how we can support your brand's next product development project in bar soap, skincare, and body care, please contact our Sales Team.
Sources: