Athletic wear – known as 'athleisure' – slowly overtook the US clothing market. Skincare products are following suit, as more consumers are shopping for convenient, sweat-friendly personal care items that they can take with them from the gym, to the office, to dinner.
The Rise of the Athleisure Movement
In 2016, the term 'athleisure' was added to the Merriam-Webster dictionary. The term is defined as "casual clothing designed to be worn both for exercising and for general use." The world hasn't been the same since.¹
During the formal introduction of this trend as a lifestyle movement, GQ Magazine attributed the rise of brunch-appropriate sweat pants to three trends:²
The general theme of dressing down across our culture. From the boardroom to dinner parties, people are no longer expected to wear formal attire in more formal or professional settings, and strong personal style is more acceptable than ever before.
High fashion brands turned sweats and tees into big ticket items. Brands like Stella McCartney led the designer workout wear movement, and now there are countless brands, from Nike to Outdoor Voices, that cater to a demographic that want premium-priced pieces that they can wear for any kind event.
Retailers selling more performance apparel than ever before. In 2017, imports of leggings for sale in the US overtook denim imports for the first time.³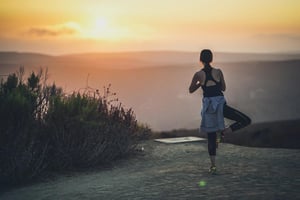 It's difficult to counter the obvious appeal of products that fall under the athleisure category, as they are both comfortable and functional. While only 18% of gym members use their gym memberships consistently, and 14% of the US population actually has a gym membership, it's hard to ascertain who is wearing their performance leggings to a spin class, and who is just trying to run errands in an outfit that won't hinder them.⁴
The athleisure movement will continue to be strong into the next decade: Morgan Stanley predicts that the worldwide athleisure wear market value will jump from $290 billion in 2018 to $355 billion in 2021.⁵
Skincare for those Who Sweat
The rise of athleisure in fashion has paved the way for sweat-oriented skincare, both focused on the biggest trend in personal care: wellness.
As consumers become more active and are more aware of how each facet of their lifestyle can affect their overall health & wellness, they're looking for every opportunity to hack their routines and optimize their lifestyle choices.
Early Adopters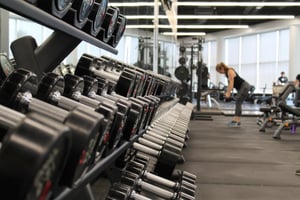 Just as there were early adopters in the fashion athleisure space, there are personal care brands who dialed in on this opportunity before it hit mass appeal: Clinique launched its CliniqueFIT line in 2017 with a collection of high-performance makeup and skincare that can handle a sweat session, and the sunscreen company Supergoop! launched a set of three workout-ready products the same year.
Fast forward to 2019 and now more consumers and brands are ready to embrace the athleisure skincare movement, and with new product launches to support a fresh phase of gym goers who prioritize their gym bag skincare and body care options.
2019 Launches
Earlier this year, Puma and Maybelline launched a collaboration targeted at Gen Z – young consumers who priotize an active lifestyle, are always on-the-go, never settles, and demands high-performance products that can keep up with her.⁶
The apparent leaders in this newest phase of the athleisure market are clothing brands that are crossing over into the personal care vertical. Lululemon is a brand synonymous with premium athletic wear for all levels of athletes, and they have launched their own Selfcare personal care line. The collection features lip balm, deodorant, dry shampoo, and moisturizers, all of which are necessary for helping gym goers transition from the locker room to the outside world.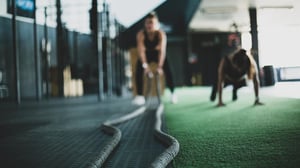 In an WWD article from earlier this year, Michael Bensadoun, founder of the skincare collection FRÉ, shares his thoughts on why there is a real need for fitness-focused skincare.
"Athletes and fitness enthusiasts have skin-specific concerns from exercise — acne, dehydration, inflammation, redness," he said, "We have discovered that not only the oil, but also the argan leaf and stem cells have powerful properties to address exercise-induced skin issues."⁷
Early athleisure skincare lines focused on the lighter, "prettier" side of personal care - makeup, bath salts, and other products to help those who work out feeling and looking their best. However, there is a less glamorous side of this market opportunity, including products to help fend off fungus, odors, and issues related to excessive sweating.
Sweaty Skincare Problems
Common issues related to exercise include:
Acne –Trapped sweat and oil and excessive friction and irritation can cause face and body acne, or conditions such as folliculitis that are often confused with acne
Fungal Infections – Athlete's foot and jock itch are common fungal infections associated with exercise, and ringworm and nail fungus can also be contracted at the gym⁸
Opportunities in Athleisure Skincare & Body Care
This market segment is growing, and there is still a lot of white space to cater to different groups with varying products. Overall, products designed for the athleisure market should focus on convenience and portability, keeping skin clean and clear, and removing sweat and odor.
Differentiate with Packaging Formats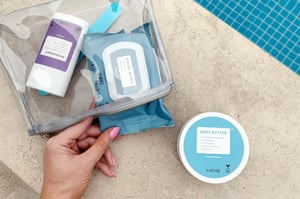 Convenience and portability are key in this space, as people need products that they can store in their gym bag or locker without making a mess. Many brands have introduced single-use wipes to help those who don't have time for a shower before leaving the gym. Yuni introduced a large Shower Sheet to help cleanse the entire body, while genderless brands such as Oars + Alps and Ursa Major sell individually packaged wipes to keep the face or body feeling fresh post-workout.
Sprays, stick applicators, and other on-the-go formats help users get clean quickly and efficiently in a crowded locker room.
Post-Workout Wellness
A post-workout routine is just as important as what a person does at the gym. The wellness market is booming with services and treatments to help athletes recover from their HIIT classes or a long hike – infrared saunas, stretching studios, relaxing bath salts, and a variety of post-exercise beverages packed with electrolytes help with muscle soreness and stiffness to prevent injury and speed up recovery.
The body care portion of this wellness-focused market is growing, too. Shoppers are looking for products positioned as soothing, protective, and restorative. The rise of CBD has been a game-changer for active people, thanks to its ability to reduce inflammation and muscle soreness, support sleep, and address other chronic conditions.
Get Clean, But Not Too Clean
A key part of any post-exercise routine is getting clean from the sweat, bacteria, and grime that builds up during a workout and can cause acne, odor, or irritation. However, frequent exercisers can shower too frequently and strip the surface of the skin, disturbing the skin's delicate microbiome. When the microbiome is imbalanced, it impacts hydration and overall skin health, and the skin can be made prone to infection, dryness, and inflammation, leading to other skin conditions such as eczema or keratosis pilaris.
Suggested Product Concepts for the Active Skincare User
From moisturizing bar soap to charcoal cleansers, many of our Library Product Concepts are applicable to today's active-minded personal care brand. Questions? Please contact our Sales Team.
Sources: ¹ https://www.merriam-webster.com/dictionary/athleisure | ²https://www.gq.com/story/athleisure-is-officially-in-the-dictionary | ³https://www.businessinsider.com/yoga-pants-are-more-popular-than-denim-2018-3 ⁴https://noobgains.com/gym-membership-statistics/ | ⁵,⁶GCI Magazine: Active Beauty's Next Phase | ⁷https://wwd.com/beauty-industry-news/skin-care/fre-delivers-skin-care-solutions-for-active-set-1202992402/ | ⁸https://www.shape.com/lifestyle/mind-and-body/fungal-skin-infections-gym