CBD is the most searched-for skincare ingredient of 2019, and while there is plenty of buzz around this hemp-based material, consumers and industry insiders alike still have a lot of questions about what it truly is.
Even with general awareness around CBD and its potential in skincare, it's important to understand that not all CBD is created equal, and each raw material form of CBD has different costs, claims, and benefits associated with it.
Cannabinoids in the Cannabis Plant
Within the cannabis plant are over a hundred different compounds, classified as cannabinoids. Tetrahydrocannabinol, or THC, has historically been the most widely known cannabinoid, but with increased education and awareness around the hemp plant following the 2018 Farm Bill, other cannabinoids are coming into the spotlight, starting with CBD, and followed closely by CBG and CBN.
CBD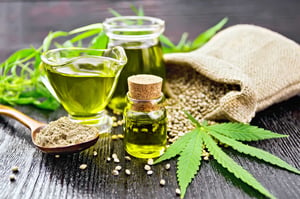 Cannabidiol (CBD) is a cannabinoid like THC, but unlike THC, it does not have a psychoactive component and will not get the user high. CBD is derived from hemp plants that are cultivated to produce high quantities of CBD and low amounts of THC – the legal distinction of a hemp plant in the United States is that it has below 0.3% THC.
CBD is heralded as an effective treatment for inflammation and pain management, with the potential of reducing the signs of aging and treating acne, and is purported to have many other benefits that make it an effective addition to skincare products.
However, most claims are largely unsubstantiated at this time due to of a lack of standardization and regulation in the industry. Processes that relate to testing and labeling are not wide spread, and the apparent inconsistencies in testing between facilities and lack of regulation around dosing and product transparency can make this a very tumultuous world for even the most educated consumers.
Even with all of the unknowns associated with CBD, consumers are ready to purchase skincare products featuring the promising ingredient.
Full Spectrum vs. Broad Spectrum vs. Isolate
To create CBD, plant material is processed, extracting cannabinoid content. During this process, other compounds are also extracted, including terpenes, flavonoids, and other cannabinoids. The cannabinoid profile differs for each type of plant, and depends on its intended THC:CBD ratio.
Once extracted, refinement is done to process the CBD to the desired levels and type of finished good.

Full Spectrum CBD
Full spectrum CBD is extracted using methods, such as CO₂ extraction, that preserve the entire range of cannabinoids, including CBD, THC, CBN, and CBG, and other, largely not understood, parts of the plant. Research indicates that these cannabinoids work together to improve overall efficacy and bioavailability, which is known as the Entourage Effect. Together, they are anecdotally believed to have more potential more symptom relief than any one compound does on its own.¹
Entourage Effect: the idea that compounds of the hemp plant create a synergistic chemical effect that CBD is not capable of on its own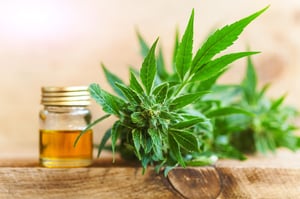 While there is significant merit to offering the benefits of full spectrum extract in a skincare product, this is where CBD gets complicated. Legally, full spectrum CBD must have below 0.3% THC and be sourced from hemp plants that have less than 0.3% THC. However, with inconsistent labeling and testing, it appears that many CBD products on the supplement and topical skincare market have THC levels above that level. It is imperative to understand the composition of a specific CBD supply, and have a Certificate of Analysis (CoA) available to ensure that the raw material and the finished good have THC levels under the legal limit.
Broad Spectrum CBD
The primary difference between full spectrum CBD and broad spectrum CBD is that broad spectrum contains no THC. That part of the plant has been removed from the end product, which means that it is more approachable for consumers who want to completely avoid THC, but could in fact be far less potent and effective, requiring a higher dosage to achieve the desired results.
Both full spectrum and broad spectrum CBD are available in formats that may have a natural earthy flavor and odor.
CBD Isolate
An isolate is the purest form of a material, produced by extracting a single compound from its environment. CBD isolate is produced by removing all other compounds found in the hemp plant, including THC, CBG, CBN, terpenes, and any other plant components.
CBD isolate is the purest form of CBD available, is tasteless and odorless, and does not contain any THC. The raw material is available as a white powder. It is ideal for anyone who is sensitive to THC, or is concerned about trace amounts of THC showing up in drug screening tests, but many of today's educated shoppers avoid CBD isolate because they want the benefits of the Entourage Effect.
CBD Education
The skincare industry has experienced a rise in consumer education and awareness in the last couple of years, due to a few reasons. Social media makes it easier for shoppers to share ingredient information and debunk dubious marketing claims, and the market is ready for more sustainable skincare options with clinical claims. With a looming recession and growing list of banned ingredients and safety concerns, skincare users want to understand what they are putting on their bodies, maximizing their skincare investment.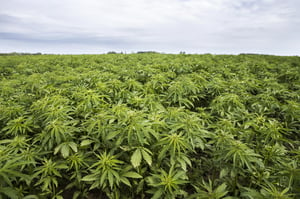 Today's cannabis and CBD brands need to prioritize education when it comes to their ingredients, and transparency is key when explaining the source and type of CBD used in a skincare product. High quality processing and sustainable farming practices can make this trendy ingredient very expensive, and brands need their customers to understand why they chose a certain type of CBD over another, cheaper alternative.
Twincraft Skincare works with a wide variety of customers, and each one is unique in its naturalness expectations, targeted price points, and expected formula efficacy, and we understand that each brand will have its own approach to formulating with and marketing CBD in its skincare and bar soap products. We have established partnerships with both Vermont and out-of-state vendors for full spectrum CBD and CBD isolate, and we encourage you to explore our initial CBD skincare concepts and reach out to us to learn more about the formulation opportunities with each of these raw materials.