In 2016, Twincraft Skincare was inundated with requests to make bath bombs for our customers. The colorful, fragrance-loaded products were at peak popularity, the self-care movement was on the rise, and Millennials were starting to take baths again with fervor. Many brands wanted our help in developing and manufacturing their own version of this "Instagrammable" product, but we said no.
Why did we say no? It was for a variety of reasons. Most importantly, bath bombs are outside of our existing manufacturing capabilities. At Twincraft, we extrude bar soap and make liquid skincare products. Bath bombs are a solid, pressed mixture of baking soda, citric acid, fragrance, color, and other trace marketing ingredients, and cannot be extruded or created from a liquid base.
We declined these product opportunities because we also knew that we would be entering a highly commoditized product area without room for additional innovation. Bath bombs were already available at very low price points at all mass personal care retailers. We focus our R&D efforts on natural product innovations that differentiate ourselves from our competitors, and didn't want to join the "me too" bath bomb bandwagon. We wanted to focus on what came next.
The Rise of the Bath
Fast forward to 2018, and ancillary bath products are one of the fastest growing segments in the personal care space. Certainly, bath bombs played a part in this growing product segment, with sales increasing 71% since 2015, primarily with customers under 35 and female.¹ The continued rise of self-care is a big reason for this trend, as many Millennials see escaping to the bath as a way to protect themselves from technology addictions, a relentless news cycle, and many other stresses that come with everyday life.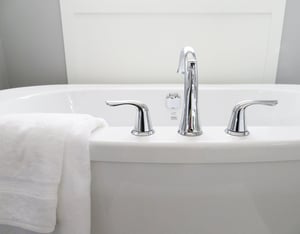 In addition to bath bombs, many other bath-centric products have flooded store shelves at both the mass and prestige levels. Bath salts and bath soaks from niche natural brands like Goop and Herbivore were so successful that big retailers have followed suit and started to sell their own bath products. Companies should look to capitalize on daily rituals as a way to target multiple facets of people's lives, and with the global wellness industry coming in at $3.7 trillion this year, bath products are an easy way to get a piece of this market.²
Even bath tubs themselves are having a resurgence. While large showers were the focus of home design a few years ago, plumbing contractors are reporting increased tub installations. The bathtub industry saw double-digit growth from 2015 to 2016, which means that more consumers are trying to turn their home bathroom into a spa-like sanctuary.³
While bath bombs were not a trend that we wanted to jump on, we do feel that we can bring value and newness to the bath-specific product space. To do so, our Innovation Team developed our Calming Bath Elixir.
Calming Bath Elixir
At its essence, our Calming Bath Elixir is an essential oil blend with a touch of surfactant. It seems like a simple addition to a crowded marketplace, but we've addressed some of the pain points that can be associated with bath bombs and similar products with our own natural solution.
Easy to Use: Traditional bath oils are blended essential oils, which do not mix with water and sit on the surface of the bath. The surfactant in this formula helps the Elixir to easily mix with running water, dispensing evenly throughout the tub.
Sustainable: Sustainability in packaging is one of the largest problems that the personal care industry has yet to solve. Bath bombs are often single-use and wrapped in plastic, and bath salts generally come in a plastic bag. Our Bath Elixir is a concentrated formula that can be easily filled into recyclable glass or plastic packaging.
No Clean Up: Have you ever stepped into an oil-slicked bathtub? If you have, and are lucky enough to live to tell the tale, it's not a mistake you will make twice. Bath oils cling to tub walls, leaving oily residue that is messy as well as dangerous. Colorful bath bombs also generally leave a brightly hued stain around the tub. The Elixir's surfactant ensures that all traces of the product will drain with the bath water, allowing for fast and easy clean up.
Trend Versatility: While self-care is an obvious product trend category for the Elixir, there are many other stories that this fragranced blend can tell, such as Athleisure. Whether the user is an avid athlete or a casual workout class-taker, anyone with sore or tired muscles can appreciate a bath to help with recovery. Our Elixir was developed with this trend in mind, and is formulated with aromatherapy that targets inflammation and relaxation.
Baby Bath Alternative: While this Elixir is targeted towards adult bathers, babies and children can also enjoy the natural formula. For youngsters, we'd recommend calming aromatherapy with soothing ingredients to help transition families from bath time to bed time.
Price Flexibility: There is tremendous variability in pricing in the bath product market, with some high end soaks coming in at $10 per bath for the consumer, and bath bombs ranging from $2 - $8 per use. The flexibility of our Elixir formula allows each brand to tell their story with ingredients of their choosing, which will then determine formula cost –

reach out to us

for benchmarks and pricing options.
To use our Calming Bath Elixir, dispense 1-2 tablespoons of product under warm running water. This product is vegan, natural, and free from parabens, PEGs, sulfates, and silicones. It is compliant with Whole Foods Premium Body Care standards, and there are opportunities for organic claims with an adapted ingredient list.
Interested in learning more about our Calming Bath Elixir and other ancillary bath products?
Source: ¹,²,³ https://www.fastcompany.com/40538821/baths-are-so-hot-right-now-the-cultural-and-lucrative-soaking-industry