Consumers are increasingly concerned with the potentially dangerous ingredients in their conventional body care products, such as deodorant. This awareness has opened the door for more independent natural brands to enter this competitive market space & give consumers the clean products that they want.
The deodorant space is still largely dominated by mass brands, such as Unilever and P&G, but there is room for brands of all sizes to cater to the demand for aluminum-free products that fight odor and sweat.
The Current Deodorant & Antiperspirant Market
Mintel discusses the current state of the deodorant and antiperspirant market in its Bodycare and Deodorant – US – July 2019 report. Key takeaways include:
Unilever remains the leading company in the bodycare and deodorant market, accounting for 32% of total sales in this category
The deodorant brand Schmidt's, owned by Unilever, has strong natural positioning and is a key factor in Unilever's success
Proctor & Gamble products account for 22% of the market, due to the strong performance of its Old Spice and Gilette brands
Indie, niche, and natural brands continue to make strides in the market, with the brand Pacifica experiencing sales growth of 48% YoY
Private label brands shown the strongest performance during Mintel's review period, showing increased cannibalization in this space
Natural Deodorant Market Growth
While consumer skepticism has plagued the natural deodorant market for years, sales continue to grow. This growth is driven by perceptions of increased safety and quality, with more consumers worrying about aluminum in their body care products.
Aluminum-Free Claims & Health Concerns
19% of antiperspirant and deodorant users believe that using a product with aluminum in it can lead to health issues.
The challenge for brands in the natural market lies in how to make effective products without the taboo ingredients, such as aluminum, that consumers want to avoid. Naturalness and cleanliness is more important to skincare shoppers than ever before, but 34% of consumers care more about the effectiveness of a deodorant than the ingredients.
22% of adults aged 25-34 agree that natural deodorants don't work as well as mainstream deodorants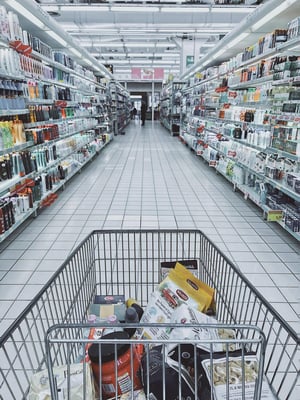 Mass brands, such as Dove, are also trying to make aluminum-free products to fit into the safe & clean space in an attempt to take back some of the natural product users. This is due to the increased perception and media attention around a possible correlation between illnesses, such as breast cancer, and conventional deodorants.
Gen Z and Millennials are more concerned about naturalness and product claims than their older counterparts, and this remains true in the deodorant and antiperspirant space. Adults age 25-34 are much more likely to be influenced by a deodorant with natural ingredients, and this group is more likely to agree that using deodorants and antiperspirants with aluminum can lead to health issues, like cancer, which leads them to seek natural alternatives to minimize the harm the product could do to their bodies.
The retail landscape is also ready for more solutions to enter the space. Mass retailers such as Target are providing additional shelf space for smaller brands, which has helped them to grow and promote accessibility and awareness.
Free-from claims are a necessary selling point for natural deodorant brands, and consumers are looking for other popular ingredient stories in this product category. For example, CBD (cannabidiol) is a trending ingredient in skin and body care, and 35% of polled users would be interested in trying a deodorant product infused with hemp or CBD oil.
Alternative Formats
Usage of antiperspirants and deodorant is almost universal, which sets it apart from most body care products, as it is considered essential by almost everyone. Sticks are the most popular format, but consumers are open to unique applications and convenient formats.
Which of the following bodycare and deodorant products have you used in the last 12 months?
79% Deodorant/Antiperspirant Stick
33% Deodorant/Antiperspirant Spray
This heavy usage is tied to the growing number of consumers who exercise and embrace an active lifestyle, with the number of gym-goers expected to rise through 2023.
While Mintel focuses on movement in the mass beauty space, there are a large number of indie beauty players that sell their aluminum-free natural deodorant products in jars, not sticks or sprays. This is a messy packaging option that requires hands to be used to apply the product, which Twincraft Skincare believes can be avoided, especially in natural formulations without robust preservation systems.
Lotion Deodorant
This natural Lotion Deodorant is formulated with consumer safety in mind and does not use silicones or aluminum.
Arrowroot powder is one of the main moisture absorbers in this formula and does not dry out skin. It has soothing properties and helps to heal mild irritation. Corn starch and tapioca starch provide additional sweat-wicking benefits and are also soothing and moisturizing.
DeoPlex® is a safe and effective odor neutralization material based on fermentation technology. It's mild, non-toxic, and environmentally friendly.
Zinc citrate is anti-inflammatory and works as another deodorizing agent. White cypress essential oil gives this product its natural fragrance.
This product is cruelty-free, natural, and 100% free from parabens, PEGs, sulfates, and silicones.
To use, apply a small amount under each arm using the applicator tube. Apply additionally, as needed, before or after high heat activities.
To learn more about this product, please contact us.
Source: Mintel: Bodycare and Deodorant – US – July 2019
---
Update: This product concept is no longer an active part of the Twincraft Skincare Product Concept Library. While we do not currently stock samples or have sell sheets available for it, it can still serve as a starting point for your brand's future product development with us. Please contact our Sales Team to learn more about our current capabilities and featured product innovations.