The general sentiment about bar soap over the last five years is that the overall category is failing. Consumers, especially Millennials, are blamed for killing off yet another product category and replacing economical bar soaps with foaming bath gels and shower oils.
While there is truth to this statement, at Twincraft Skincare, we've had our best numbers ever in the last year, so we're quick to counter this claim with the clarification that while commodity bar soaps are selling poorly, the premium segment is growing, with all signs pointing to continued growth for years to come.
The strongest opportunity for this growth lies in the premium segment. Consumers are shopping for products that align with their ethos and values, and from cleaning supplies to groceries, this has trended towards natural, sustainable options that provide sensory benefits and will help with their overall skincare and wellness goals.
Bar Soap Is No Longer for the Masses
As the mass market moves toward other solutions that have replaced bar soap, brands have to reinvent their value propositions and work to attract new customers. Commodity bar soap has become the economic choice for older and low-income consumers, but that doesn't mean this is where the category needs to end. 48% of consumers aged 18 – 24 still regularly use bar soap, and this group is looking for natural claims, on-trend ingredient stories, and reliable skincare stories that will convince them to become lifelong users.
Premium Bar Soaps Are Top Performers
While the mass market for bar soaps is extremely cost driven, consumers who gravitate towards higher end options are drawn to the artisanal nature of the product. Twincraft Skincare manufactures soaps through a process that is called "French Milled" or "Triple Milled," and these are claims that consumers are looking for as differentiators and to ensure that the product they are purchasing is high quality.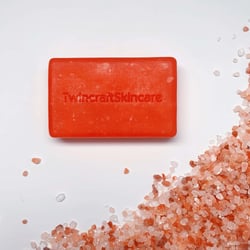 Consumers are looking for products that appeal to all of their senses – unique colors, fragrances, and aesthetic qualities all make a shopper more eager to try a new product, and then showcase it in their shower or soap dish. Our bar soap development team is always working with manufacturing to create new extrusion methods with the goal of being visually interesting. We want the soap that we make for our business partners to stand out on a shelf and differentiate it from the competition, and with bar soap prototypes nicknamed the Galaxy Bar, Peppermint Bar, and Mother of Pearl Bar, we're definitely able to accomplish this (contact us for samples!).
Beauty-focused bar soaps are also doing really well, with Dove leading the way with its classic facial bar soaps being the only mainstream bar sold in the US that did not experience a decline in sales in 2015. Consumers are turning to inexpensive bars when used purely for hygienic purposes, but when additional claims are made about a prestige product, they're a lot more willing to purchase it.
Consumers Shop for More Natural Products
Many restaurant goers have heard of Farm-to-Table dining, especially if you visit a restaurant nearby our headquarters in Winooski, Vermont, but Farm-to-Face is now a growing movement as well. Consumers are eating, cooking, and shopping with more attention being paid to the quality of goods and from where they are sourced, and this extends to personal care and bar soap, too.
Bar soaps are more likely to be plant-based than liquids (all bar soaps made in our facilities are made with vegetable-derived soap base, never tallow), and consumers are looking for natural, recognizable ingredients in these products. Bar soaps also generally have a shorter ingredient list than many liquid cleansers, and for users opting for a "less is more" approach, this is a strong draw to the bar soap category.
Focus On Skin Type
The skincare market places a heavy emphasis on skin type, and many brands rely on concerns such as pore size, inflammation, dry skin, and oil control, to market their products. The shower product category has borrowed these stories from the skincare market, creating cleansers that are highly moisturizing or have treatment claims. Bar soaps that do the same, like the Dove bar, can attract more skincare-conscious consumers.
At Twincraft Skincare, we've been manufacturing bar soap in our Vermont facility for over 45 years. Bar soap is our specialty, and we're firm believers that premium bar soap will continue to sell well, even while more liquid products are developed to compete with it. Our Sales, R&D, and Manufacturing teams have decades of experience in creating innovative solutions that draw consumers in, and we're always looking for new business opportunities with our partners. Contact us to learn more about our products and business practices.
Source: Mintel, July 2017 - Bar Soaps Should Market Luxury and Skin Benefits; Jamie Rosenberg, Global Analyst