Every season, the skincare industry inundates consumers with new, trendy marketing ingredients that promise to improve the texture and appearance of skin. Most of these ingredients fade out of the spotlight with time, but there is one that consistently lives up to the hype: hyaluronic acid.
What Is Hyaluronic Acid?
Hyaluronic acid is a naturally occurring material found in the skin that is revered for its ability to hold on to 1,000 times its weight in water. When functioning properly, the skin's own hyaluronic acid keeps each layer of skin hydrated, stable, and looking its best, but with age, stress, and other environmental stressors, skin is not able to keep itself optimally hydrated on its own.
Hyaluronic acid is a humectant, like aloe and glycerin, which means that it draws moisture from surrounding air. Humectants are often featured in hydrating leave-on skincare products due to their ability to hydrate dry skin.
When used over time, hyaluronic acid has the ability to revitalize the skin's surface layers, improves the look of fine lines and wrinkles, and makes skin softer, bouncier, and more supple.
While hyaluronic acid is best suited for leave-on skincare products such as serums, masks, and moisturizers, it adds benefits to rinse-off products as well, including our favorite cleanser format: bar soap.
Ultra Hydration Facial Bar Soap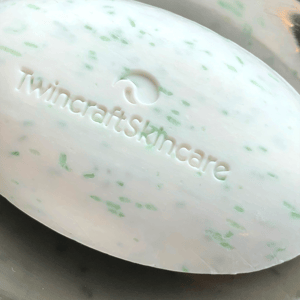 We harnessed the hydrating power of hyaluronic acid in a noodle and dispersed it in one of our most luxurious soap bases to make our Ultra Hydration Facial Bar Soap.
This mild facial cleansing bar is a hydrating staple for any regimen, especially for those with the most sensitive of skin. Consumers often assume that bar soap will dry the skin and cause redness because of its relatively high pH, but this bar's nourishing additives help alleviate any of these concerns.
This bar formula also features beta-glucan, which is an excellent ingredient for reducing redness and other signs of skin sensitivity.
To learn more about this bar soap concepts and the other ways that we innovate and disrupt in the bar soap space, please contact our Sales Team.
Update: This product concept is no longer an active part of the Twincraft Skincare Product Concept Library. While we do not currently stock samples or have sell sheets available for it, it can still serve as a starting point for your brand's future product development with us. Please contact our Sales Team to learn more about our current capabilities and featured product innovations.