When it comes to skincare, Himalayan pink salt is as pretty as it is effective. Twincraft Skincare showcases this on-trend ingredient in one of our favorite ingredient formats: translucent soap base.
Himalayan pink salt has been on the skincare scene for a few years, but it's been in the pantry of cooks for much, much longer. Food-based ingredients in hair care and skincare are on the rise, and when using natural food ingredients that are rich in antioxidants and minerals, products can be positioned to help cleanse, protect, and heal the skin in a cleaner way.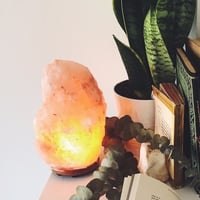 Himalayan pink salt is mined from salt deposits in the Himalayan Mountains. These ancient sea deposits are rich in the minerals potassium, magnesium, and calcium, which give the salt its rosy hue and is the reason it can be so beneficial when added to personal care products.
In skincare, Himalayan pink salt is a gentle exfoliant that reveals smooth, healthy skin with each use. Salt is absorbent and antimicrobial, making it a great product in the fight against acne.
In recent years, Himalayan pink salt has risen to the top of the trend charts, making its way into homes in the form of calming salt lamps and as a hero ingredient in liquid skincare products. We were inspired to showcase the ingredient in our Trans MB soap base.
Himalayan Pink Salt Bar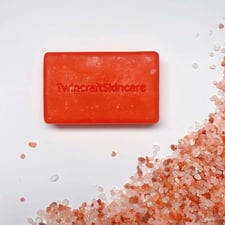 Our Himalayan Pink Salt Bar features its namesake salt encapsulated in a hydrating translucent base, creating a unique visual exfoliant story.
The translucent nature of the base lets the exfoliating particles of salt shine. This format is a great solid alternative to popular sugar scrubs or coffee scrubs.
This bar also includes bearberry leaf extract, which is rich and antioxidants and helps fight off free radicals, as well as brighten and even skin tone.
This hydrating and exfoliating bar soap is free from parabens, PEGs, sulfates and silicones, and is available for sustainable palm oil certification with the RSPO.
Want to learn more about the premium natural bar soap space?
Update: This product concept is no longer an active part of the Twincraft Skincare Product Concept Library. While we do not currently stock samples or have sell sheets available for it, it can still serve as a starting point for your brand's future product development with us. Please contact our Sales Team to learn more about our current capabilities and featured product innovations.