For decades, the shaving market remained largely unchanged. The same razor-making giants dominated the space, blade costs were at a premium, and a firm line was drawn between products that men and women could use. Now, in 2018, we have seen a dramatic change in this once stagnant space: new brands and innovative products are disrupting a stale marketplace, which can only mean good things for the consumer.
For Twincraft Skincare, this new opportunity in an enormous marketplace means that we can offer new product ideas to a fresh roster of brands. The global market for men's shaving products alone is projected to value $18.1 billion by 2020¹, and trends and consumer attitudes have changed and aligned to be well-suited for the type of natural products that we work on in-house.
The innovative product opportunity that our sales team likes to highlight for customers in the hair removal space is actually not at all new – it's a shave bar.
Shave Bars
Shave bars have found a home on mens' sinks for decades. They're designed to be used with a shave brush, and when a damp shave brush is swirled around on a shave brush, the result is a dense, creamy foam.
Most men gravitate towards shaving creams and gels for their convenience, ease of use, and performance. Many of these shaving products come in an aerosol can, which dispenses the product in a thick, ready to apply foam, but this type of packaging has its downsides. It is under pressure, which means it has to be stored in a controlled environment, and difficult to travel with, as it generally is too large for TSA guidelines. They can be recycled when completely empty, but recyclability varies with local programs, and when not disposed of properly, they become a hazard.
Reduced Waste
Shave bars eliminate the packaging waste associated with liquid shaving products. They can be wrapped in recyclable, post-consumer waste packaging options, free of plastic and other materials that are increasingly on consumers' watch lists. Shoppers are becoming more aware of the waste associated with single- or limited-use products, such as razors, and shaving brands should enhance awareness of sustainability and environmentally friendly options with other pieces of their product lines.²
Economical
Consumers already associate bar soap as a cost-conscious product format, and they can often get more uses out of a bar than they would a liquid format, ounce for ounce. Bars are also more travel-friendly, as they will not spill in a gym bag and are not a cause for concern when going through a TSA checkpoint. We've already seen a shift with consumers as they embrace the solid format of shampoo bars, and we can expect similar trends with this type of product, as well.
Nostalgia
Nostalgia is much more than a trend today, and representation of vintage ideas is more popular than ever in fashion, design, and art categories. Shaving brands are embracing barbershop themes, products, and marketing concepts that hark back to days of yore to connote quality, timelessness, and good taste. Shave bars allow men to bring that barbershop concept back into their home bathroom.
Gender Neutral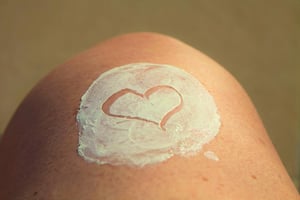 While most shaving data is still focused on the men's space, the hair removal discussion is trending towards genderless territory for growing brands. Women have been charged a "pink tax" for decades, as their shaving products are more expensive than those targeted at men, with the only distinction being their colorful hue. Today's consumer knows not to pay more for a product just because it's considered cute, and efficacy and perceived value are critical shopping criteria, not color.³
The shave bar has historically been pitched to men, but it can be used by anyone looking for hair removal assistance, from their head to their toes. It doesn't need to be paired with a shave brush, either. For example, those who want to use it to shave their legs can use it directly on damp skin to create a generous foam.
Moisturizing Shave Bar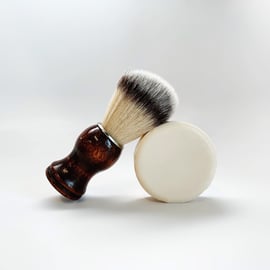 Shave bars are not the innovation here, though. This format is tried and true, but ingredients and shaving technology are what we've continued to improve for our customers.
Our Moisturizing Shave Bar looks unassuming, but included in its ingredient listing is water dispersible shea butter. Shea butter is a common ingredient in bar soap, but natural butters can be added to bar in a limited capacity. Water dispersible shea butter provides the same hydrating and emollient properties that come with its butter format, but in a capacity that aligns with our manufacturing capabilities.
This ingredient helps create a barrier to protect the skin during shaving, adding slip to our creamy shave bar formula. It also helps keep skin calm and hydrated after use, minimizing irritation and redness.
This natural product can easily be packaged with sustainable materials, and like all of our bar soaps, is eligible for RSPO certification.
To learn more about our shave bar concepts and other hair removal products, contact our Sales team.
Sources: ¹ https://coresight.com/research/deep-dive-global-male-grooming-market/ | ²,³ http://www.mintel.com/blog/personal-care-market-news/shake-up-the-shaving-category