The self-care and wellness space is overflowing with spa-inspired products and experiences. Essential oils, neutral color palettes, and other meditation-friendly qualities help consumers create a zen space at home, no matter what their bathroom actually looks like. Shoppers are looking for an escape from the chaos of their daily lives when buying personal care products, and while that space has generally been filled with natural, relaxation-enhancing options, there's plenty of room for products that are fun and a little unexpected.
At Twincraft Skincare, we've made novelty bar soap for decades, and we have rooms full of clever, cute, and just plain weird novelty dies to prove it. We pride ourselves in creating natural, sustainable, and highly effective bar soaps, but also know that soap shouldn't be limited to a 5 oz. rectangle die to bring delight to our customers - reach out to our sales team to request a consultation and samples.
Many of our novelty dies are in seasonal shapes, and for Halloween, we have a variety of pumpkins, witches, scary cats, and autumnal leaves that are perfect for creating a fun fall vibe.

For this year's Halloween product inspiration, we didn't stop at a fun die shape – we brought back a nostalgic novelty concept that's sure to light up any room: Glow-in-the-Dark Soap.
Glow-in-the-Dark Technology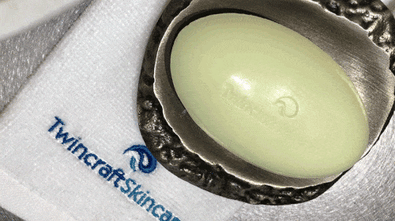 To give bar soap an ethereal glow, we use Luminescent Zinc Sulfide, a visual additive. Like other glow-in-the-dark products, this bar needs to be charged in natural or artificial light for several minutes, and once in a dark room, it will give off a glowing green light.
There is plenty of opportunity with this technology innovation to play with unique extrusion techniques and different soap bases to give off a different visual effect. Our soap experts are here to brainstorm with our customers to create a unique, fun product to light up any bathroom.
Trend Inspiration
While the industry has pointed to the aforementioned spa-inspired products as being the preferred product development direction for customers, there is plenty of room for nostalgic novelty products and mystical bathing elements in today's market, especially when considering a holiday launch.
For Halloween 2019, WGSN looks at product trends in two specific areas: nostalgia products inspired by children's toys and games, and ethereal products that are inspired by a resurgence of astrology, the zodiac, dreamscapes, and witchcraft. This glow-in-the-dark technology plays well in both of these spaces, for different customers.
This product plays into the novelty nostalgia trend in two ways: young children love the magical glow of this fun product, and Millennials are brought back to their childhood bedrooms and nights spent staring up at glow-in-the-dark stars sticky-tacked to their ceilings. It can be marketed to the very young as well as those who may want to reminisce about simpler times.
For those who are ready for an ethereal experience that goes beyond sageing, the glow-in-the-dark additive brings a fun and magical touch to the bath. From WGSN: "for a maximum sensorial experience, hand and body soaps feature textural qualities and glow-in-the-dark formulas which create a sensual space in a blacked-out room for complete serenity." Candles can certainly be replaced by a collection of these glowing soaps, bringing an unexpected touch of newness and whimsy to a crowded space.
Want to know more about our glow-in-the-dark soap? Please reach out to our team to learn more about product opportunities and trend inspiration for working with this technology. There are regulatory restrictions for usage of the Luminescent Zinc Sulfide, and we're happy to advise on appropriate usage as determined by specific markets and claims.
Update: This product concept is no longer an active part of the Twincraft Skincare Product Concept Library. While we do not currently stock samples or have sell sheets available for it, it can still serve as a starting point for your brand's future product development with us. Please contact our Sales Team to learn more about our current capabilities and featured product innovations.
Source: WGSN, Beauty & Lifestyle 2019, Halloween Product & Packaging Update