Unique bar soap aesthetics offer customers an easy & affordable way to bring design trends into their homes, no demolition or contractor required.
At Twincraft Skincare, our Director of Trend & Marketing Strategy is always monitoring evolving macro- and micro-trends. This includes watching how the evolution of wellness and self-care have influenced the personal care space, following the rise of certain diets and unique food-based ingredient stories, as well as observing movement in home goods and home design. This work is done to help our Innovation team create product concepts that resonate with our customers in an ever-changing marketplace.
A recent home design trend we have our eyes on is the return of terrazzo to homes, especially in the bathroom.
What Is Terrazzo?
Terrazzo is a composite material made with chips of granite, marble, glass, or other colorful material, poured with a cementitious or polymeric binder.
A History of Terrazzo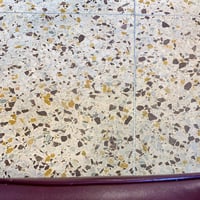 Terrazzo's roots are found in 15th century Italy, where it was supposedly developed when mosaics craftsmen realized that when they pushed marble chips in to the ground, they created a resilient surface. It became a popular flooring technique in Venetian palaces, as it was cheaper and easier to install than traditional mosaics.
Terrazzo made its first modern-world resurgence in the United States in the 1930s – 1970s, as designers incorporated its unique texture into Art Deco buildings and midcentury modern office designs. Frank Lloyd Wright fell in love with the material during a trip to Italy, and the architect insisted that it be used in the Guggenheim Museum in New York. It was eschewed for cheap laminate and linoleum in the 1990s, and marble, granite, and quartz all rose in popularity during this time with residential and commercial designers. Today, the material has experienced a strong revival, due to its retro appeal, customizability, and high design feel.
Bringing Terrazzo into the Home
Terrazzo is one of the most popular patterns of 2019, finding its way into clothes and accessories at Madewell, vases from Jonathan Adler, wrapping the walls and counter of the Forty Five Ten store at the Hudson Yards' mall, and filling the master bathroom of Mandy Moore, recently designed by Sarah Sherman Samuel.

Given its use in construction projects and well-funded home redesigns, the ubiquitous material has more staying power than some patterns of the past. For those unwilling to commit to the investment of a real terrazzo element in their kitchen or bathroom, there is a temporary and affordable way to bring the material story into their home: with bar soap.
Terrazzo Bar Soap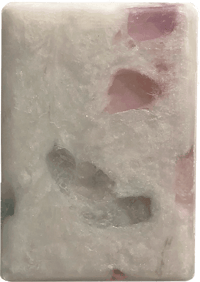 Terrazzo is made by putting small chunks of a colorful material into a binding base, and this is a technique that we've been using at our Winooski, Vermont bar soap manufacturing headquarters for decades to create extruded bar soaps with chunks.
This is done by using multiple "noodles" of soap base, allowing them to dry and cure, and then incorporating them into the soap making process so that they are extruded, cut, and pressed into a die, just like any of our single-color soaps.
This process can be configured to make terrazzo bar soaps for our customers that want unique visual aesthetics in a high performing base.
While there are terrazzo soaps already on the market, they are hand-poured in small batches, not created with the automated and efficient process that we use.
To learn more about incorporating home trends such as terrazzo into your brand's next bar soap development project, please contact our sales team.
Source: https://www.curbed.com/2018/6/13/17453292/terrazzo-flooring-huguet-diespeker-marmoreal