While research is just beginning on the efficacy and claims surrounded CBD, consumers are ready to add it into their supplement and skincare routines. Bar soap is an easy place to add a CBD marketing story for today's wellness-oriented consumer.
Anecdotal evidence surrounding CBD indicates that it's a skincare superstar: it's believed to be high in vitamins and nourishing fatty acids, hydrating, and have the potential to fight signs of aging as well as reduce sebum protection.
Even without sufficient data and clinical evidence to support these claims, shoppers are ready to incorporate CBD into their facial and body care products.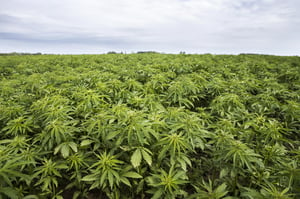 CBD may have the most potential for efficacy in leave-on skincare products, such as overnight treatment masks, but that doesn't mean it should be neglected in the rinse-off world.
Natural premium bar soap has experienced a tremendous rise in the last year, and given sales expectations at Twincraft Skincare with our customer base, we expect to see that continue for years to come. Bar soap is a sustainable, economical, and naturally-oriented product that is becoming more and more popular with socially and environmentally conscious consumers.
There are additional opportunities to tell a strong cannabis story in bar soap beyond just focusing on CBD additives. Cannabis sativa seed oil has been used in skincare for years, and while its legality was not changed with the passing of the 2018 Farm Bill, its popularity has, and this oil is hydrating and calming, making it a viable addition to any hemp-focused skincare or bar soap project.
Cannabis and marijuana-inspired fragrance is also a driving trend at the moment, with prestige fragrance and candle companies focusing on the earthy, musky fragrance in their story telling, layering it with tobacco, pepper, and other sophisticated fragrance options. These products are a far cry from the skunky notes that are commonly associated with this market area.
CBD Bar Soap
This gentle bar soap explores the many ways the CBD ingredient trend can be featured in a rinse-off product. Natural colorants give this bar its earthy green hue.
This bar features CBD, as well as cannabis sativa seed oil, which is derived from hemp seeds and helps to improve the skin's barrier, hydrate, and calm the skin.
The bar's fragrance is a sophisticated interpretation of a cannabis-inspired fragrance.
It is certified sustainable with RSPO Mass Balance claims, natural, cruelty-free, vegan, and 100% free from parabens, PEGs, sulfates, and silicones.
To learn more about using different types of CBD in bar soap and liquid skincare with Twincraft Skincare, please contact our Sales Team.