Minimal packaging, multi-functionality, and customization are three major skincare trends in 2019 and beyond. Boosters are a simple and effective way to add a targeted dose of actives to an existing skincare product, and adding boosters to a product lineup is an easy solution to hone in on each one of these trends.
What is a Booster?
In skincare, a booster is a targeted skincare product that features a specific active ingredient story in a concentrated format.
Boosters are very similar to serums in texture and can range in viscosity. They are designed to mix easily with other skincare products, such as moisturizers, masks, and even body care products, to add additional benefits to a product that a shopper already owns.
Boosters & Minimal Packaging
Boosters are most commonly packaged in dropper-style bottles, like serums. This minimal packaging style brings a professional feel to the product, and a precise dropper allows for specific product dosing.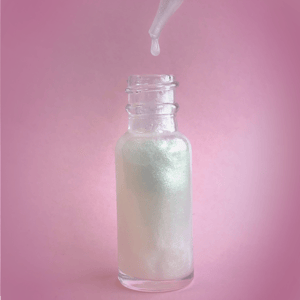 Shoppers are seeking out minimal packaging in an effort to be more sustainable and minimize the waste associated with their personal care routines. Many dropper-style bottles are also widely recyclable, which is a growing area of awareness for shoppers, too.
The allure of boosters and reduced packaging waste is largely due to the versatility and newness that boosters can bring to other products that may no longer be meeting the needs of the user or could be perceived as boring or dull. A hydrating daytime hydrogel moisturizer can be mixed with a few drops of a brightening vitamin C booster to help brighten the skin, and adding illuminating products like a Shimmer Serum to a body lotion adds all-over sparkle to a lackluster base.
Shoppers view the flexibility and additional benefits that boosters can add to other products as a benefit that helps keep unused or tired products out of the trash. Boosters can expand beyond skincare, too, as hair care brands like Oribe and IGK have introduced strengthening and brightening boosters designed to add additional benefits to shampoo or conditioner.
Boosters & Multi-Functionality
As shoppers look to minimize their environmental impact and streamline their personal care routines, they want products that are versatile and multi-functional. Boosters bring versatility to the product space with their flexibility, and can enhance both facial and body care products with their benefits.
For example, a hyaluronic acid booster can be a regular addition to a facial moisturizer, but if body skin is feeling dry or inflamed after prolonged sun exposure, it can easily be added to a body butter to help draw moisture back in to the skin.
Boosters & Customization
Customization has been a trend in skincare for years, but the industry was slow to develop products that are customizable to a shopper's exact needs because of the issues with flexibility and scalability on the development side.
Tech companies and indie brands have explored the customizable beauty space to some degree, and beauty giant Clinique finally brought the idea to the mainstream when they released their own line of customizable booster cartridges to pair with their long-standing Dramatically Different moisturizer line.
Adding boosters to a skincare line gives discernible users the tools and solutions that they feel will best suit their skin without compromising on texture or performance. Shoppers can stay loyal to a moisturizer that they love but have the flexibility of adding other high levels of active ingredients as needed.
At Twincraft, we've developed a series of skincare boosters to be part of our liquid skincare product concept library. These are water-thin products with high levels of active ingredients that are designed to mix easily with other skincare products.
Benchmark Analysis:
Skincare Boosters

Skincare Boosters
Hyaluronic Acid Hydrating Booster
The Hyaluronic Acid Hydrating Booster packs a powerful punch into a concentrated formula.
Tamarind seed extract helps boost elasticity, provides a visible anti-wrinkle effect, and helps with both long- and short-term moisturization. AcquaCell is a natural complex that harnesses the nutrients of watermelon, lentil, and apple extract to hydrate the skin and significantly reduce fine lines after 2 hours. Bamboo and aloe extract soothes the skin, and sodium hyaluronate helps the skin hold on to water.
To use, mix a normal amount of your daily moisturizer with 1 – 2 drops of the booster. Emulsify in hands, and apply to face and neck as a final skincare step.
This product is vegan, 100% natural, and free from PEGs, silicones, parabens, and sulfates.
Vitamin C Brightening Booster
The Vitamin C Skin Brightening Booster brings a DIY element to mixing and matching serums and moisturizers to ensure that your skin's needs are met on any given day.
STAY-C® 50 is the featured powerhouse ingredient in this booster, and is a stable form of Vitamin C with powerful antioxidants that help to address a variety of skin concerns, from acne to UV damage.
Licorice root is naturally anti-inflammatory. Kakadu plum is the world's highest source of vitamin C and helps to fight oxidative stress and reduce the appearance of wrinkles. Pineapple and papaya enzymes are natural mild chemical exfoliants which help to leave skin looking vibrant and refreshed.
To use, mix a normal amount of your daily moisturizer with 1 – 2 drops of the booster. Emulsify in hands, and apply to face and neck as a final skincare step.
This product is vegan, 97% natural, and free from PEGs, silicones, parabens, and sulfates.
Want to learn more about boosters or other skincare product concepts?
Update: This product concept is no longer an active part of the Twincraft Skincare Product Concept Library. While we do not currently stock samples or have sell sheets available for it, it can still serve as a starting point for your brand's future product development with us. Please contact our Sales Team to learn more about our current capabilities and featured product innovations.