Holiday party season may be over, but Millennial and Gen Z consumers continue to demand glittery products that couple visible benefits with a fun, novel experience. To ring in the New Year, our Innovation Team tapped into some of the biggest trends of 2019 to create one impactful product with our Shimmer Serum.
Inspired by solid highlighter sticks, our Shimmer Serum is designed to give users a highly targeted and customizable experience. At their core, serums are highly concentrated and easily absorbed, packing a powerful ingredient story in to a seemingly simple base. In the makeup world, highlighters are a cosmetic product that appears lighter than the wearer's skin, used to emphasize features such as the eye or cheekbones by reflecting light. Highlighters are often used during contouring to brighten the skin in specific areas and create an enhanced feeling of depth and angularity.
Our Shimmer Serum combines each of these qualities into a buildable product with active ingredients that can give users an allover glow, or a more targeted highlighting experience. We consider it to bridge the space between skincare and makeup, helping to improve the immediate appearance of skin while also providing additional skincare benefits to improve skin health in the long term.
Targeted Trends
Get Glowing
Healthy skin appears to be glowing from within, but when hydration levels fall and dead skin accumulates, skin can appear flat and dull, and users turn to alternative methods to achieve the appearance of a lively glow.
Korean skincare trends have focused on achieving this level of a hydrated glow for years, and for those who don't want to glisten or shine with "glass skin" or "honey skin," "dewy dumpling skin" is much more functional and achievable for every day. A term popularized by Instagram star/makeup artist Nam Vo, "dewy dumpling skin" focuses on a smooth and clear complexion, achieved through strategically applied highlighter.¹
Even for those who ignore K-Beauty ideals, the desire for glowing skin peaks around the holidays. At the end of 2018, we saw an influx in available gold and glittery eyeshadows, highlighter palettes, and gold-enriched skincare, and we can expect the same for 2019 and beyond, even with shoppers who are not traditionally maximalists in their beauty routines.²
Crushed Crystals
Crystals have become increasingly popular in the last year, extending beyond the alternative wellness space and entering the mainstream market. The use of powdered gemstones is on the rise with a wide variety of skincare formulations, from brightening diamond powder eye crème to amethyst-infused serums. While their claims may be difficult to substantiate with regulatory teams, their purported healing powers are historical and well known. If anything, adding a shimmery material to a product makes it visually appealing and highly Instagrammable.³
Concentrated Actives
Today's skincare user is more educated than ever before, and the term "skintellectual" has been coined to describe a category of hypervigilant, ingredient-aware users. This is a group that heavily focuses on results-driven skincare, and they expect brands to react with concentrated products that can be easily customized in their personal routines.
Serums and boosters are ideal line additions to tap into this market trend, as they can be mixed and matched until the users desired effect is achieved.⁴
Shimmer Serum
Our Shimmer Serum is a thicker-than-water serum with suspended mica particles. It is designed to be versatile and flexible, as it can be worn alone on bare skin, mixed in with foundation or body lotion as a booster, or applied in targeted areas with the fingers or a makeup brush.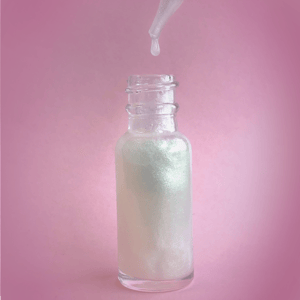 The mica particles are a sustainable alternative to glitter, creating a luminescent visual effect. Mica is made up of crushed minerals, and the mica used in the formulation can be adjusted for size and color. Our glitter is sustainably sourced and we have documents to support the social responsibility of its procurement - please reach out to us to learn more about our mica vendors and their practices.
Twincraft is a skincare company, though, and we did not want to limit the formula to being purely cosmetic. The serum base has an anti-pollution story, featuring ginseng extract, which has antioxidant and energizing properties, and glycofilm. Glycofilm is a polysaccharide obtained through bacterial fermentation with excellent film-forming properties. It creates a shield on the skin to prevent it from pollution, toxins, and other environmental stressors that can accelerate the signs of skin aging.
This formula is natural and silicone-free, featuring a blend of gums to thicken it and provide its sophisticated slip and silicone-like skin feel. These gums also help to condition and hydrate the skin.
To learn more about this serum and our other products that bridge the gap between skincare and makeup, contact our Sales team.
Update: This product concept is no longer an active part of the Twincraft Skincare Product Concept Library. While we do not currently stock samples or have sell sheets available for it, it can still serve as a starting point for your brand's future product development with us. Please contact our Sales Team to learn more about our current capabilities and featured product innovations.
¹ https://www.mindbodygreen.com/articles/k-beauty-skincare-trends-glass-skin-honey-skin-and-dewy-dumpling-skin | ² WGSN: Beauty Gifting: Christmas 2018 | ³,⁴ WGSN: Beauty Innovations: Skincare Winter 2018