The need for sustainable packaging is one of the most important concerns for shoppers today, but what if a product doesn't need any packaging at all? For bar soap, that's a viable option.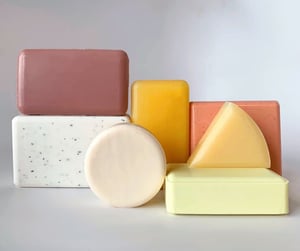 Sustainable packaging for personal care products comes in many forms. It can be recycled or reused, or made from post-consumer waste or biodegradable materials. Shoppers are increasingly concerned about the waste associated with their personal care purchases, but safety and quality concerns require certain packaging characteristics, and sustainable alternatives aren't yet available for all packaging components.
Now, consider this: a naked bar of soap. Soap has come back into the graces of conscious consumers because of its concentrated, waste-free format. However, that soap needs protection on its journey from a factory such as ours to store shelves and finally the shopper's bathroom. Packaging helps protect the soap on its way to its final destination, but it still needs to be discarded.
At Twincraft Skincare, we have a long history of developing and manufacturing bar soap for the world's leading natural personal care brands, and we know that sustainability is top-of-mind for our customers and their shoppers. Wayne LaBonte, VP of Sales and Marketing at Twincraft, has worked with brands to develop a system that works for getting bars of soap from our Winooski, Vermont factory to their shoppers without the need for excessive packaging waste. Read on for his thoughts on the evolution of bar soap packaging and what it means for the future of our industry.
Anecdotes on the Evolution of Bar Soap Packaging
A Note from Wayne LaBonte, Twincraft Skincare's VP of Sales & Marketing
I've been at Twincraft Skincare for almost 15 years now. Before that, I was in the printing industry for 13 years, largely catering to the very bar soap manufacturer who would later become my employer. During those combined 28 years I've sold a lot of soap, and a lot of soap packaging. It's interesting to look back on the evolution of how soap bars are packaged, and to compare the old to the new.
In many ways a lot has changed and, in some ways, not so much. There have always been a relatively limited number of packaging options when it comes to bar soap, at least when we consider the options that can be readily automated. When I started at Twincraft in 2006, one of the most popular packaging types was crease wrap, a stretchable cello wrap that is held fast with a label covering the knot formed by the gathering of the wrap. The cello film is one-way gas permeable, so it allows fragrance out but does not let malodor in. While crease wrap is still available, our crease wrappers sit idle more often than not these days, pushed aside for more Earth-friendly, recyclable packaging options.
In 2006, we didn't do a lot of paper wrapping for retail bars. Paper wrap, then, fell under the domain of hotel bars. It was relatively inexpensive, had better deco options, and offered a lot more real estate for branding, storytelling, and marketing claims. Today, the majority of soap SKU's we manufacture are packaged in paper wrap. Paper wrap consists of many substrates, but the majority of them are derived from post-consumer recycled (PCR) content, making them desirable in a world hungry for sustainable options. Future advances in adhesive technology should permit the soap wraps to be recycled yet again. We're not quite there yet, but we're getting closer. We can wrap bars in paper both inline, and as a second operation, which permits adherence to a variety of quality expectations. This flexibility allows us to cater to large and small brands alike. Paper wrapping is the dominant packaging trend of the last 10 years in bar soap, and will likely remain so because of the artisanal feel they convey on the shelf.
Cartons have always been popular, and although outnumbered in total SKU count, we sell more total bar soaps in cartons than in any other packaging type. From cartons made out of post-consumer recycled content, to Forest Stewardship Council (FSC) Certified, to Clay Coated News Back (CCNB) and Kraft Paper, and everything in between, we've put a bar of soap in it. We've seen cartons made from stone, cartons made from corn, and cartons made from acetate. From the trendy to the mundane, we've seen it all. Cartons remain the most recycled and most recyclable option of the common soap packages.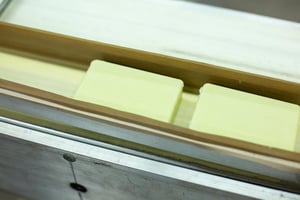 I remember in the late Aughts, we were doing a tremendous number of soap SKU's in multi-packs. The Great Recession was upon us, and brands and their customers were shopping for value. It was during this era when I coined the term "paradox of the multi-pack". Shoppers expect to pay less when they buy in bulk, as we're all trained to think that way. But multi-packs of soap require more packaging, not less, an inconvenient reality that increases the cost of goods sold to a point where it could only be overcome by enormous increases in volume. Needless to say, this paradox drove us nuts, and we were pleased when the recession ended and the multi-pack craze diminished. In addition, the multi-pack almost always involved overwraps consisting of BOPP (biaxially-oriented polypropylene) plastics which were recyclable in so few streams that it almost always ended up in a landfill. When we consider our sustainability goals, this trend was definitely in conflict, and many brands agreed.
Nowadays, the multi-pack trend has us reducing the overall packaging material used instead of increasing it. Most commonly we find ourselves placing multiple soap bars into the same singular package, most often a folding carton of some sort. We've seen many brands take a swing at this approach, and most often we yield two-bar offerings, sharing a box, sometimes with dividers, sometimes without, but only seldom with an overwrap. We have the capability to semi-automate the insertion process of 2-bar packs, so the effect on cost is somewhat mitigated, but cost-reduction is no longer the motivating factor driving the multi-pack discussion, it's now all about sustainability. Consumers are willing to pay more to brands who offer sustainable packaging options, and 2-bar cartons are beautifully merchandisable. This is a trend we fully support and endorse.
Finally, we have an undeniable trend towards altogether unpackaged soap, or as unpackaged as we can manage. There are several brands who do quite well at specialty retailers selling bulk, naked soap by the pound or by the piece. These are often displayed on tables, but we've yet to really see the naked soap move onto store shelves or move beyond the domain of the specialty natural foods retailer. We see naked or semi-naked soaps as the next frontier on-shelf, and it won't be long before the Targets and Wal-Marts of the world buy in, especially given their own corporate sustainability initiatives.
A successful naked soap program must address these key concerns:
How do I get ingredient lists on the bar?
How do I get lot code data onto the bar?
How do I include a UPC on the bar?
How do I convey branding and messaging to the consumer at the shelf?
In general, labels can be applied to the underside of the naked soap, and can convey UPC codes and ingredient lists. The labels can be easily removed by the end-user and leave behind no residue. They also won't fall off until intentionally removed. Additionally, soaps can be laser etched to include PLU numbers or lot code dates. Lastly, a well designed Display Ready Shipper can serve as the display vehicle, the means by which to get the product from DC to store, and will serve as the primary messaging and branding billboard on the shelf.
The speed of innovation is not slowing, and bar soap is experiencing a renaissance as it is so effective fighting the spread of germs. I'm guessing the next fourteen years will be as interesting and filled with great soap packaging ideas as the last fourteen. I look forward to someday seeing you on the road, virtually connecting with you until then, and discussing these opportunities with you.
Want to learn more about the sustainable packaging and package-free options that Twincraft is able to support? Contact our Sales team: