At Twincraft Skincare, we've manufactured a lot of bar soap since 1972. Over the many decades that we've been in business, we've had certain years when more than 110 million individual bars left the shipping dock of our Winooski, Vermont manufacturing facility.
In the 1980s and 1990s, the majority of the soap that we sold to our many customers was for the hotel and amenity space. These single-use soaps are small, highly fragranced, and cost conscious, and are, in general, not developed for superior performance or to have specific product claims.
As the personal care industry evolved over the past few decades, so did we. Our customers want high quality bars of soap made with ethically sourced ingredients, including sustainable palm oil. They want recyclable packaging options, hydrating ingredient stories, and a product that can be manufactured economically at scale.
The bar soap market space competes with body washes, and while both of these product categories keep users clean, there are certainly benefits of using bar soap over liquid cleanser options. Certain consumers continue to make bar soap their cleansing option of choice for the bath or shower, especially in the premium natural product space.
In this infographic, we break down some of the trend data that we've gathered from all of the new product developments and shipments that we've made over the years, including information about the most popular bar soap weights of 2019 and how ingredient trends in specialty soaps have shifted over the last 10 years.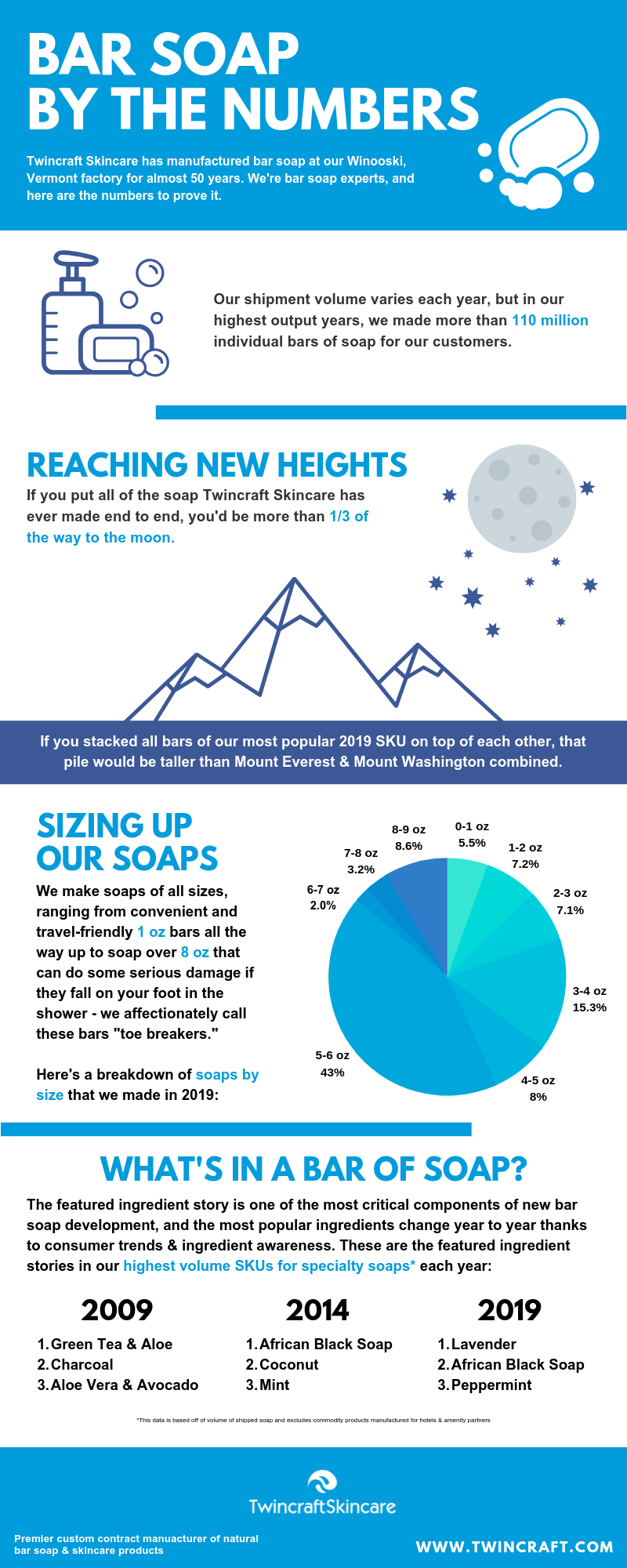 Bar Soap & Your Brand
Twincraft Skincare is the premium bar soap manufacturer of choice for over 140 of the world's best personal care brand. Our team is specialized in working with customers of all sizes to help them grow by developing sustainable custom bar soap products - we're here to help brands create everything from shampoo bars, to exfoliating body bars and premium fragranced soaps.