Since the beginning, we've built Twincraft Skincare on the core principle of sustainability with the belief that our products and processes should minimize impact and protect the planet any way they can. Beyond our renewable energy and sustainable waste management practices, we are always looking for ways to extend our sustainability commitment on a local, national or global level.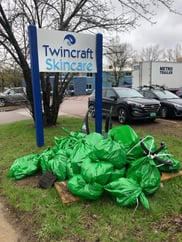 For nearly 50 years, our home state of Vermont has hosted Green Up Day, a statewide initiative to remove litter from roadsides, parks, and neighborhoods. To participate in this event, we created our first annual "Clean Up & Green Up" event on May 3rd for our employees to spend the afternoon cleaning up our local neighborhoods. Through the event, organized by our CARES or Committed, Active, Responsible, Engaged Staff initiative, employees could represent their own commitment to sustainability and give back to our local community.
Over 30 Twincraft Skincare production and administrative employees, equipped with green trash bags and gloves, removed trash and debris from around our Winooski, Vermont headquarters and the surrounding neighborhood areas. In small groups, employees walked along main roadways and streets, collecting items such as cigarette butts, snack bags, empty travel cups, and old electronics found along the way. At the end of the day, employees returned to Twincraft with their full bags and placed them near the entrance for proper pickup and disposal.
Despite the bleak weather, employees were in good spirits and excited to green up their local community for the start of the warmer months. Some employees brought along their children to participate, providing a hands-on lesson about the negative effects of littering and importance of keeping the community clean.
A big thank-you to all of the employees who participated, and to NECN who featured us in their Green Up Day story. We're proud to do our part to help keep Vermont clean and green, and look forward to hosting the event again next year.