Seasonal shifts usher in new skin conditions for many people, and Mintel provides suggestions for brands to focus on this time of year to create new product segments that will help grow the soap, shower, and bath category.
Winter's Impact on the Skin
For people living in cold climates, winter weather poses extreme conditions for the skin. Outside air is cold and dry, causing inflammation, irritation, and dehydration. Retreating inside offers little refuge, as indoor air can also be extremely dry from specific types of heating systems.
For 42% of Americans, having dry skin in the winter is one of the things that they dislike the most – compare that number to the 32% of people who listed filing taxes as their least favorite thing.¹
Changing skincare for the seasons is a popular topic in the skincare education community, but common suggestions are largely focused on masking or moisturizing, not cleansing. In the report Create a 'Winter Skin' Wash Category from Mintel, brands are encouraged to rethink seasonal products and focus on winter washing with extra-hydrating cleansers.
Winter Body Care
Seasonal Impact on Cleansing Routines
Mintel research shows that while seasonal changes have a big impact on consumers' bathing habits, summer has far more impact than winter does. 28% of UK consumers shower more in the summer than the winter, while only 5% increase their showering frequency in the winter. This behavior could be shifted if brands market their bath products with the promise of healthier, more hydrated skin.²
Showering in Winter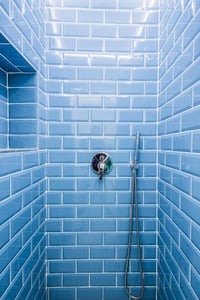 Hot showers can seem like the solution for bone-chilling cold in the winter months, but the high temperature of water and friction from increased scrubbing to rid skin of dry, itchy skin can actually damage the skin's outer protective layer and inflame existing skin conditions.
The more frequently we shower, the less time that the skin has to repair itself between washing, which is especially harmful when using a stripping cleanser, such as traditional shower gel. Dermatologist recommend that those suffering from dry skin in the winter wash the body less often, use warm water instead of hot, and prioritize using moisturizing products in and out of the shower or bath.
There are brands that position moisturizing products for winter use, but few take the change in season to promote a change in consumer behavior and really educate shoppers about the problems that come with winter weather. Brands that focus on this type of messaging can inspire loyalty with their shoppers and help them achieve healthier skin during this trying time of year.

Moisturizing Body Bar Soaps, Left to Right: L'Occitane Extra Gentle Soap with Shea Butter, Shea Moisture 100% Virgin Coconut Oil Shea Butter Soap, AHAVA Dead Sea Salt Moisturizing Salt Soap, Oribe Côte d'Azur Soap, Farmhouse Freh Citrine Beach Shea Butter Soap
Bathing in Winter
While unpopular with the masses, baths are having a resurgence with those looking to maximize their self-care practices at home. Dermatologists actually recommend taking baths in the winter with moisturizing ingredients added to the warm water because skin has more opportunity to absorb the product benefits as opposed to rinse-off products often used in the shower.
Baths give users the opportunity to add a variety of products to the water to create a spa-like experience in their own bathroom. Epsom salts, oatmeal, and honey are simple ingredient stories that can go a long way to help soothe irritated skin, and for more sophisticated users, a premium product like our Calming Bath Elixir product concept can do a world of good for dry skin. These bath products are natural line extensions for brands that already sell body care, such as premium bar soap.

Moisturizing Bath Products, Left to Right: milk + honey Bath Soap, REN Clean Skincare Anti-Fatigue Bath Oil, goop Beauty G. Soak Set, Fur Bath Drops, Kai Bathing Bubbles, Herbivore Coconut Milk Bath Soak
Don't Forget to Moisturize After Washing
As the iconic Derek Zoolander declared in the 2001 film Zoolander, "moisture is the essence of wetness, and wetness is the essence of beauty." Healthy, hydrated skin cannot be achieved through cleansing alone, and anyone experiencing seasonal dryness should add a rich, emollient moisturizer to their body care routine to help seal in hydration.
Benchmark Analysis:
Natural Body Butters

Wintertime Product Opportunities
Twincraft Skincare specializes in formulating and manufacturing bar soap that leaves skin feeling nourished and moisturized, not stripped, after using. This is achieved by adding cocoa butter, shea butter, coconut oil, and other extremely moisturizing ingredients to our certified sustainable soap bases.
In addition to bar soap, we offer unique cleansers that can hold a high percentage of oil in their formulations while still foaming, as well as premium natural body lotions and butters to help seal in moisture after washing.
To learn more about our product offerings and to discuss possible product line extensions, please contact our sales team. Our Product Concept Library is also available to serve as an inspirational starting point for your brand's next product launch.
¹Survey Source: Harris Poll on behalf of Cera Ve surveyed 2,000 US consumers
²Article Source: Mintel – Create a 'Winter Skin' Wash Category, February 2018