Cleansing and foam go hand in hand, as it's difficult to feel truly clean without building up a rich lather. However, there are some materials that soap and its foam don't easily remove from the skin, including long-wear makeup, bike grease, and other persistent oil-based products. Those materials need other oils to break them down, but traditionally, oil inhibits the creation of foam.
Knowing all of this, is it possible to have a foaming cleanser with oil included in the formulation to bust stubborn makeup and dirt? Twincraft Skincare customer, the answer is yes.
Our internal Innovation Team developed a Lotion Cleanser that is uniquely able to remove makeup, dirt, and other unwanted substances from the skin. It foams and rinses well, leaving skin clean and feeling hydrated, but not greasy.
Most highly effective cleansers are overly stripping, and our Lotion Cleanser avoids a dry after-feel because of the nourishing oils in its formula, including natural sunflower, jojoba, and argan oils.
Sunflower oil is rich in Vitamin E and known to reduce skin inflammation, helping to heal acne and sunburns, and prevent signs of aging
Jojoba oil is a light, non-greasy oil, easily absorbed by the skin. It helps to regulate skin's hydration, which makes it effective in fighting signs of aging skin like wrinkles and fine lines
Argan Oil is rich in tocopherols and vitamin E which help defend against dry and aging skin
This library formula is extremely flexible, and can be adapted with most vegetable oils and/or butters to tell a different marketing story. It is also free of parabens, PEGs, sulfates, and silicones, and other marketing claims are available depending on the ingredients a specific brand wants to use.
The Difference
This natural cleanser features a new technology that allows us to suspend high amounts of oils in it – up to 20% - while still foaming. We take foam very seriously here at Twincraft, and we are always looking for opportunities to bring a rich foaming experience to new cleanser types.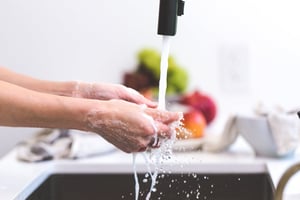 This formula is effective at removing makeup, but it is not safe for use around the eyes. Many oil-based makeup removers, such as cleansing oils, do not rinse cleanly from the skin and leave behind a residue or film. Two-step cleansing programs that are popular in K-beauty rely on an oil-based cleanser to remove makeup, and then a second cleansing step to actually cleanse the skin, removing dirt and environmental toxins from pores. Our Lotion Cleanser effectively combines these steps, simplifying a routine and minimizing stress on the skin.
This product can also be marketed as a grease remover, helping users clean up after cooking or automotive repairs.
Contact us to learn more about this product or request a sell sheet with our INCI and usage instructions.