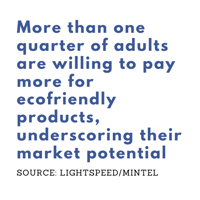 On the 50th Earth Day, explore opportunities for your brand to practice sustainability and tap into the needs of conscious consumers.
Sustainability is not a new concept, but the opportunity for personal care brands to utilize sustainable practices in all aspects of their businesses has never been greater or more worthwhile.
A growing amount of today's consumers prioritize supporting brands that align with their own personal values and goals, and every little bit of effort, from supporting an ethical supply chain to sourcing PCW packaging, can help the planet.
1. Reduce
Packaging &
Product Waste
The zero-waste movement is on the rise, and many consumers are looking to minimize their contributions to local landfills. Personal care products have a relatively short life span while in use by the consumer, so users have a heightened sense of awareness about tossing empty antiperspirant plastic tubes or single use sheet mask packaging.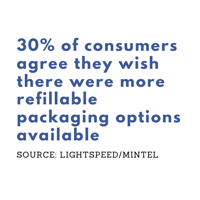 Packaging is the easiest place to cut down on excessive waste, and many consumers are asking for reduced secondary packaging or fully recyclable options. Limited supply chain options mean that brands usually can't swap conventional packaging for a 1-to-1 sustainable option, but shoppers are open to a different aesthetics if it means that they can feel better about their purchasing decisions.
For example, ocean-bound plastic tubes have different quality standards and labeling limitations when compared to conventional options, but with the right level of expectation setting at both the brand level and in consumer education, that is acceptable if it can make a difference for the planet.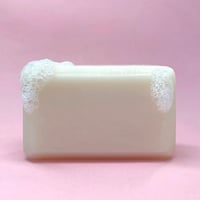 This heightened demand for reducing product and packaging waste is one of the reasons that bar soap is performing well with the clean, conscious consumer. Mass, low price point bar soap sales continue to decline, but premium brands that focus on sustainability claims and safe ingredient stories are doing well.
Our bar soap bases are biodegradable, and most finished bar products are too, pending the added ingredient stories that are added to it. 100% of the product can be used, with no soap left behind. Packaging can be made 100% recyclable or from post-consumer waste, too, by selecting the right paperboard and inks. Its versatility as a product category can also help to eliminate plastic in other areas of the home, too, such as highly effective stain sticks for laundry care.
2. Lean on the Support of 3
rd
Parties
With sustainable product claims being such a boon to new product launches, greenwashing is a frequent tactic that uses unsubstantiated claims to lead the consumer into thinking that the product is sustainable when it's not. While the EU and other international government groups have taken strides to fight these misleading claims, the same cannot always be said of products launched in the USA. This is where reliable and vetted third parties come in, to help guide consumers and give trustworthy support to products that live up to the claims that they're trying to make.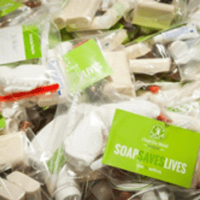 For example, many brands have corporate goals of becoming carbon neutral or carbon negative in the next few years. It can be difficult for a brand to substantiate this claim on its own, though, which is where certification bodies such as Climate Neutral Certified or Cradle to Cradle Certified can help. They work with brands to deliver clear, measurable objectives to evaluate their impact on the planet, and provide a trusted reference for shoppers to use to help them make sure their purchase can back up its claims.
At Twincraft Skincare, we've partnered with Clean the World to help achieve our goal of not sending bar soap waste to the landfill. We aren't able to distribute and donate the excess soap from our manufacturing process on our own, but by partnering with this incredible organization, we are able to greatly reduce our contribution to Vermont landfills and help those in need all over the world stay clean.
3. Be Creative About Limiting
Water Usage
Experts predict that by 2025, two-thirds of the world's population may be at risk for water scarcity. While many parts of the world won't be immediately affected by this threat, the reality of the situation shows that over time, this is an issue that most of us will have to face in our lifetimes.¹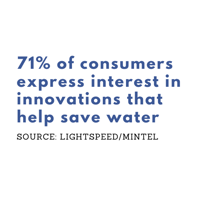 Product innovations that enable consumers to achieve the usual hygiene standards but also require less water in use or their formulations will not only help consumers adapt to a water-scarce world but also help brands better reach eco-conscious consumers. Solutions lie in a number of formats, focusing on fast-rinse technology and concentrated formulations with low- or zero-water.
Products like bar soap have very low levels of water in them, reducing the environmental impact of shipping the product to the end user and ensuring that they're also getting the most bang for their buck by not paying for water in the formula. Shampoo bars have been extremely popular in the last few years thanks to their economic nature and sustainable format, and shampoos with fast-rinse claims from brands like Love Beauty and Planet are popular with sustainable consumers.
Is your brand exploring sustainable alternatives to conventional product solutions? If so, we want to hear about it. Please contact our Sales team to learn more about our own sustainability efforts and how we can support your goals at this time.
Source: ¹https://www.who.int/en/news-room/fact-sheets/detail/drinking-water