Reduce Water Usage with Sustainable Skincare & Bar Soap
Water scarcity is a growing problem worldwide, with many cities facing water shortages during times of drought or excessive demand. Experts predict that this trend will continue to rise with climate change and growing populations, and consumers look to brands to offer products that help them reduce the water that they use in their personal care regimens.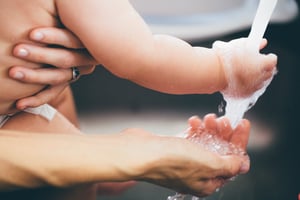 Developing anhydrous, water-free formulas is one way to interpret this movement, as customers want concentrated products that don't require excessive water to be shipped across the country. This trend can be seen in home care, as more customers prefer concentrated dish soap and laundry care products, as its efficient, economical, and more convenient to buy in bulk. The Twincraft Innovation team is actively exploring water-free solutions for our customers beyond oil-based balms and treatments.
Bar soap is a solid and travel-friendly solution for brands exploring this trend. Water is still included in the formulation, but at a low level. Water can also be partially or fully replaced by plant-based water in formulations, with cactus water, birch water, maple water, or aloe replacing water for a nutrient-rich hydration story.
Another of approaching the water-conscious movement is with cleansing products that quickly rinse off, reducing the amount of water needed during use. Alternatively, no-rinse products feature safe surfactants that clean skin, remove odor, but do not require water to be used during application.



Bar Soap

Explore our unique bar soap concepts for solid, sustainable, and water-conscious alternatives to liquid skincare. Our bar soap library serves as inspiration and showcases the vast range of products possible utilizing extrusion techniques, unique ingredient stories, and die shapes.
Birch water is rich in amino acids, sugar, and minerals, helping skin to retain moisture and balance. It is anti-inflammatory and calming, helping to reduce redness and sensitivity.

Aloe is a humectant, drawing and retaining moisture in the skin. Sodium hyaluronate also helps retain high levels of moisture in the skin. A blend of maple, yellow birch, black spruce, and white pine bark extract adds to the botanical benefits of this hydrating treatment.
This product is vegan, natural, and 100% free from:
Parabens
PEGs
Sulfates
Silicones
Apply to clean skin, patting in with fingertips for enhanced absorption. Skincare textures should be applied thin to thick, so layer serums and other treatments accordingly.
The Shampoo Bar is ideal for those with sensitive skin and scalp conditions, as it won't irritate or sensitize at-risk skin.
This base produces high foam in all types of water, hard and soft.
It conditions the hair with shea butter, and moisturizes the scalp and hair shaft with aloe and jojoba oil. Panthenol improves hair elasticity, moisture retention, and flexibility, and cedarwood oil helps to balance dry and oily skin and hair.
It is exceptionally good at removing build up and excessive residue from hair products, preventing irritation and dryness.
Packaging Requirements: This bar requires a thin plastic vapor barrier to eliminate "sweating" and preserve its quality on store shelves. This packaging uses 1% of the plastic that a standard 16 oz shampoo bottle does, which provides sustainable brands with the opportunity to discuss this dramatic plastic waste reduction.
This product is 100% free from:
Trans MB with Syndet Noodles, or Twindet
The cactus plant is uniquely adapted to dry, hot climates, and the plant has developed its own protection to keep itself alive, nourished, and hydrated. In this formula, we harness the powers of the prickly pear plant due to its high levels of vitamin E and antioxidants.

Other nutrient rich plant waters, such as maple, birch, coconut, and rose, can easily be substituted into this product to tell a different marketing story.
This product is 100% free from:
Parabens
PEGs
Sulfates
Silicones
Apply a small amount to cleansed and toned skin, morning and night.
Featured Ingredients:
50 mg full spectrum CBD
Bentonite clay

helps to cleanse the skin
French green clay

has antibiotic and detoxifying properties
Aloe

vera

is a natural humectant that provides moisture to the skin
Jojoba oil

hydrates & helps to protect the skin
Eucalyptus oil

for fragrance
This product is 97% natural and 100% free from:
Parabens
PEGs
Sulfates
Silicones
To use, apply stick to wet skin and massage in strong strokes to deposit mask onto skin. Leave mask on for 3 – 5 minutes and rinse well.