Beauty retailers continue to grow in an increasingly crowded marketplace. How do stores like Ulta Beauty and Target successfully bring in new beauty shoppers month after month? One of the answers lies in offering a differentiated product assortment, featuring new opportunities in personal care for both men and women, such as scalp care.
The new product opportunities coming out of the strong personal care segment are expanding on product categories that have been around forever. Sugar scrubs and hydrating body butters are not fresh concepts in the market, but the self-care boom and rise of ancillary bath products have positioned them anew with consumers shopping for clean, safe and effective personal care options that align with their overall demands for improved personal care options.
This same logic can be applied to the rise of scalp care, which Monica Arnaudo, Senior Vice President of Merchandising for Mass, Hair and Accessories at Ulta Beauty, says is an area that is "small but growing" at the retailer.¹
Scalp Care
Dandruff treatments such as Head & Shoulders have been mainstays in the showers of those who suffer from dry, flaky scalps for decades, entering the market in 1961. Based on Nielsen sales data, Head & Shoulders is the world's number one shampoo, earning that title by promising its users great-looking, flake-free hair and a healthy scalp. The brand's products feature zinc pyrithione to prevent the dandruff-causing microbe from forming scalp irritants.²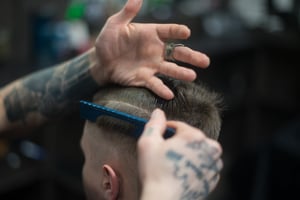 Their shampoos are also formulated with sodium lauryl sulfate (SLS) and sodium laureth sulfate (SLES)², which are highly effective surfactant systems that can be too harsh or irritating for some users, especially those with chemically colored or treated hair.
While traditional dandruff treatments are effective at helping to alleviate this specific scalp condition, these products don't align with future market trends. A growing list of customers want natural treatments that help address the root of the condition, without causing additional irritation or harm, or using unnecessary chemicals.
Scalp Care Concerns
Dandruff is just one of many common scalp ailments, and both male and female shoppers are on the hunt for scalp treatments that can help improve the condition of their scalp, resulting in stronger, healthier hair. Additional maladies include:
Product irritation & build up: Products such as dry shampoo and other leave-in hair treatments create build up, which can irritate the scalp without proper cleansing. The current athleisure trend encourages exercisers to reduce hair-washing frequency, but excessive sweat and product build up can inflame the scalp and promote unwanted microbial activity. Market trends are also encouraging shower alternatives to reduce water consumption through no-rinse cleansers and shower sheets, but these products do not help keep the scalp clean or healthy
Hair loss: Damaging the scalp skin and hair follicles can result in increased hair loss and bald patches. Healthy hair has a difficult time growing through in an environment that is flaky, irritated, or damaged, which results in visible hair loss that is an issue for both men and women
Scalp congestion: The body naturally produces oil and sheds skin cells, and if those are not properly cleansed and removed on a regular basis, they can cause congestion and blocked hair follicles in the hair, hampering hair growth and causing additional skin concerns
Scalp Care Treatments
Proper scalp care can be thought of the same way as basic skincare. Cleansing, hydration, and exfoliation are all necessary steps to maximize skin health and appearance, whether that skin is on the face or the scalp.
Scalp Cleansing: To remove build up from products, sebum, environmental pollution, sweat, and any other substances that the scalp and hair can encounter, a thorough cleansing is required using shampoo or a water-free cleansing product such as a Twincraft-manufactured shampoo bar
Scalp Hydration: The scalp can benefit from all of the same active ingredients that are frequently featured in facial skincare treatments: hyaluronic acid, plant oils, aloe, and other naturally hydrating ingredients
Scalp Exfoliation: Sometimes the skin needs assistance to shed dead skin cells, unclog pores and hair follicles, and to increase skin cell turnover rates. This is generally done with either physical exfoliation, which can be done using a sugar scrub, or chemical exfoliation, which relies on AHAs or BHAs to help dissolve the "glue" that holds these skin cells together, revealing fresh, healthy skin underneath.
Free Download: Scalp Serum Benchmark Analysis

Twincraft Skincare is a skincare-focused contract manufacturer, and we do not have expertise in formulating or manufacturing hair care. However, certain opportunities in areas such as scalp care do align with our capabilities and areas of expertise, which is why we developed a Scalp Serum to help skincare brands expand in to the hair space, and help hair care brands explore opportunities in the skincare segment.
Scalp Serum
This Scalp Serum concept combines a rich blend of oils to nourish the scalp with gentle chemical exfoliation and other ingredients to promote a healthy scalp and hair.
The oil blend is quickly absorbed into the skin, designed to not be greasy or require immediate cleansing after application. It features jojoba oil, which is light and fast absorbing, as well as avocado oil to moisturize and nourish the scalp. This oil is rich in vitamins D and E, which are important for the generation of new hair follicles. Prickly pear oil, which is high in antioxidants, is also included in this formula.
Sodium hyaluronate is a popular ingredient in facial skincare serums due to its ability to penetrate the skin and retain more than 1,000 times its weight in water for deep hydration, so it is also featured in this formula.
Other targeted treatment ingredients in this formula include peppermint oil, which is anti-inflammatory and has antiseptic properties to help sooth an itchy scalp, and sea buckthorn oil, which is antibacterial and antifungal, helping to reduce dandruff buildup and promote scalp health.
For a gentle exfoliation story, this product features Lauryl Lactate, a natural AHA, to promote exfoliation and skin conditioning.
To use, apply directly to scalp, and massage. No need to rinse. This product can be used after washing, before styling, or before bed for an overnight treatment. It is ideal for both men and women, with long, medium, or short hairstyles. Applicator tubes can make application easier, and our packaging team can provide samples of unique options that are well suited for this product type.
To learn more about this and other skincare concepts that fall in to other product categories, please contact our Sales Team.
Sources: ¹WWD, Exclusivity Driving Growth in Mass Beauty 5/5/2019 https://wwd.com/beauty-industry-news/beauty-features/mass-beauty-nacds-exclusive-brands-1203123163/ | ² https://www.headandshoulders.com/en-us/healthy-hair-and-scalp/non-category-dandruff/head-and-shoulders-anti-dandruff-shampoo-ingredients-whats-in-the-bottle