Twincraft Skincare works with over 140 different personal care brands, ranging from the long-reigning giants of the industry to small and growing brands that have taken over Instagram feeds and find homes in small boutiques. We develop concepts that provide innovation to customers at both ends of this broad spectrum, and our marketing team is tasked with keeping a pulse on what is happening in the marketplace, what we can offer current and prospective customers, and where we can provide value to the industry as a whole. Reach out to our sales team to learn more about our trend insights and product offerings.
A critical part of this job is to attend relevant industry events and trade shows, and this fall, our marketing team visited Indie Beauty Expo New York to dive into the niche market's important product and packaging trends.
Indie Beauty Expo 2018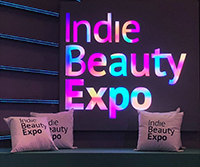 This indie-focused trade show launched in 2015, and this year, it's grown to showcase more than 240 different brands. The event targets global buyers and retailers, giving smaller brands the opportunity to connect with leading players in the beauty world.
The largest theme at the show was natural beauty, relating to ingredients, clean packaging, and free-from claims, and the many different ways that brands can and do interpret the natural label to make claims that connect with their target consumer. Within this larger macro trend umbrella, there were many micro trends to indicate where the market is going, inspire innovation, and guide future product development.
CBD Beauty
The rise of CBD (cannabidiol, the non-psychoactive component of cannabis) has been well predicted in the wellness space due to its anti-inflammatory and pain reducing benefits. Products containing this controversial ingredient were everywhere at Indie Beauty Expo, ranging from bath bombs, digestible tinctures, and skin calming masks.
At Twincraft, we're carefully watching the CBD market and issues surrounding its legality, as it is still regarded as a Schedule I drug at the federal level and illegal to have. For customers who aren't interested in dealing with any of the legal issues surrounding this trendy ingredient, hemp extract is a relevant and readily available hero ingredient to add instead.
Skincare Beyond the Face
While consumers spend the most money on products that target the face, skincare products are moving on to other neglected areas of the body. This year, we saw scalp care take center stage in this space, and for 2019, brands are targeting the derrière with treatments that plump, tone, and revitalize the butt.
Sheet masks for your rear were a hot item, and clay masks and rich moisturizers are also great product ideas for this area. With swimsuit trends showing more skin and clogged pores and irritation being an issue for spandex-loving gym-goers, it makes sense that people want to pay as much attention to the skin on their posteriors as they do their faces.
Spirituality
Stress is one of the most damaging external influencers for the skin, causing premature aging, acne, and dullness. In the chaos of the modern world, consumers must actively seek out ways to combat stress and focus on a positive sense of self, spirituality, relaxation, and holistic well-being.
This trend lends itself well to the ancillary bath product category, as one can't have too many aromatherapeutic treatments or bath salts ready for the end of a stressful day. Our calming bath elixir concept would be an ideal solution for a brand looking to enter this space, paired with a themed scent that could align with the zodiac or another on-trend reference such as glow-in-the-dark technology. Packaging in this product category is very important, and natural elements, soothing colors, and easy-to-use pack concepts pair well with the overall theme of minimizing stress and connecting with the spiritual world.
Athleisure
The athleisure trend isn't going anywhere, and pairs well the theme of using products to help minimize stress. At this year's show, it was evident in products designed with actives to help relieve pain after exercise, or react during exercise to help with performance.
Deodorant continues to be a booming product category, as consumers look for effective natural solutions in this highly commoditized space. New formulas strive to work longer and offer better protection than natural formulas of the past.
Convenience is a key aspect of the athleisure trend, as users need minimal products that will function well, be mess-free, and take up very little room in their gym bag. Multitasking stick products are ideal for this category, but are not something that we have the capability to fill at Twincraft.
Targeted Treatments
Last year, we saw hydrocolloid patches enter the acne treatment space, and this year, the adhesive sticker technology bridged to apply to other treatment types. CBD made an appearance in transdermal patches that help ease pain and promote sleep, and thinner, daytime-friendly patches were available to help make these treatments even more discreet.
At Twincraft, we don't have the capability to create small adhesive treatment stickers, but we developed our own innovation concept that aligns with this trend in the form of a natural liquid spot treatment that solidifies and creates a seaweed-based protective film over the skin, ready to be peeled off after a desired amount of time. It's a biodegradable, sustainable option for this on-trend treatment type.
Sustainable Packaging
Brands that focus on sustainability are concerned with more than the labels that they can put on their final product. They are concerned with sustainability throughout the supply chain, from ingredient sourcing to packaging development. At this year's show, we saw brands of all sizes adopt subtle and effective sustainable packaging options. More biodegradable, recyclable, and reusable packaging options are available than ever before, and our packaging team is here to help develop unique concepts for the brands that we work with to stand out on crowded store shelves.
Bring on the Color
For years, natural skincare could only be found in varying hues of brown or off-white, but we saw products in every color of the rainbow at this year's show. While some brands still choose to not add any additional color their formulas, there are plenty of natural color options that can be derived from pure ingredients – turmeric, blue tansy, and sea buckthorn extract are all hero ingredients that bring a powerful active story to a product, while also delivering a vibrant hue.
Want to learn more about how your brand could incorporate these trends into your own products? Contact our sales team for a consultation.