The men's personal care space has been historically dominated by mass brands with limited options for the more discerning shopper. This market is growing at a fast pace, and experts expect a lot more options to be released that will cater to this underserved market demographic.
Men's Personal Care Market Growth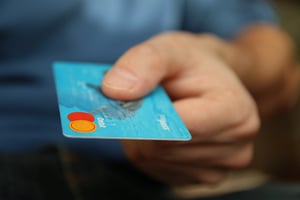 The male grooming market is expected to grow at a compound annual grow rate (CAGR) of 5.2% to reach 60.7 billion by 2020, worldwide.
Western Europe owns the largest part of this market segment, with a value of $12.4 billion, while the Asia Pacific region represents the highest growth market, and is expected to grow at a CAGR rate of 8.1% to reach $11.5 billion by 2020.
While so much of the female-driven skincare market is dominated by ecommerce sales, the majority of sales in the men's grooming space is coming from brick-and-mortar stores, which make up 80% of this segment's revenue. Major supermarkets and pharmacies, such as Walgreen's or CVS, are the primary distribution channels for this group.
What's Trending in the Men's Personal Care Space?
Successful emerging brands in this space are drawing inspiration from Gen Z- and Millennial-friendly, skincare-meets-makeup brands such as Glossier and Milk Makeup. They are moving away from traditional depictions of masculinity, focusing instead on gender neutral branding, open and honest marketing, identifiable ingredients, and transparent communication with their potential shoppers. Their goal is to help develop a dialogue about men's skincare and grooming needs, often utilizing humour and heart-felt emotions to break down walls that keep men from exploring options in the personal care and cosmetic spaces.
With all of the growth expected in this space, brands should expand beyond the standard traditional products targeted at men – deodorant, wash, and shave products. More skincare options and color cosmetics are being marketed in a male-friendly way, helping to move the industry away from the restrictive standard that men aren't supposed to wear makeup or care about looking their skin looking inflamed, dry, or dull.
33% of UK men now say that they use face creams and lotions on their skin, with 11% sticking to this routine on a daily basis
Gender Neutral Branding
Brands that are focused on claims and the science of skincare, such as The Ordinary, appeal to a wide, educated audience that goes outside of gender norms. The Ordinary is doing quite well with male shoppers, and Vogue Business reports that the Canadian-based brand has increased its male customer volume by about 5% since 2017.
Nearly two-thirds of US men aged 16 - 24 have used or are interested in using genderless beauty products
Despite this movement, products with "Men" or "For Him" in their product names are still dominating the aisles where men are shopping for their personal care products. Experts expect a shift in this space given larger macro trends around gender identity and product education.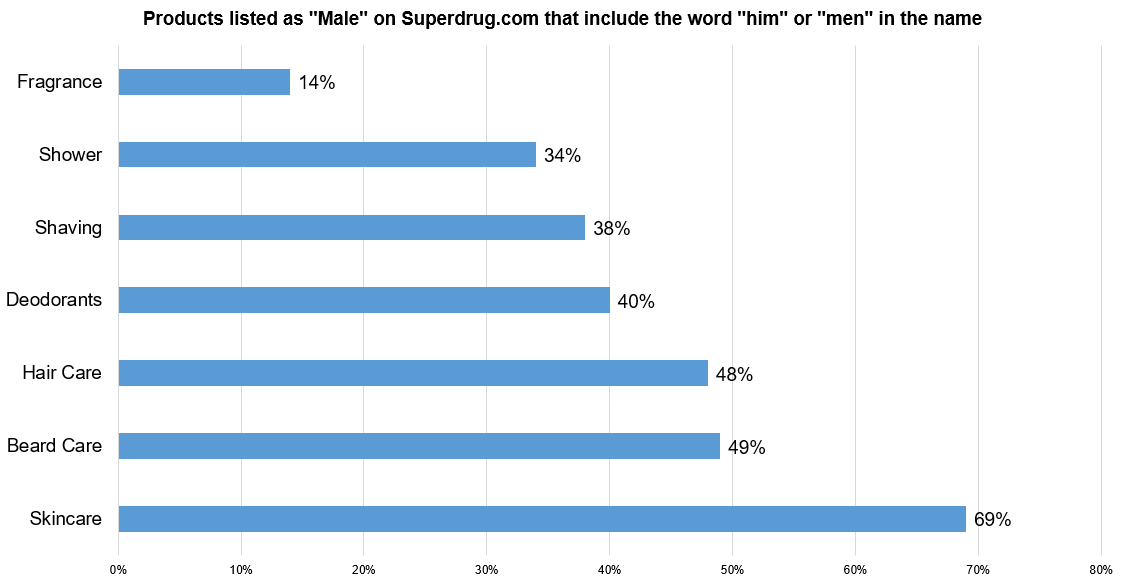 Source: Vogue Business, The Future of Male Grooming is Gender Neutral
Complexion Enhancers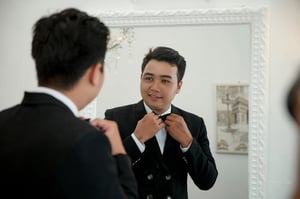 Makeup isn't just for female shoppers, and more men are looking to cosmetic products to help them look and feel their best.
Concealers, BB creams, primers, and foundations are often entry points for men into the cosmetic space. Brands such as Covergirl are leading the charge with male spokespeople to be the face of new cosmetic launches in a space that used to be limited to female-focused marketing, and Chanel launched its first men's makeup line back in 2018. The focus of these lines is to correct and conceal, helping users to look healthy and vibrant.
Focus on Easy to Identify Natural Ingredients
Embrace Charcoal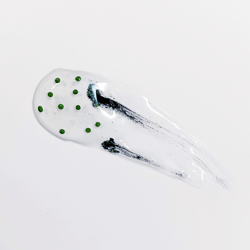 Once a trend-driven ingredient choice, charcoal is now here to stay. The natural black material is easy to identify and shoppers believe that it works, and its dark hue is an attractive colorant for male skincare products.
Charcoal has a strong association with detoxification and cleansing, making it an ideal addition to bar soaps and products for those looking for a deep clean. The powder has found its way into sheet masks, wipes, peel-off masks, and scrubs, and while shoppers are well now acquainted with the material, it's important to continue to innovate and surprise them with its usage.
The Twincraft Skincare team has developed a range of cleansers and masks that utilize encapsulated charcoal beads to provide a unique and effective detoxifying experience, as these beads burst upon agitation and turn the product and its foam grey.
Include Caffeine
Caffeine is a popular skincare ingredient in eye care and body creams, as it temporarily tightens and firms the appearance of dull, loose skin.
Caffeine has started to make an appearance in other personal care products, including in shampoos and conditioners from the brands Man Cave and Fudge that are marketed to men with hair loss. Paired alongside biotin, caffeine helps to fortify the hair shaft and promote healthy growth.
More eye products are marketed as general neutral, with Kiehl's and Perricone MD launching unisex products that help moisturize the delicate eye area and visibly mask dark under eye circles.
Provide Options for Facial Hair Maintenance
Popular beard lengths rise and fall, as do any trend, and regardless of how men are maintaining their facial hair, they increasingly want products that help keep them looking healthy and well kept.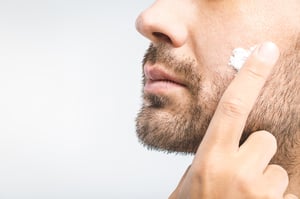 Those with a full beard shop for nourishing oils and gentle beard washes to help manage the hair as well as the delicate skin hidden under the beard. Unconditioned beard hair can be rough and difficult to manage, and balms, creams, and pomades all help keep hair soft.
For shoppers who want a smooth, clean shaven face, products are focused on shave creams and aftershave balms, and for more those looking for reduced-waste options, shave bars are a natural fit.
Specialty and barbershop brands have offered beard-taming products for years, but we now see more drugstore brands opening up their selection and offering more cost-conscious products with trending ingredient stories. L'Oreal leads in the way in this area with its Barber Club collection, providing shoppers with fragranced options that are solution-focused.
Go Beyond Skincare Basics
The skincare industry has been so focused on creating skincare solutions for female consumers over the last several years of growth, that they've neglected male shoppers and have left this underserved demographic wanting options and attention.
Experts at WGSN encourage brands to be inspired by all of the newness and innovation in the female skincare space and offer male shoppers more than just body washes and simple facial moisturizers. Skincare products that combat acneic skin and congestion are becoming more popular in the men's market, with brands launching more at-home peels and treatments to help men get salon-like results at home.
---
To learn more about expanding outside of the conventional male skincare market and to explore new product development opportunities, please contact our sales team.
Sources: WGSN: Ones to Watch, Male Grooming, Beauty 2018 | WGSN: Male Grooming, Beauty Innovations, Winter 2018 | https://www.voguebusiness.com/beauty/future-male-grooming-gender-neutral-nivea