Our trend-driven innovation process is at the heart of Twincraft Skincare. Meet the team that brings our ideas to life, showcasing new ingredients, textures, packaging, and manufacturing capabilities through our product concept library.
Meet our Product Innovation Team
Our Product Innovation Team is a collaborative group of individuals from Twincraft's many departments. They meet every Friday to discuss new ideas and product inspiration, requests from leads and existing customers, and tackle internal challenges to drive us forward as a business.
This group is internally called the PIT Crew and if you've started the development process with Twincraft, you've tried a few of the products that result from this team's work.
Twincraft's PIT Crew:
Nina Hudson - Director, Trend & Content Marketing

Rebecca Adams – Digital Marketing & Trend Strategist

Curt Durfee – Director, Development

Wayne LaBonte – VP, Sales & Marketing

David Speed – VP, Engineering

Jen Letourneau – Formulation Manager

Gelsey Torres - Formulator

Alexandra "AB" Fitzsimmons – Director, Packaging

Susan Voorhees – Director, Procurement

Rhea Breyette – Manufacturing Engineer

Cassie Smith - Procurement Specialist
The PIT Crew's goal is to launch a collection of product concepts three times a year, featuring bar soaps, facial skin care, bath & body care, deodorant, and other stick products.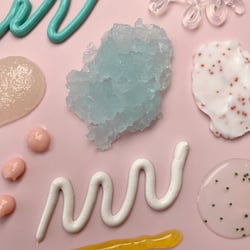 Our internal development process is similar to that of our customers. We start with ideation based on trends from personal care, wellness, food, and design spaces, and then create a product brief. We work through multiple versions of a formula until it feels just right. Each product undergoes necessary testing to make sure it's stable and scalable, and most importantly, that it's versatile enough to inspire the different product developers that we work with.
Once each season's collection is all approved and ready to go, our sales team attends training sessions and workshops to better understand why we made each one and how it's relevant to our customers. This is their opportunity to learn about market trends, our new capabilities (such as our recent launch of stick products) and discuss our flexibilities and limitations.
The products that come out each season fall into two categories: base strategy and library concepts.
What Is Base Strategy?
We offer a comprehensive library of base formulas that have been scaled up, tested, and properly vetted for compatibility with our equipment. Since they go through the PIT Crew's vetting process, they are trend-driven and focus on the claims and standards that we know shoppers want, such as silicone-free or 100% naturally derived.
Our base strategy has flexibility, though, which allows us to customize a base for each of our brand partners. These products are intended to be a starting point so that we can get feedback and guidance on texture, viscosity, and many other important qualities to help streamline and shorten the development process. Our R&D team advises on formula flexibility, fragrance limitations, supported packaging, and recommended marketing ingredients.
Each of our library concepts is built on a base from our base strategy.
What are Library Concepts?
A blank tube of fragrance-free moisturizer doesn't have the appeal of a brightening cream in sustainable packaging, which is why we feature these bases with marketable ingredients as Library Concepts in our Innovation Presentations.
Our library concepts showcase the viability of each base with ingredients added to it, and we pair this product with market research to fully explain why this product has a future with your brand.
Base Strategy in Action
A Bar Example
Our Opaque SF solid cleansing base is a soap-free option that generates foam and provides a gentle washing experience. Opaque SF is the foundation that we often use in our extruded shampoo bars, but it doesn't leave hair looking its best when it's used alone as a base. Once you add hydrating and conditioning ingredients,though, it's a much better match for most hair types.
A Skin Care Example
Our Pressed Serum base is a fast-absorbing, K-Beauty-inspired texture that is ideal for delivering active ingredients into the skin. On its own, it doesn't deliver much moisture or offer results, but when marketing ingredients are added to the formulation, it shines. Our Cactus Water Serum and Smile Serum both use the Pressed Serum base as the starting point for their final colorful forms.
A Stick Example
Our CC Base Deodorant is an anhydrous natural deodorant that masks malodor and absorbs moisture to leave the user comfortable throughout the day. With a few additional ingredients, this product evolves into our Smooth Moves Stick, an anti-chafing formula that's appropriate for all levels of activity.
We've been hard at work developing new bases and library concepts for years, and our Product Library is full of skin and body care that can help treat acne, clean the young and old, support the microbiome, and satisfy many other needs that today's personal care shoppers have.
Custom development is available for the right customers though, and the decision to use base formula or start from scratch is generally made considering a customer's timeline, MOQs, desired claims, and other aspects of our potential partnership.
To learn more about our development process or to request product samples that you found in our Product Library, please contact our sales team.