We built Twincraft on the idea that our products can and should be made with sustainable ingredients and processes that protect and benefit the earth in the future. Whenever possible, we love to expand this core value of sustainability to our surrounding communities through support of like-minded organizations and causes.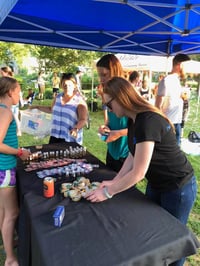 Over the years, Twincraft has formed a close relationship with the Intervale Center, a local non-profit dedicated to strengthening community food systems. It enhances the viability of farming, promotes sustainable use of agricultural lands, and encourages community engagement in the food system. We participate year-round in the Intervale Food Hub program and subsidize a portion of the cost of Community Supported Agriculture (CSA) baskets so our employees can access fresh and local vegetables, fruits, meats, bread, cheese and more delivered to the workplace.
Every summer, the Intervale Center hosts Summervale, a weekly celebration of local food, farm, and community. Attendees can sample local food and music, gather with friends and family, and explore local businesses and organizations sponsoring the event. This year, we spread the fun with our signature bubble machine and handed out free bar soap to anyone who came by our booth.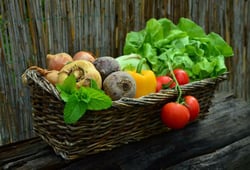 We proudly support this event every year; not just for its sustainability mission but also for its focus on family and community. As a family owned business, we work hard to make our workplace a supportive and collaborative environment, and love to partner with other organizations who reinforce those values. Events like Summervale are examples of the many ways we can connect with each other and support our local community. All Twincraft employees who attended the event could enjoy a free meal from the Farmers & Foragers food truck at the event as a token of our appreciation for showing their support for Summervale and the Intervale Center.
Summervale is happening through August 29th, we encourage you to browse the 2019 lineup and join in the fun!