Twincraft Skincare was recently honored as a 2019 Vermont Business Growth Award winner, taking one of the top spots in the manufacturing category. Formerly known as the 5x5x5 Growth Awards, the award was founded 15 years ago and this year, Twincraft was a first-time recipient with a 62.70% five-year growth.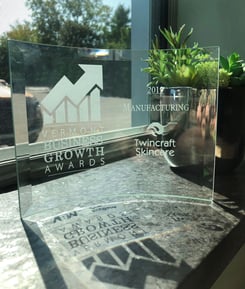 This annual award, presented through a partnership between Vermont Business Magazine (VBM) and KeyBank, acknowledges Vermont companies who have experienced the greatest growth over the last five years based on VBM's Vermont 100+, published each January.
Members of the Twincraft team attended the networking reception and ceremony at the Hilton Hotel to celebrate all honorees as well as the state of Vermont as a great place to live and work. Rich Asch, Vice President, accepted the award on behalf of the organization from Governor Phil Scott and members of VBM and KeyBank.
Established in 1972, Twincraft has steadily grown into one of the leading custom contract manufacturers in the natural bar soap and liquid skincare space. In the last five years we've expanded both our physical facilities and workforce, opening a second production facility in Essex, Vermont for liquid skincare and growing our workforce to over 200 employees.
2019 Vermont Business Growth Award Winners
As a long-standing, family-owned manufacturer in Vermont , we're proud of our cumulative growth and accomplishments, and look forward to continuing those in the years to come. Congratulations to our fellow 2019 recipients, gaining recognition in all four categories (manufacturing, construction, service, technology):