For those who need it, the availability of freshly brewed coffee in the morning can seem like a matter of life or death, and a cup or two throughout the day has many benefits beyond just helping you to jumpstart your day.
At Twincraft Skincare, we make sure plenty of coffee is available to our employees from the minute they walk through the door, and for Q1 2017, we're bringing it into the lab and our products, too.
Coffee & Skin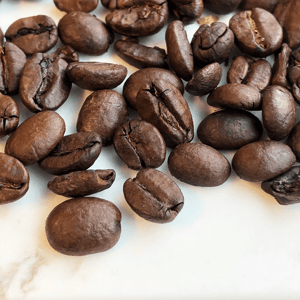 Coffee is strongly associated with caffeine, which wakes up your brain, and it takes just ten minutes for your body to recognize its life-giving effects. It also boasts a powerful combination of antioxidants and other nutrients, such as riboflavin, manganese, potassium, niacin, and magnesium. It's linked to reducing your risk of cancer, diabetes, and dementia, and more – and these are just the benefits that can come from drinking your brew. The list of coffee's positive attributes becomes even more impressive when you focus on it as a skincare ingredient.
Coffee scrubs have become very popular over the last few years, with DIY recipes popping up on Pinterest and a growing number of manufactured options appearing on store shelves. When rubbed on to the skin during a shower, the first thing you'll experience with a coffee ground-based product is its smell. Its rich, aromatic scent will wake you up long before you drink your first cup. The next thing you'll notice is how good a scrub it provides. Coffee is a great natural exfoliator, buffing away dead, dry skin cells on your body to reveal smooth, supple skin. It is used as an anti-cellulite treatment, and even if the plumping and tightening effects of caffeine on the skin are temporary, it leaves the user with a smoother appearance.
The antioxidants in coffee also assist in smoothing the skin, helping to minimize skin inflammation and accelerate skin turnover and healing. Additionally, coffee has the same pH as your skin, which means that you won't experience a drying or oily effect after you use it.
A significant downside of coffee scrubs is the impact that they can have on your shower drain. Most plumbing systems aren't equipped to handle a handful of coffee grounds being tossed down their drains on a weekly basis. How can we harness all of the benefits of a coffee scrub without all of the mess? True to Twincraft tradition, we created a coffee bar soap to answer this need.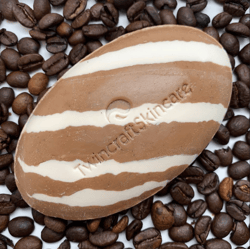 Cold Brew Coffee Bar Soap
Our Cold Brew Coffee Bar, freshly developed for 2017, draws inspiration from the influx of coffee scrubs on the market and the prevalence of cold brew coffee products that we spotted at Expo East 2016. Its ingredient list includes coffee grounds with a splash of milk and sugar, as well as some of our more nourishing bar soap additions, such as coconut oil and shea butter, to provide a gently exfoliating shower experience that will wake you up. Contact us to learn more about this product and request a sample of this delicious smelling bar.
---
Update: This product concept is no longer an active part of the Twincraft Skincare Product Concept Library. While we do not currently stock samples or have sell sheets available for it, it can still serve as a starting point for your brand's future product development with us. Please contact our Sales Team to learn more about our current capabilities and featured product innovations.