Every July, industry professionals across the beauty and personal care categories descend upon Las Vegas for 3 days to attend Cosmoprof North America. As the country's leading B2B beauty exhibition,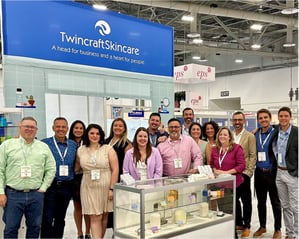 Cosmoprof is the place to be for those in the beauty industry looking to forge relationships and talk all things innovation.
Earlier this month, members of the Twincraft team representing sales, marketing, R&D, and packaging made the trek to Las Vegas to debut our latest and greatest product innovations and get some face-time with current and prospective customers.
We shared our latest collection from the Product Innovation Team, which included:
This year was one for the record books for Twincraft – with over 40 meetings scheduled before the show started and many impromptu discussions at the show, we were jam-packed with customers and prospects! We want to thank everyone who stopped by our booth, and we are excited to see what projects come to fruition based on the productive conversations we had at the show.
While we were busy at our booth, team members also took time to attend seminars and to walk the show floor to take in what other companies had brought to the show. Here are a few of the trends we saw at this year's Cosmoprof:
Biotech Beauty
Sustainable sourcing of ingredients is an ongoing challenge for the skincare and beauty industry. To mitigate the environmental impact, brands are turning to biotech beauty and creating synthetic versions of ingredients that don't rely on traditional harvesting methods. Biotechnology, a portmanteau of biology and technology, refers to the process of growing ingredients in a lab which are biologically identical to their natural counterparts. These synthetic versions of ingredients can be better for the environment when the traditional harvesting methods of the ingredient have environmental consequences, such as soil degradation and water pollution. Many brands at this year's Cosmoprof show were showcasing products that featured lab-grown ingredients, highlighting the growing biotech beauty trend.
Targeted Body Care
In recent years, we've seen an increase in the "skinification" of body care – that is, using ingredients in body care products that are commonly found in facial skincare products. These targeted products for the body can include buzzy skincare ingredients such as niacinamide, vitamin C, or retinol, just to name a few. Whether it's addressing a skin concern found on other parts of the body or creating a more luxurious-feeling product to boost a body care routine, these products are becoming more and more popular.
Fruit Additives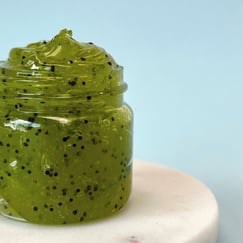 From ingredients to textures, fruits were a big theme at this year's show. While different fruits have been popular in beauty and skincare for years thanks to their high vitamin and mineral content, this trend shows no sign of slowing down. Whether they are being used for their moisturizing properties, exfoliating power, or for visual appeal, we're seeing lots of fruit in the beauty category. At Twincraft, we're no strangers to using fruit in skincare – from our Berry Boost Moisturizer, which features a variety of antioxidant-rich berries to our Kiwi Jelly Mask, which features kiwi extract and draws inspiration from the color of the fruit, and even our Perfect Pits Deodorant, which uses extracts from papaya and pineapple to gently exfoliate the underarms. If this year's Cosmoprof is any indication, we can expect to see fruits continuing to dominate the skincare aisles for the foreseeable future.
Is your brand interested in hearing about our latest collection or our take on these trends? Contact our sales team to learn more!