The hair grooming, shave, and removal market is changing, and perceptions about facial and body hair is shifting. Here are current trends in the United States, as well as what to expect in the years to come.
The Current Shaving & Hair Removal Product Market
The shaving and hair removal product market is highly saturated but declining year-over-year. In Mintel's most recent report on the category, Shaving and Hair Removal Products – US – September 2018, it was reported that the category would reach $3.5 billion in total 2018 retail sales, which is a 3.9% decline from 2017.
The usage of razors is nearly universal, with nearly 94% of adults owning some sort of razor, but today's shoppers are much more nuanced than those of the past. The category is largely value-driven, there is more competition from online retailers, direct-to-consumer brands, and subscription services, and the general attitude around shaving and hair removal continues to evolve.
To be successful, brands must tap into shifting hair removal trends and focus on macro trends such as sustainability and convenience.
Influencers on the Shaving & Hair Removal Market
Mintel forecasts that the market will remain flat through 2023, as market competition grows and it becomes more saturated with newer players.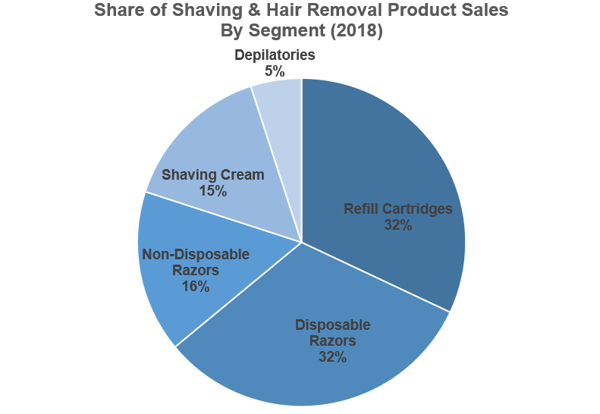 Source: Mintel, Shaving and Hair Removal Products – US – September 2018
More Focus on Value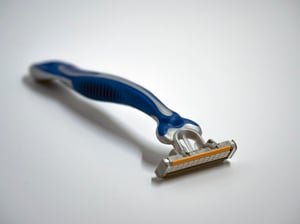 This market segment is heavily influenced by those looking for value, convenience, affordable prices, and improved features, all helping the disposable razor category to grow. There just isn't much incentive for consumers to opt for higher-end razors, and 20% of non-disposable razor users opt to replace the entire razor, as opposed to replacing just the head with a refill cartridge.
This all opposes the larger trend of sustainability and reducing single-use plastic waste, though, so consumer education and increased recycling efforts from brands could help change the tide of this trend.
Alternative methods of hair removal, such as laser treatments, are also becoming more accessible and affordable, with many people investing in the procedures to minimize the required daily maintenance and costly products that go along with regular at-home shaving.
Hair Removal Needs Change with Age
Adults aged 55 and older are reporting below average usage of nearly all hair removal and shave products, including razors, shaving creams, and post-shave products. This is just part of the aging process, as hair growth slows as the body gets older.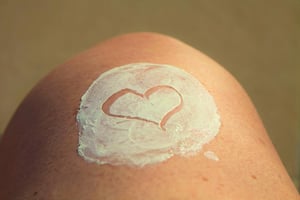 Younger generations are also changing the way they approach hair removal. The first time a young lady shaved her legs was a coming of age moment, but now, more young adults agree that is acceptable for women to have visible body hair. More woman are also removing hair only when they decide they need or want to, as opposed to striving to have consistently hair-free skin.
Gen Z-focused brands are finding success by aligning themselves with these evolving standards of beauty, with brands such as Billie and Flamingo featuring body hair in a taboo-free way, encouraging their shoppers to use the products that they want, where they want, when they want.
For the male shaving category, men aged 35+ are more likely to remove their facial hair and be clean shaven, while younger men, aged 18 – 34, are more likely to have facial hair. These shifting trends evolve conventional male standards of beauty, and open up the door to this demographic being more experimental with their hair removal and maintenance options.
Shaving & Hair Removal Market Opportunities
Sustainable Shaving Products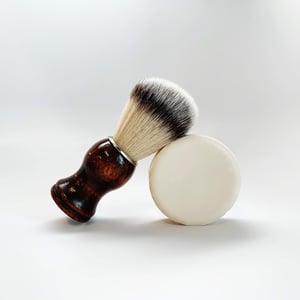 The conscious consumer is now increasingly the norm rather than an outlier, and there is a lot of opportunity in this space for eco-friendly products to shine. In a June 2018 Mintel survey, 69% of those questioned said that they would be interested in eco-friendly shaving products, and 26% said that they believe disposable razors are bad for the environment.
Many razors are designed for in-shower use, especially those designed to remove body hair. A key component of the eco-friendly shower movement is reducing water consumption, and many consumers want personal care options that minimize the amount of water needed to use the product when compared to conventional alternatives. Shower-free razors have the potential to tell a reduced-water story, but only if they are designed in a way to nurture skin, get a close shave, and minimize post-shave irritation.
The most commonly used shaving products include shaving creams, gels, or foams, but many of these products are packaged in wasteful components, such as aerosol cans or other non-recyclable options. Shaving creams and gels, such as Twincraft's Grooming Cream product concept, offer more sustainable pack options that can appeal to today's conscious shopper.
Be Cautious of the Pink Tax
Genderless beauty is one of the biggest trends we see as we enter 2020, as educated shoppers want effective options that don't inflate prices based on their targeted demographic, but many consumers agree that gender-based priced disparity is still rampant in the hair removal categories. Mintel reports that 30% of consumers agree that men's shaving products are more affordable than women's, and companies that address this alleged gender-based price inflation will be well regarded in this space.
pink tax [noun] - the extra amount women are charged for certain products or services, which often includes services, such as dry cleaning or haircuts, and personal care products
Shave Bars
Solid shaving products are also an underserved market segment, as these TSA-friendly options are highly efficient and provide a generous foam to get a close lather. Twincraft Skincare has produced premium shaving bar finished goods for many of our customers, and as more shoppers want convenient options, we're also seeing an influx in multitasking bars that are designed for washing and shaving.
---
If your brand is exploring the shaving and hair removal market, we encourage you to get in touch with our Sales team – we're ready to help your brand provide innovation to a space that's highly discerning and value driven but ready for options that are sustainable and cost-effective.
Source: Mintel, Shaving and Hair Removal Products – US – September 2018