Each year, Spectrum hosts the Empty Bowl Dinner to bring guests from the community together to share a meal, celebrate the organization, and raise money to support their endeavors. Twincraft Skincare is a proud supporter of this organization, and this October, we were happy to break bread with other supporters in honor of this great organization and the people that it supports.

The Empty Bowl Dinner is a truly unique event, allowing supporters, community leaders, and members of the Spectrum organization to gather and eat donated soups from local restaurants out of handmade ceramic bowls. August First, Ben & Jerry's, Bluebird BBQ, Lake Champlain Chocolates, Leonardo's Pizza, New Moon Café, Penny Cluse Café, Pingala Café, Sugarsnap, and Vermont Creamery all donated food for this year's event, ensuring that everyone left their table with a full stomach as well as a full heart.
In addition to dining at the event, attendees were invited to visit their Giving Board to "buy" programs, services, and items directly for the program's youth, including schoolbooks, winter clothing, personal care supplies, and bus passes.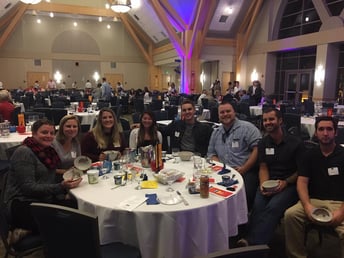 We sent a group from Twincraft to the event this year that included members of our production, sales, lab, and managerial teams.
Spectrum is a nationally recognized program that helps youth, ages 12 – 26, and their families to turn their lives around. Every year, they support 2,000 teenagers, young adults, and their families in the greater Burlington and St. Albans areas.
Their programs offer assistance for basic needs and supportive housing, life and survival skill programs, and prevention and intervention to help young people address substance abuse, mental health issues, and other critical issues that can interfere with a young person's livelihood. They also provide mentoring programs to help build self-esteem and offer an additional support network to those in need.
Next year's Empty Bowl Dinner is already on the calendar – we hope to see you there on October 10, 2019.