It's the most wonderful time of the year — from wrapping presents and decorating to parties and time with friends and family, there's no shortage of ways to celebrate the holidays. It's also the season of giving, and one way Twincraft likes to celebrate the holiday season is by giving back to its employees with its signature "Sunday with Mrs. Claus" event.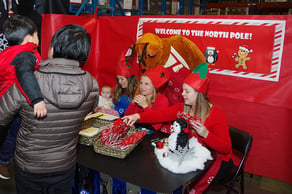 Every year, Twincraft's collection of volunteer "elves" work tirelessly to make this signature event an unforgettable experience for all those who attend, from transforming our Winooski, Vermont facilities warehouse into a winter wonderland donned with holiday decorations, Christmas trees, and snowflakes to carefully curating a collection of gifts for each child who attends based on their interests and age.
When employees and their families arrive, they're greeted by friendly elves and ushered into "The North Pole" where they can enjoy delicious snacks and fun, festive activities, including crafts, face painting, visiting a reindeer at the reindeer stables, and even writing a letter to Santa.
When Mrs. Claus arrives, portrayed by our own VP of Leadership and Organizational Development Michele Asch, children excitedly line up to participate in the special meet-and-greet. Each child can sit and talk with Mrs. Claus, review their Christmas list and even plead their case for being well-behaved. At the end, each one receives a goodie bag with treats as well as their hand-picked gift.
Led with a head for business and a heart for people, giving back to its internal and external communities has always been important to Twincraft. This long standing tradition provides a fun opportunity for families and a small way for Twincraft to say thank-you and happy holidays, both to employees and their families.
Thank-you to all who attended, and the many volunteers who make this event a success. We're already looking forward to next year!