My name is Gabriella Dabain, I'm from Detroit, Michigan, and I'm a Formulation Chemist in the R&D liquid skincare lab. I work with our sales team and customers to develop moisturizers, body washes, and many other kinds of personal care products.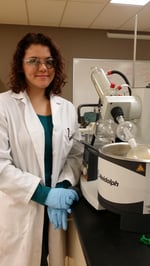 I originally began college wanting to be a pharmacist, and then switched to pharmaceutics since it more aligned with my interests which were compounding and chemistry. Learning more about skincare and haircare made me want to dual major in pharmaceutics and cosmetic science and formulation design, which thankfully was a bachelor's degree at my university in Ohio.
I moved to Seattle, Washington to work for Making Cosmetics Inc., a raw material distributor and a formulation design lab. After two years, I wanted to pursue work at a larger company and gain more experience in large scale production, and with the help of recruiter, I found Twincraft and moved to Vermont.
I really enjoy the creative aspect of my job - working with customers to create a product that meets their needs and expectations requires a lot of problem solving and creativity. We also have an internal innovation team that works to create new products that are exciting and interesting and grasp the attention of our customers. I'm a science nerd but I love being able to play around with different ingredients, textures, and colors to build a marketing story around that's unique and inspiring to our customers. I have always had a hobby of reading reviews and browsing the market, especially when it comes to haircare for curly hair - I'm holding out hope that Twincraft will enter the curly haircare space soon, since I'd definitely save a lot of money!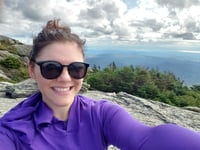 Twincraft Thrives is another a great aspect of my job – it involves a lot of wellness-centered programs and community programs. Thrives programs include events like the Dragon Boat Race, which was something I'd never seen in person before. Participating in it was a super fun experience – I didn't even know what a dragon boat was before moving here. Moving to a state where you've never lived before is a daunting experience, so when there's events that allow you to experience the local traditions, you can really feel like a local.
---
Meet the Twincraft Team is a new, recurring segment from Twincraft Skincare, where we highlight a first-person account of what life looks like working in our Vermont-based, artisinal manufacturing environment.