Last week, the Turning Point Center of Chittenden County hosted their 10th Annual Circle of Stars benefit to raise funds for its substance abuse recovery efforts. Twincraft has always been a strong proponent for supporting those in their recovery journey, so we were honored to contribute and join in this year's celebration.
2019 Circle of Stars Awards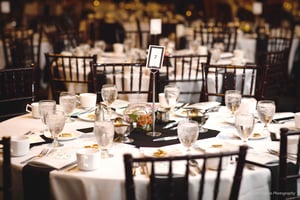 Hosted by Attorney General T.J. Donovan, Circle of Stars guests enjoyed a delicious dinner while hearing from local businesses and organizations that support the path to recovery, including Addiction Services, Dominion Diagnostics, North Country Federal Credit Union, and Leonardo's Pizza. Throughout the night, guests participated in a silent auction as well as a live auction, bidding on items such as a Hen of the Wood Butchery Blowout Dinner for 10, two JetBlue round-trip tickets to anywhere within the U.S., a Vermont Gem Lab custom-designed ring, and the highly coveted "Tina Turning Point" guitar, autographed by multiple musicians.
Every year, the Turning Point Center presents its Circle of Stars award to an individual who has significantly contributed to substance abuse recovery efforts. This year, the organization selected Burlington's current mayor, Miro Weinberger.
During his time in office, Weinberger has spoken out against the opioid epidemic in Vermont and coordinated efforts for those in recovery to receive treatment and services. In his acceptance speech, Mayor Weinberger praised the organization for its efforts and the impact it has had. "The work that the Turning Point Center has done over the last decade to professionalize and expand peer counseling is fundamentally changing the experience of all substance addiction recovery," the mayor stated.
The event also recognized the annual Senator Tom Crowley Award recipient, an award given to someone who demonstrates unwavering and constant dedication to helping others. This year, the award was given to Larry Walters.
Substance Abuse Recovery Support
Drug and alcohol addiction is complex and affects more than just the life of the user; it also impacts families and the community at large. Organizations like Turning Point provide crucial support services in a safe, substance-free environment, helping individuals and their families navigate the journey from substance abuse to sustained recovery. It offers a robust selection of programming that address all areas of wellness, including physical, spiritual, educational, intellectual, occupational, mental, emotional, and social domains. This holistic approach helps those in recovery to make changes in multiple areas of their life and sets them up for long-term success.
At Twincraft, we lead with a head for business and a heart for people. We believe in the "second chance" approach, and embrace people for who they are, not who they used to be. Due to the negative stigmas, many employers are hesitant to offer employment to those in recovery, making the job search difficult. We understand that recovering individuals are good, hardworking people who just need support, and we're proud to have a company structure that reduces some of those employment barriers while offering just that. We don't require background checks or drug tests, and our 10 hour shifts Monday through Thursday allow staff to have Friday available for counseling, appointments, or other recovery-related tasks if necessary.
We're proud to be a part of the dedicated, compassionate recovery community and to support organizations like the Turning Point Center for the work they do to help those in need.