Plastic-free is one of the biggest buzzwords of 2018. This year, consumers raged against plastic straws and plastic bags, with companies quickly offering compostable and biodegradable options to address the issue with consumers. Now, worldwide attention has shifted towards another seemingly innocent everyday plastic-based material: glitter.
Love it or hate it, glitter is a pervasive material that makes its way into the homes and lives of most people during the holiday season. It's festive and fun, but impossible to get out of a carpet once spilled out of a recklessly packaged gift.
Glitter and the Environment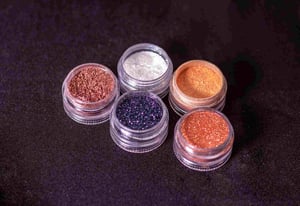 As impossible as it is to control in a home setting, loose glitter is far more detrimental to wildlife and the environment. Glitter is considered a single-use plastic, made up of tiny pieces of colored plastic. It takes hundreds of years to biodegrade and can bioaccumulate and impact the health of animal and human life as the small particles make their way into the food chain via the animals that eat them.¹
Microbeads caused similar issues for wildlife and the environment, and the manufacturing, packaging, and distribution of rinse-off personal care products with microbeads in the US were banned in 2015. Similar measures could soon come to address glitter, and the fight against glitter has already begun: by 2021, glitter will be banned at top music festivals around the word.²
Despite this controversy, glitter remains a trending material in both formula and packaging for personal care products through the next few years. Glitter hair sprays, shimmering body oils, high pigment eye products, and crushed crystal-effect nail polishes will continue to shine on the market, especially during the holidays.³
Sustainable Glitter
To address this environmental issue and still appease consumer demands, new, biodegradable glitter options are available to manufacturers. Dubbed 'eco-glitters,' these new materials are plant-based and safe for personal care use. Their marketing asks users to 'shine responsibly,' and promises them that they won't have to compromise on the performance of their glitter for the sake of the environment.⁴
Biodegradable glitter is available for non-personal care use as well, and these environmentally friendly finishes for packaging and wrap are safe enough to use on children's products and clothing.
Glitter may not be the first material that you would associate with Twincraft Skincare, but we do manufacture some glitzy bar soap and liquid personal care product SKUs. We want to address this issue for our customers and ensure that the ingredients we offer our business partners address are carefully considered, sustainable, and socially responsible.
We are able to create a subtle shimmer effect in bar soap and liquid products with mica, which is produced by grinding minerals into a sparkling powder. It is completely natural and safe to use on all skin types, and Vogue refers to it as "nature's glitter."⁵ It gives products a lovely pearlescent sheen, but its effect is more subtle than that of glitter.
There is also concern in the industry regarding the use of child labor in mica sourcing. The suppliers that Twincraft Skincare uses for mica is committed to social responsibility, and comdemns the use of child labor in the manufacturing or servicing of any of its raw materials. Certifications that child labor is not used in mica mining and the manufacturing process is available, upon request.
We source edible glitter made from agar, which simulates the look and feel of traditional glitter, but is completely biodegradable. Agar is derived from red algae and often used as a vegetarian substitute for gelatin. Visually, it appears to be the same as conventional glitter, but is also gentler and less abrasive on the skin, while simultaneously avoiding all environmental concerns.
Luxe Bars
We featured both of these glitter substitutes in our Luxe Bars. Inspired by quartz and amethyst, these bar soaps combine glitter aesthetics with the crystal trend that also appears in home goods, footwear, accessories, and wellness markets.

Is your brand looking for an eyecatching yet sustainable addition to your product lineup? Contact our sales team to learn more about opportunities to use biodegradable glitter in your upcoming bar soap and natural skincare projects.
Sources: ¹WGSN Sustainability Bulletin: May 2018 | ²WGSN Sustainable Strategies: Beauty | ³WGSN Beauty Gifting: Christmas 2018 | ⁴WGSN Sustainability Bulletin: May 2018 | ⁵ https://www.vogue.co.uk/article/skincare-alphabet-what-is-mica
---
Update: The Amethyst Bar product concept is no longer an active part of the Twincraft Skincare Product Concept Library. While we do not currently stock samples or have sell sheets available for it, it can still serve as a starting point for your brand's future product development with us. Please contact our Sales Team to learn more about our current capabilities and featured product innovations.