Marketers talk a lot about Millennials and how this group spends their money. Millennials can't afford homes because of their avocado toast habits. They avoid American cheese, going out, and cable bills at all costs. They invest in self-care, want to work from home, and wait until later in life to have children. Many generalities can be made about this group, some based in fact, and some not, but overall, this is a generation that spends money in a unique, but very intentional, way.
Case in point: Millennials are spending a record amount of money on their pets.
Millennials and their Pets
The reasons behind this uptick in spending are complex, and run deep. The Washington Post reported in 2016 that Millennials are delaying parenthood and demand flexible work arrangements, which allows for more pet ownership. Millennials approach pet parenting the same way that a typical human parent would – buying books to research best practices, stocking up on age-appropriate toys and clothes, and ordering organic food online to fuel their fur babies. While generations before them would have scoffed at spending thousands on holistic cancer treatments or other large vet bills, Millennials treat their pets like children, investing in them and their wellbeing in the same way.
The New York Times reported that Americans spent $69.5 billion on their pets in 2017, and food and vet care were only a part of this spending. Plastic surgery is on the rise with pets, some practical – nostril enhancement for snub-nosed breeds, eyelid lifts in shar-peis that help reduce infections - but many are not. Dog grooming goes beyond a traditional wash and nail clipping, and can now include fur coloring, accessorizing with feathers and beads, and French pawdicures. Posh spas have started to include dog-focused treatments, as well, including mud baths and "doga" (dog yoga). If a dog mom is interested in a product or service, there's a chance she'll want that product or service available for her pup, too.
Because of this parallel, we can draw some conjectures about where pet parents will spend money in the future, as it aligns with other consumer trends.

Macro Consumer Trends
With the rise of Mommy and Me skincare, we saw that women were more likely to purchase baby-specific skincare from brands that they already knew, trusted, and used themselves. Many brands reacted and added baby products to sell alongside other skincare, such as Pai, Weleda, Kiehl's, Belif, and Dr. Barbara Sturm. We've seen a few human-focused brands make a similar move by developing pet grooming products that align well with their existing brands, including OUAI haircare, Aesop, Malin + Goetz, and Burt's Bees. There is room for more line extensions within this category, and many of these pet products are sold at a price point that match their human counterparts.
Millennials are also more likely to try a product from a new brand if it has clean product claims and natural ingredient call outs, so it's safe to assume that this will be the case for pet products. In skincare, the demand for clean, green, natural, and sustainable products is growing at an incredible rate, and if a buyer is only using non-toxic personal care products, she will want the same for her pet, especially if there's a chance that the animal will ingest any of it through its own grooming habits.
Self-care to combat anxiety and promote calmness is a huge trend in all markets, with consumers snapping up CBD in every possible form, unplugging from social media, and researching anti-anxiety diets. Anxiety isn't isolated to the human condition, and can impact pets as well. Mintel reports that 43% of pet owners would be interested in pet products with calming ingredients, such as CBD, pet-safe essential oils, and other calming active ingredients.
Skincare Meets Pet Care
Twincraft Skincare is a personal care company, not a pet care company, but we are always developing innovative concepts that brings our expertise and natural product ideas to provide solutions for unexpected market opportunities. In 2018, we've seen unprecedented interest in shampoo bars and unique bar soap cleansing opportunities, and this product type addresses many of today's biggest trends: plastic-free, no packaging, low waste, travel friendly, economical, natural, and free of toxins. These trends, plus data on pet care and movements in the natural skincare market all point to one solution for our customer: a Pet Shampoo Bar Soap-on-a-Leash.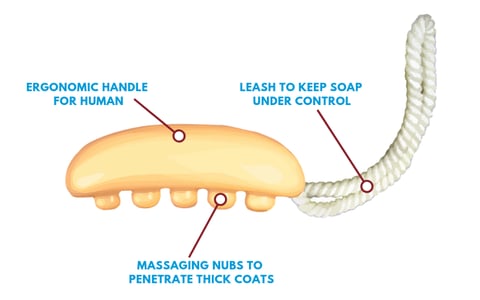 The Technique
Bath time is an unhappy experience for many dogs, and subsequently, their owners. Routine grooming is not a priority for most canines, and they're also not interested in a quick shower after they've rolled in an unknown but smelly substance. Traditional liquid pet shampoos are not easy to use, as they are difficult to distribute evenly over a large furry surface. Bar soap is better suited for quickly lathering up a dog from his ears to his paws.
The Leash
Soap-on-a-rope is a novelty concept that we're very familiar with here at our Winooski, VT bar soap facility. Adding a rope to a soap makes it easy to hang for storage and drying, and it can be looped around the wrist during use to ensure that the soap isn't dropped. It's very appropriate to rebrand that rope as a leash for a pet grooming product.
The Massaging Nubs
We have soap dies that are available with varying sizes of massaging nubs, which help improve the overall washing experience and stimulating the skin. In a pet-friendly soap, these nubs will help the bar to penetrate the fur, lather faster, and speed up bath time.
The Formula
A natural, pet-friendly soap base will quickly wash and nourish a dog's coat, leaving the animal soft, clean, and smelling good. We develop sustainable soaps, free of PEGs, silicones, sulfates, and parabens, and there are infinite opportunities to target a product to make a specific claim or experience.
Interested in learning more about our Pet Shampoo Bar Soap-on-a-Leash idea, or other products for a pet care line?
Reach out to our Sales team.

Sources: https://www.nytimes.com/2018/07/04/style/how-to-pamper-your-pet.html | https://www.washingtonpost.com/news/business/wp/2016/09/13/millennials-are-picking-pets-over-people/ | http://www.mintel.com/blog/drink-market-news/would-you-share-a-pint-with-your-puppy | https://www.nielsen.com/us/en/insights/news/2017/whos-buying-clean-label-products.html