At Twincraft Skincare, we're always looking for opportunities to support and give back to our local and global communities. Alaffia, a strategic business partners and customer of ours, recently provided us with the opportunity to support one of their many Empowerment Projects, which enable Togolese individuals to utilize their skills and knowledge to help improve their communities and the environment.
Climate change and deforestation have had devastating impacts on West African farming communities, and the sale of Alaffia products alone, such as bar soap and body wash, have funded the planting of 59,775 trees by Togolese farmers. This work helps mitigate erosion and improve food security for these farmers and their families. Alaffia conducts trainings to educate the farmers and discourage the cutting of shea trees for firewood and charcoal, with the goal of preserving these resources for future generations.
Tandjouare Nut Warehouse & Reforestation Project
This year, we had the opportunity to support Alaffia with their Tandjouare Nut Warehouse & Reforestation Project, an ambitious, 3-year project that would help double the number of women who benefit from their fair trade income improvements in Togo.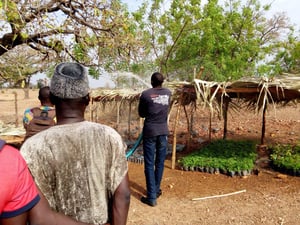 This reforestation project includes the following steps:
Train rural women in reforestation practices, health and safety, aggregation and trade, business development, cooperative organizing development, and conservation, helping them to form and fully register their cooperatives for future self-capacitation
Plant 100,000 alternative fuel trees, 100,000 shea trees, and other trees that provide income and food for the Togolese
Introduce nearly smokeless and highly efficient commercial stoves to reduce wood consumption by 80% during cooking
Build 15 Shea Nut Warehouses, which are used for crop storage and will help minimize lost harvests, and donate to women's management cooperatives
Twincraft Skincare has donated $5,000 to this project, which goes to this large initiative and will provide trees to help accomplish each of these smaller goals. Our support helps increase the area's reforestation numbers, in a place where global climate change is extremely concentrated.
Widespread desertification affects rural agriculturists and farmers first, and with the return of more trees, the worst aspects of climate change on these areas will hopefully be slowed. Our Sustainability goals at Twincraft go beyond minimizing waste and using alternative energy sources, and we're thrilled to be a part of this ongoing initiative to help Alaffia, their community, and their causes.