The beauty market is changing, driven by indie darlings and industry disruptors. The antiperspirant and deodorant market is following suit, with rising brands driving the natural segment from niche to mainstream.
In the November 2019 issue of Happi (Household and Personal Products Industry) magazine, the New Jersey-based publication did a deep dive into the antiperspirant and deodorant (APDO) market to identify key players and rising trends, and to explain the ingredients behind what makes some of these natural deodorants work.
The 2019 APDO Market
The APDO market is a popular one, and according to Information Resources Inc., sales within this product category rose 6.0% to $3.21 billion for 52 weeks, ending on August 11, 2019. Unit sales only increased 0.2% over this same period, with Unilever and Proctor and Gamble (P&G) being the top performers in this category.
These personal care giants have been joined in the APDO space by rising indie brands who have grown by targeting conscious consumers interested in clean & safe deodorant options. Early adopters in this space, such as Native and Schmidt's, have been acquired by these CPGs, but many small brands remain independent, growing on their own.
The Natural APDO Market
Natural APDO products have gotten a boost from the "free from" ingredient movement, as shoppers are looking to avoid specific ingredients, including aluminum, parabens, and baking soda. Succesful brands often have unique origin stories, ranging from tech-inspired brands out of Silicon Valley to those that are founded by cancer survivors.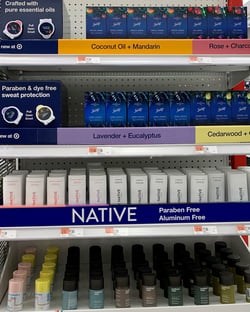 The San Francisco-based brand Nala was founded by a mother-daughter duo who wanted to develop cleaner personal care products after losing their husband-father to cancer. The finished good is fairly expensive for the category, retailing at $29 per unit, but they focus on unique differentiators to drive value and follow in the footsteps of many successful indie ADPO brands.
Their key differentiator is that they allow for customization, offering three bases with different levels of baking soda as the active ingredients, and four different natural fragrances.
The space is getting attention from investors outside of the personal care industry. Myro, a trend-oriented brand that sells refillable cartridges on its own ecommerce platform and at Target, received backing from venture capitalists that support other sustainable endeavors, such as Beyond Meat.
Retailers are also doing their part to help smaller brands succeed. Greg Laptevsky, CEO of Myro, pointed out to Happi that being in Target gives the brand the ability to scale their mission and make a lasting impact on the industry, shoppers, and the planet. By expanding the APDO aisle to include more than just long-running stalwarts such as Old Spice and Dove, retailers open up the marketplace and provide concerned customers with more options that they can customize to meet their own unique needs.
Natural Deodorant Formulations
Does it work? This is the number one question that comes up in a discussion about natural APDO products. Consumer feedback is skeptical, and most popular formulas don't work for everyone's body chemistry in the long-term, but shoppers will keep trying new formulas to find something that works, even if just for a few months.

Natural Deodorants, Left to Right: Megababe Rosy Pits Daily Deodorant, Ursa Major Hoppin' Fresh Deodorant, Myro Pillow Talk Plant-Powered Deodorant, Dr. Teal's Aluminum-Free Deodorant, CORPUS Natural Deodorant, Schmidt's Tea Tree Natural Deodorant
There are a few different product types with varying ingredient directions on the market. Myro's deodorants feature probiotics and sage to fight odor, citrus to neutralize bacteria, and cornstarch to absorb moisture, all while avoiding aluminum, paraben, triclosan, phthalates, baking soda, talc, and steareths.
Popular bath salt brand Dr. Teal's has released a new deodorant concept with magnesium, arrowroot powder, and baking soda in fragrances that align with their other product offerings.
Bravo Sierra is a new men's grooming brand, and their clean APDO offering is free from aluminum, baking soda, parabens, phthalates, SLS/SLES, and phenoxyethanol. It features cassava plant root as its active ingredient, and is said to offer all-day odor protection without irritating the skin.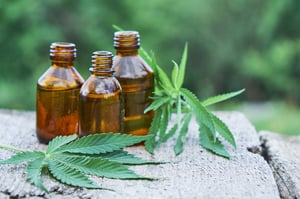 Most brands aren't doing clinical testing in this product category, which makes it hard for shoppers to know what will work. Lafe's Natural BodyCare is one of the few brands that is doing and publishing its own clinical tests, and they want to prove to their potential customers that their products, featuring natural and organic ingredients, will work, and they have the third party tests to show it.
Happi and Mintel reports both point to one potential APDO ingredient: cannabidiol (CBD). The cannabis-derived material is associated with anti-inflammatory and soothing claims, and it could be a good match to help calm skin that is irritated by the other ingredients in natural antiperspirants and deodorants.
Alternative Approaches to Natural APDO
While indie brands have been the disruptors in the APDO space, leading mass brands are putting their own spin on these ingredient trends. This year, Secret Deodorant launched Secret with Essential Oils, a line free of parabens and dyes and features essential oils, at Target. The product promises 48 hours of sweat and odor protection and has a $11.99 retail price tag.
Consumers are hunting for more natural ingredients in their personal care products, so even if they aren't ready to ditch aluminum, many want to opt for cleaner INCIs at the mass market.
To learn more, visit the Happi website: https://www.happi.com/issues/2019-11-01/view_features/indie-influencers/