The home is supposed to be a sanctuary, but modern dwellings aren't necessarily the safe spaces that we assume them to be. We usually think of air quality as being an outdoor concern, but studies show that air in the home is often far more polluted than outside air.
This awareness provides brands with the opportunity to create products that shields people from indoor contaminants.
Air Quality & Pollution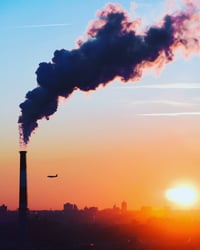 Since the golden age of industry, pollution has been a concern for those who live and work around contaminated areas. In mid-century America, industrious cities such as Pittsburgh, New York and Los Angeles were regularly covered in a thick brown fog, and outdoor air pollution was a pressing issue for corporations, government, and citizens alike.¹
Legislation and regulation in the 1950s helped to curb this type of highly visible pollution, and after the passage and eventual amendments of the Clean Air Act, government funding began to support the study of air pollutants and its health effects, as well as air pollution control.
In the decades since, education and awareness regarding unhealthy levels of outdoor air pollution and its effects have increased, with modern weather reports regularly informing citizens about any risks associated with outside air.²
Poor air quality is especially concerning for those who live in urban areas and groups who are most susceptible to the adverse effects of polluted air, such as young children, the elderly, and those prone to respiratory illnesses. While much has been done to curb the negative effects of outdoor air pollution, the same level of awareness has not been brought to indoor environments.
Indoor Air Pollution
According to the EPA, Americans, on average, spend 90% of their time indoors. In these indoor environments, the concentrations of some pollutants are often 2 to 5 times higher than typical outdoor concentrations.³
This has not always been the case, and the EPA reports that indoor concentrations of some pollutants have increased in recent decades due to factors such as energy-efficient building construction, the increased use of synthetic building and décor materials, and the use of certain personal care products and household cleaners.⁴
Even common activities, such as cooking a family dinner or mopping the floor, can cause air to fall under the EPA's label of "Very Unhealthy" and is considered polluted.⁵
Skincare for Pollution Defense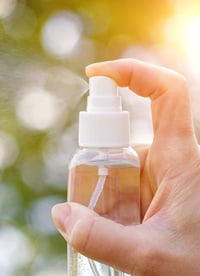 Anti-pollution claims in skincare have increased in recent years, with a focus on city dwellers who want to protect their skin during their commutes. The new awareness around indoor air pollution, though, creates a new opportunity for skincare brands to help protect users both inside the home and out.
The increase in air pollution over the years has had a major effect on skin. The skin serves as a protective barrier for many of the body's functions, and is the first line of defense against volatile organic compounds, oxides, particulate matter, ozone, smoke, radiation, and the many other pollutants that can be found in the air around us.⁶
Air pollution damages the skin by inducing oxidative stress, and prolonged or repetitive exposure to high levels of pollutants can contribute to the many signs of skin aging, pigmentation, and acne. Given the increasing levels of air pollution all over the world, many consumers are looking for products that help protect them from this constant assault.⁷
With this trend in mind, the Twincraft Product Innovation Team developed a product duo designed to help protect the skin from indoor pollution.
Pollution Defense Moisturizer
Start a skincare regimen with a protective barrier to shield the skin against common indoor pollutants.
Featured Ingredients:
Elderberry, red raspberry leaf, and noni extracts all provide antioxidant benefits
Lingostem is made of lingonberry stem cells and provides blue light protection from tech devices
Ectoin reverses the effects of daily exposure to sunlight, pollution, and stress
Shea butter and jojoba oil provide skin with deep hydration
A calming Detox Retreat fragrance
To use, apply to clean skin after toner or serums. Follow with sunscreen.
Pollution Defense Mist
Add a protective barrier to the skin throughout the day to shield it from pollutants and other environmental stressors.
Featured Ingredients:
Glycofilm is derived from bacterial fermentation and creates a protective film over the skin
Elderberry, red raspberry leaf, and noni extracts all provide antioxidant benefits
Lingostem provides blue light protection from tech devices
Ectoin reverses the effects of daily exposure to sunlight, pollution, and stress
A calming Detox Retreat fragrance
To use, hold at least 12" away from face and spray 2 – 3 times. Repeat throughout the day, as necessary.
Want to learn more about either of these product concepts? Would you like to request samples? Please contact our Sales Team to learn more about our featured product concepts.
Sources: 1, 5. The Hidden Air Pollution In Our Homes, by Nicola Twilley: The New Yorker https://www.newyorker.com/magazine/2019/04/08/the-hidden-air-pollution-in-our-homes 2. EPA, Evolution of the Clean Air Act https://www.epa.gov/clean-air-act-overview/evolution-clean-air-act 3, 4, EPA, Indoor Air Quality https://www.epa.gov/report-environment/indoor-air-quality 6, 7. Effects of Air Pollution on the Skin: A Review https://www.ncbi.nlm.nih.gov/pubmed/28195077