Turmeric has been used in food and for its wellness benefits for thousands of years, but now, it's a rising star in the personal care space. Our Director of Trend & Marketing Strategy breaks down the lifecycle of turmeric as a trending ingredient with assistance from Google.
---
Last February at CEW's 2019 State of the Beauty Industry Report, Flynn Matthews, Head of Insights & Measurement at Google, took the stage to share valuable trend insights with the audience.
The evolution of naturals and customers' queries about ingredient and product safety were the focus on her presentation, as the search engine giant has unparalleled access into metrics that give marketers insight into shoppers and their intent at every stage of their product purchasing journey. This was the first time Google presented at the annual conference alongside speakers from the Mintel Group, NPD Group, and Nielsen.
She shared insight into top natural ingredients and the anatomy of specific ingredient trends, with an emphasis on natural ingredients that were very familiar to this audience.
When discussing the anatomy of specific trending ingredient stories, Matthews presented a slide that read:
Turmeric + CBD | So hot RN…
2018 Global Beauty Searaches on Google.com:
7M CBD & 7.5M Turmeric
CBD was an obvious choice for a trending ingredient, as the cannabis skincare industry has expanded rapidly after the 2018 Farm Bill. Seeing turmeric featured alongside CBD was very interesting to this trend expert, as turmeric has been used for dietary and wellness purposes for thousands of years.
What Is Turmeric?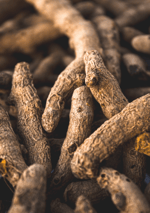 Turmeric, pronounced tur·mr·uhk, is a flowering plant of the ginger family. Like ginger, its roots are used in cooking, and the perennial plant is native to India and Southeast Asia.
Its roots are gathered, dried, and ground into a deep yellow-orange powder. This powder is commonly used in many types of Asian cuisine, such as curries, and is also used as a dye.
Turmeric has long been used in Ayurvedic medicine for many conditions, including respiratory issues, fatigue, and pain.
Its latin name is Curcuma longa and it appears on formula INCIs as Curcoma Longa (Turmeric) Root Powder.
What are the Benefits of Using Turmeric?
It's the curcumin in the turmeric plant that provides the benefits that make this plant so widely sought after. It is anti-inflammatory, anti-microbial, and rich in antioxidants, making it a potent addition to a supplement or skincare regiment to help treat a wide variety of conditions.
Turmeric's Trend Lifecycle
During their February presentation, Google mapped the evolution of this ancient ingredient following search patterns from the last 3 years to help the audience understand why it's considered a rising star in the skincare and wellness worlds, even though its been used for millennia.

DISCOVERY – Generic Search Growth, "Turmeric…for [body part]"
EXPERIMENTING – "How-to…Turmeric" and "Is Turmeric Good for…" searches
CAUTIOUS ADAPTION & PRODUCTS – Product specific searches, ie "turmeric shampoo", and "Best" searches and a second wave of "How to" and "Good For" searches
BRANDS – Brands develop their own products featuring turmeric, which leads to the decline of DIY & Generic searches
Google Search Trend Data for "turmeric" in Beauty & Fitness categories
Interest over time, 2009 - 2019

2018 and the start of 2019 saw turmeric rise in food & wellness culture, as the anti-inflammatory ingredient found its home in the offering of major brands and not just the health food aisle. Supplement brands such as Golde and Moon Juice made it easy for users to make their own turmeric concoctions at home, while Kiehl's took the guess work out of masking with turmeric.

Right to left: Cocokind Turmeric Spot Treatment | Kiehl's Turmeric & Cranberry Seed Energizing Radiance Mask | Golde Turmeric Tonic Blend | Moon Juice Cosmic Gold
Turmeric in Skincare & Bar Soap
While turmeric has many benefits when used in personal care products, it has one significant downside: its vibrant color can stain skin, fabric, and other hard-to-clean surfaces.
This concern was at top-of-mind when the Twincraft Skincare Product Innovation Team developed its own unique turmeric product concepts, a liquid cleanser and bar soap.
Turmeric Cleanser
This gentle cleanser removes sweat, oil, and dirt from the skin, and packs an anti-inflammatory punch thanks to turmeric.
Our clear gel turmeric extract helps to improve skin radiance and evens out skin tone, and boasts significant antioxidant activity, without staining the skin. This cleanser also contains pequi oil, which is high in Vitamin A, and buriti oil, which improves skin elasticity and helps improve hydration after sun exposure. These yellow oils are how this cleanser achieves its bright hue.
This cleanser is built on our Lotion Cleanser base, which can be formulated with up to 20% oil, making it a hydrating and nourishing cleanser.
This product is 97% natural according to guidelines provided by the Personal Care Products Council (PCPC), and is free from parabens, PEGs, silicones, and sulfates.
To use, apply to damp skin and massage into a gentle foam, avoiding the eye area. Rinse well.
Benchmark Analysis:


Turmeric Cleansers
Turmeric Bar Soap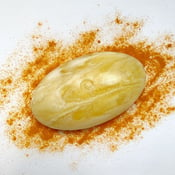 This bar soap swirls turmeric soap with an opacified base, creating an aesthetic similar to an on-trend turmeric latte.
Turmeric powder helps to improve skin radiance and evens out skin tone, and boasts significant antioxidant activity. This bar also features hyaluronic acid, a humectant that helps the skin to retain moisture. This bar has a light bamboo water-mint fragrance.
To use, massage on to wet skin, generating a luxurious foam. Rinse well.
Benchmark Analysis:


Turmeric Bar Soaps
To learn more about these and our other featured product innovations, please contact our Sales team.