In July, CEW hosted an event titled "The Beauty of Business Down There" to promote discussion and industry awareness about the rise of intimate body care and the female-led brands that are at the forefront of this sex- and body-positive movement.
Intimate Wellness in Personal Care
To kick off the discussion, Melisso Hago, VP, Creative Director, Beauty at Fashion Snoops, presented on the state of personal care as it relates to sexual wellness, and laid the groundwork for a larger discussion with a panel of industry experts.
Sexual wellness is just a facet of the $4.2 billion wellness industry, and there are several influences that provide context for why now is the right time for conventional beauty brands to start paying attention to this underserved segment of the market.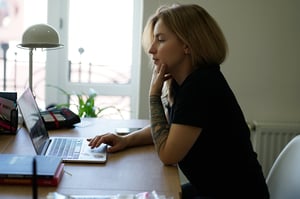 Increased Education
Improved and more thorough sexual education has created a healthier atmosphere for open dialogues around consent, personal identity and exploration, and respect. Beauty sites such as Violet Grey have developed sexual health & feminine care sections of their website, allowing their shoppers and community to find the same level of education and product guidance for intimate products as they do for face moisturizers and masks. The normalization of this kind of educational material supports open dialogues and promotes ingredient and product transparency, too.
Holistic Beauty
The holistic beauty segment has also seen a rise in popularity due to the wellness trend. Consumers are increasingly aware that skin conditions, gut health, sleep hygiene, and other areas of their life need to be balanced in a way that conventional medicine and product treatments don't support.
Increasingly, body and skincare products are designed to support hormonal shifts, with brands such as Knours. creating products designed for use during menstruation to bring calmness to skin and intimate areas.
Nutricosmetics
Vitamins and ingestible beauty products are widely used by Millennials, and supplements designed to balance hormones, improve energy, and reduce stress are on the rise. Moon Juice radicalized the nutritional supplement aisle with its Sex Dust powder, and the adaptogenic-focused beauty brand has now made the leap to skincare products.
Fertility
An estimated 12% of women have difficulties with infertility, and with a decline in pregnancy rates and women waiting until later in life to have a child, there is a rise in products and technology that provide a compassionate and proactive approach to help with fertility management.
Male Sexual Wellness
While the sexual wellness and intimate health discussion is largely focused on females, men are looking for answers to their questions about sexual health beyond Viagra.
The brand Hims has leaned in to this whitespace, providing supplements and treatments with trendy branding and a multi-pronged marketing approach that speaks to shoppers outside of the cis-gendered male stereotype.
Opportunities in Intimate Wellness
Product Extensions
The intimate wellness industry has been largely dominated by sex-focused brands, but the macro trends in this space point to opportunities for existing personal care and lifestyle brands to diversify their product line with sexual and intimate care products.
Coconut brand Kopari is an early adopter in this area, as they recently announced a sexual wellness product line extension.
Easy opportunities in this area include personal lubricant, pH-balanced washes, and wipes – contact Twincraft's sales team to discuss opportunities in each of these areas.
Packaging & Presentation
One of the biggest differentiators from today's sexual product lines and those of years past is the way that they're marketed. Racy or even vulgar designs have been replaced with sleek shapes, elegant typography, and sophisticated functionality. Customers are looking for products that align with their lifestyle and design preferences, and products in this category should by playful and thoughtful, not shameful.
CEW Panel Discussion
The second half of the evening hosted by CEW focused on a discussion with several women leading the charge in the business of intimate wellness:
Ying Chu, Editor-in-Chief of Violet Grey, the beauty story & digital platform that curates a selection of luxury personal care products
Sunday Riley, Founder & CEO of her own namesake brand
Laura Schubert, Co-Founder of Fur, a natural body care line that targets hair and skin conditions in intimate areas
Avonda Urben, Founder & CEO of The Perfect V, a skincare line that targets the "V"
Key Takeaways
Look at skincare regimens for inspiration. Avonda Urben of The Perfect V launched 8 targeted products inspired by familiar facial skincare products, including a VV Cream, which was inspired by popular BB and CC creams.
Make this a beautiful product segment. Violet Grey approached intimate care the same way that they do fragrance, skin care, and devices by focusing on efficacy, elegant design, and a curated aesthetic.
Think of intimate care as a line extension for existing customers. Sunday Riley pointed out that the second most popular piece of content on her brand's Sunday Edit blog was a piece about sex toys. She was surprised, but since then, her editorial team has continued to bring educational sex-positive content to their skincare-focused readers.
Be prepared for pushback. Laura Schubert of Fur faced a strong reaction to her brand when it launched in 2016. Popular publications refused to mention her products, which are targeted to treat ingrown hairs and razor burn, and she was walked out of meetings with retailers. Times have certainly changed, with Fur now being sold at Dermstore and Nordstrom, but caution with more conservative outlets could still be possible.
If you're interested in continuing this discussion and learning more about development opportunities in intimate wellness and body care, please contact our Sales team.