First of all, we'd like to thank all of the customers, vendors, fellow contract manufacturers, and curious passersby for stopping by the Twincraft Skincare booth at this year's Cosmoprof North America in Las Vegas. We were thrilled with the turnout for the event and welcomed each and every opportunity that we had to discuss bar soap innovation and show off our latest finished goods and liquid skincare concepts.
We were so busy at the booth, though, that a few members of our team didn't have the opportunity to thoroughly walk the show floor to see the latest new developments in products and packaging from the 1,200 companies and 37 different countries that were on display. If you also worry that you missed a new ingredient story or clever concept, we've created an innovation roundup for you from the event:
Trend: Things Are Heating Up
By incorporating heat into your skincare routine, you are able to improve active absorption and open pores for gentle and effective cleansing. This is why hot treatments are often incorporated into a spa experience, but there are many opportunities to bring this technology home. Chaleur Beauty's patented self-heating mask technology attracted lots of attention and earned a Discover Beauty Award at the show for its ability to let users heat, hydrate, and treat at home.
Trend: Masking Is Here to Stay
There are so many different formats and ingredient stories for masks on the market today that it may seem oversaturated. However, brands are still developing unique and innovative ways for users to select targeted treatments that create a spa-like experience at home, and consumers are responding in a very positive way. Beauty Solutions showcased a pure retinol-infused mask for an intense anti-aging treatment, and there was no shortage of LED treatments for acne, inflammation, and collagen production from a variety of vendors. Millennials are particularly interested in new mask concepts, ranging from single use sheet masks to jars of organic honey-infused treatments. Interested in developing your own masking set? Talk to a Twincraft Director of Business Development to learn more about all of the mask concepts that we can produce at our Essex, VT liquids facility.
Trend: Go Green
The natural skincare and beauty movement is still growing at a rapid pace, and Cosmoprof North America honored this trend by giving selected vendors their own Discover Green zone to showcase their products and allow show attendees to easily learn about the (growing!) variety of natural skincare, hair products, and color cosmetic options. Many vendors had a focus on a specific ingredient story, such as organic olive oil, while others sought to create natural solutions for a specific product type, such as shampoo. At Twincraft, we focus on natural formulations without parabens, phthalates, and many other chemicals that today's customers strive to avoid, and we saw many of our business partners displaying in this area.
Trend: Keep It Simple
Simplicity in skincare is often underrated, but many users, especially men, search for products that don't overwhelm them with a complicated ingredient list or usage instructions. Simple Sugars, an all-natural brand that has been featured on the TV show Shark Tank, added a men's line this year, focusing on straightforward usage instructions and simple packaging. The same trend was exhibited in the men's grooming line Big Boy, with more sophisticated beard oils and shave products that won't look out of place in a rich leather dopp kit.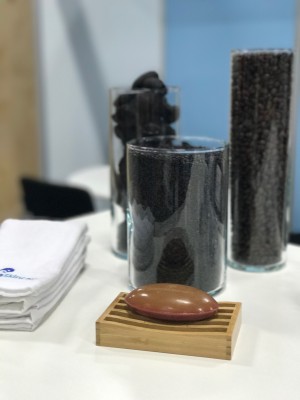 If you stopped by booth #24181 to chat with members of the Twincraft Sales and Marketing teams, you would've been introduced to our own trend-driven innovations. On the bar side of our business, we showcased a Sustainable 2-in-1 Exfoliating Bar with a rich African-inspired fragrance, our Amazonian Clay Shave Bar, with a high lather for a smooth shave, and our gentle Sustainable Baby Bar. Our most popular bar soap concept was our Sustainable Confetti Chunk Noodle Bar, a playful take on the Millennial-loved unicorn trend with a pearlized base and three different pastel noodle colors inside the bar.
For this quarter's liquid skincare strategy, we developed a natural multi-masking kit, complete with an oil-controlling T-Zone Mask, Lip Treatment Mask, and a soothing and brightening Eye Mask, designed to be worn either all at once or one at a time, depending on your skin's needs. For cleansers, we featured a Natural Cleansing Oil, which helps dissolve makeup and preps skin for a purifying second cleanse, as well as a gentle but very effective Clay Oil-Control Cleanser.
Our final liquid skincare product focused on the trend of skincare as makeup: a Mattifying Gel Face Primer. Worn under makeup or alone, this primer helps skin stay matte throughout the day and minimizes the look of pores and fine lines, without the assistance of silicone.
We're already planning for Cosmoprof North America 2018, and look forward to seeing you at next year's event!