Do you have an idea for a product that you want to bring to life? At Twincraft, we're here to guide you through all the stages of the product development process and ultimately deliver you a high-quality product that meets all of your needs. Whether it's a bar soap with a unique visual effect, a moisturizer featuring your brand's hero ingredient, a solid lotion, or a variety of other products, we want to turn your idea into reality in the most efficient way possible.
From the initial ideation stage, through R&D, testing and quality, and finally filling and shipping, this is what you can expect the process to look like, and what your brand can do to ensure that the process goes as smoothly as possible.
INNOVATION + IDEATION
All great products start with a great concept idea. To get the process started and the creative juices flowing, we'll have a conversation to discuss your brand and your product concept. From these conversations, a product brief is developed to help our team get started – detailing what the product is, what claims it needs to meet, and so on. To ensure the process gets off to a good start, it's helpful if the customer provides a detailed product brief and realistic benchmark products for us to reference.
DEVELOPMENT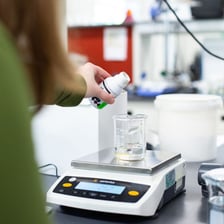 After we've discussed and identified the criteria that the product needs to meet, it's time for the magic to happen! Using the product brief as a guide, our R&D lab will start mixing ingredients and testing different formulations to figure out what works.
Throughout the development process, our team will send you samples of each iteration of your formula to evaluate. This is where you can assess the texture, color, smell, performance, and any other attribute that you're looking for in the product. We value your honest feedback, and providing thorough, written feedback helps us make sure the next iteration is closer to what you're looking for.
TESTING + PILOTING
When we've created a formula that meets your expectations, we will put that formula through stability and compatibility testing to verify the formula's quality and determine shelf life.
We will then perform a pilot run to ensure that the product can be produced on our machines in an efficient way. From these pilots, we gain a variety of insights and learnings about the formula and the production process. Piloting helps us verify that the performance and aesthetics of a given formula still meet customer expectations when produced at a larger scale. We are also able to identify if any processing or specification adjustments need to be made prior to a full production run.
MANUFACTURING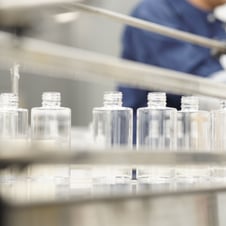 Once the pilot is completed successfully, it's time to bring the product to life on the production floor. You'll submit a purchase order and we will get the manufacturing process started.
We produce your formula and package it, whether it's a bar of soap being paper-wrapped or a lotion that's filled into a jar before going into a carton. After that, the finished goods are packed into cases, put on a pallet, and ultimately shipped to you!
We produce a variety of bar soaps, lotions, cleansers, treatments, and hot pour products every day, and we can't wait to bring your vision for your next product to life. Contact our sales team today to get started on your next project!