Ingredients from the sea are a natural source of antioxidants, vitamins, and minerals. Many of these ingredients are identifiable for shoppers and can be easily integrated in to bar soap and skincare product formulas to tell compelling and effective natural ingredient stories.
Marine-based ingredients have a long history being used to promote health and beauty, and raw material suppliers continue to bring traditional ingredients in new formats to us at Twincraft Skincare, as well as share newly discovered materials and benefits. So much of the ocean is still largely unexplored, which means that new trends and ingredient stories are just waiting to be revealed.
With that being said, there are several popular oceanic ingredients that are approachable for consumers and rife with benefits:
Pearl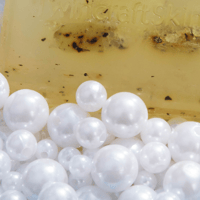 Pearl is a luxurious ingredient option that is known for its ability to be highly moisturizing, soothing, and brightening. It's a powerful antioxidant, is rich in trace minerals, amino acids, and calcium, and is believed to promote radiance and revitalization.
In a formula, it is listed as either pearl extract or pearly powder, and is derived by crushing pearls into powder or dissolving the enzymatically in water. The material has been used in Ayurvedic medicine and Asian skincare for centuries, and is well suited for bar soap, facemasks, hydrating moisturizers, and pigment correctors.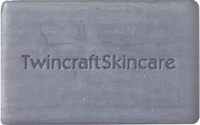 At Twincraft, we use pearl as both an effective marketing ingredient in skincare and bar soap, as well as a visual additive to enhance a products shimmer or luster. Our Mother of Pearl Bar is a great example of pearl extract in a formula.
Algae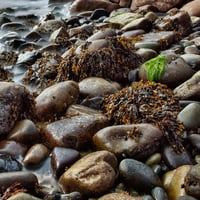 Algae is a broad category for plant-based marine life, and is considered to be such a "miracle ingredient" that it's the hero ingredient of many premium skincare brands, including Algenist and La Mer.
Algae falls in to two categories: macroalgae and microalgae.
Macroalgae: saltwater plants that are more commonly referred to as seaweed or kelp
Microalgae: microscopic single-cell organisms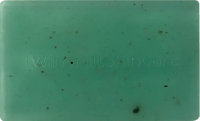 All types of algae have emollient, antioxidant, and antibacterial properites, and are rich in minerals. They can hydrate and tighten the skin, making it a popular addition to anti-aging and wrinkle-fighting products. Red algae is especially popular for its healing properties, while green algae is known to support elastin health and promote collagen production.
Twincraft features kelp and brown algae extract in our Oceanic Algae 2-in-1 Bar, which adds a rich treatment story, as well as a unique visual aesthetic.
Fish Roe Enzymes & Extracts
While it not vegan, fish roe enzymes and extracts can have many benefits when applied to human skin. The enzyme that baby salmon release into the water when hatching from their eggs has bene shown to be a gentle and natural exfoliant, dissolving dead skin cells while leaving healthy cells intact. The result is brighter, more hydrated skin.
More commonly referred to as caviar extract, fish roe is rich in vitamins, making it a nourishing addition to moisturizers and serums.
Dead Sea Minerals
The Dead Sea is a saltwater lake with water that contains 26 essential minerals, over a dozen of which are exclusive to the Dead Sea. These minerals are absorbed through the skin to fight dryness, inflammation, and minimize signs of aging. Many products feature Dead Sea minerals in masks, moisturizers, and other treatments.
Seawater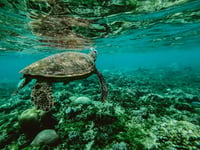 Seawater is naturally high in minerals and features calcium, magnesium, potassium, and sodium, which give it healing properties and the ability to help clear skin. Problems such as acne and dermatitis are shown to benefit from contact with seawater, which is largely due to its high concentration of magnesium. Seawater is prominently featured in hair care and skincare products, including face mists and bath salts.
To learn more about the formulating bar soap and skincare products with some of these powerful ingredient stories, please contact our sales team.
Source: https://www.dermstore.com/blog/marine-ingredients/ https://theklog.co/products-with-ingredients-from-ocean/