The body care segment has seen quite the rebrand in recent years as an influx of targeted skincare solutions touting active ingredient stories make their market debut. In addition to the moisture-centric formulas we all know and love, we're beginning to see more multifaceted products designed with specific skin concerns in mind. The lotions and potions lining store shelves today promise to provide support for your skin barrier while addressing a wide variety of topical woes. Common conditions that can crop up on the body include dryness, acne, rashes, keratosis pilaris (otherwise known as "chicken skin"), along with ingrown hairs and hyperpigmentation. New product concepts incorporate ingredients to exfoliate, brighten, and tighten, showing up in formats outside the typical body lotion. Serums and sprays are no longer reserved just for the face, as consumers begin to extend their skincare routines past the neckline. In fact, consumer data tells us that 27% of adults are interested and willing to pay more for body care products with facial skincare ingredients, underscoring the category's growth.
The onset of Covid-19 has caused a surge of handwashing and stringent hygiene practices which, despite being critical to controlling the spread of a virus, doesn't always benefit skin health in the same way. Over-washing can strip the skin of necessary oils, leading to dryness and worsening of other conditions, driving a demand for products that mitigate these side effects. Along with hand sanitizer sales, consumers looked to add body products to their skincare arsenals, resulting in a 7.3% market leap in 2020. A shift towards self-care practices throughout the pandemic has also influenced consumer spending, as conversations about mental and total-body health take center stage.
Not Your Average Deodorant
The popularity of natural deodorant has skyrocketed, largely due to safety concerns over conventional antiperspirant. Twincraft takes a holistic approach to non-toxic odor control by using natural ingredients to effectively combat bacteria and keep the underarm area dry and comfortable. Armpits are especially prone to irritation, ingrown hairs, and pigmentation, and up until now, you'd be hard pressed to find a deodorant on the market that performed on the B.O. front, while addressing the aforementioned concerns. Perfect Pits combines traditional ingredients like zinc and tapioca starch to absorb excess oil and tackle odor, with an exfoliating complex of pineapple and papaya enzymes that gently resurfaces skin to prevent ingrown hairs and lighten discoloration.
Lotion Has a New Look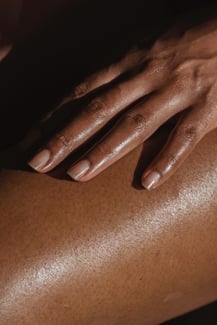 With sustainability at the forefront of our development process, we wanted to provide an alternative to liquid lotions in a completely waterless format. Our Solid Lotion is a rich moisturizer that provides superior barrier protection to support healthy and supple skin. Using our hot pour technology, we're able to achieve a stable and high performance product that absorbs effortlessly, while offering the user a convenient and mess-free application.
If you have a creative concept for your body care brand, we would love to hear from you! Click below to connect with a member of our Sales Team.